The Phone Call That Forever Changed My Role as a Therapist
---
I will never forget the boss I had at my first pediatric job. I had a lot of respect for her because she had such a unique perspective on therapy.  Not only was she an OT, the owner of the clinic, but she was the parent of a child with special needs. I would watch the connection she was able to form with the parents, even if she had only known them for a few minutes.
I used to think to myself, man, I wish I had that level of understanding without having to go through it all as a parent. A couple years later, I attended an NDT baby course taught by a phenomenal pediatric therapist (PT). The course in it of itself was a paradigm shift in thinking as a PT, but it was the last afternoon of the course that really separated the course from others.
She took her microphone off, turned the PowerPoint off, and sat on the table in front of us all. She proceeded to tell us that this is the part of the course where she is no longer the PT teaching but the parent of a child with special needs sharing life with us… wow.  Once again, I walked away with that same thought: what an amazing point of view to have as a therapist. One that I wish I could have without having to go through as a parent.
Fast forward 11 months to February 2010. My wife, Sharon, was calling me at work and I happen to be in between patients. I vividly remember answering the call and not being able to understand a word Sharon was saying. Once I was able to calm her, I heard, "The doctor's office called and there are some things they are concerned with on the ultrasound. They said she has an extra finger, her stomach is distended and that her nuchal thickness is excessive. They want us to go see a perinatologist."
Sharon was 20 weeks pregnant, and two days prior, we had just found out that we would be having a second daughter, Elle. This was the day our lives would be turned completely upside down.
The following week we had our first appointment with the perinatologist, where she confirmed the original findings and suggested we do an amniocentesis for further testing. A week later, we sat in a cold examination room as the physician showed us our daughter's karyotype, which revealed a very large extra piece of chromosome.
She said that with the size of the extra piece and the amount of genetic material that existed within it, we needed to understand that our daughter would be significantly physically and cognitively impaired. She followed this by saying that, more than likely, she would be incompatible with life.
We were then asked a question that I thought I would never have to face in my life. She said because of what we just talked about, it would be completely understandable if we chose to terminate this pregnancy and that she would make that referral for us. I will never forget looking to my right, seeing Sharon sitting on the exam table with her face in her hands, sobbing. I looked back up and told the physician, "We believe that we do not have the authority to make that decision." In that moment, we made a decision to support each other and love each other no matter what and that, as Elle's parents, we would never stop fighting for her, her sister and our marriage.
The following day, we had an appointment with Sharon's OB/GYN. She reported that she had talked with the specialist and repeated what we had heard the day before. She then asked the same question, for which we answered the same way. In the most compassionate way one can say, she said, "Then we will continue on with this pregnancy the way we would with any other, but I need you all to know that if she doesn't make it to term and passes away before being born, it will no longer be considered a miscarriage and so I strongly recommend you make funeral arrangements now, so that you won't have to later." That's the day my heart hit rock bottom.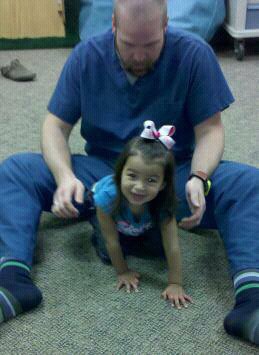 As a pediatric therapist, your imagination can take over and you start piecing together impairments from every kid you've ever seen. As you treat the kids, you wonder, will she have this or be like this? The other thing that happens is you start to look at the parents differently. You start to realize that "high-maintenance" mom is just a mom who is vigilant about her child's care and that there are so many things that are happening behind closed doors that impact her response.
We were in the middle of this emotional roller coaster of still trying to find a diagnosis for Elle. It took two genetic tests and about four weeks to finally get an answer: an inverted duplication of chromosome 13, or Tetrasomy 13. Now that we had a name, we could get a more accurate prognosis. Well, so much for that. The literature review of documented cases showed that they were all over the place. So much for providing some direction.
One day during all of this, I was doing an evaluation on a little baby at work. The mom was still in the process of genetic testing to try and find a diagnosis for her baby and as I was taking the history, two words came out of my mouth that caused me to pause for a second: "I understand." It was in that moment that one aspect of the journey hit me: I do understand.
I proceeded to share with the mom what Sharon and I were in the middle of going through. I told her that she was the first parent to whom I have ever muttered those two words.
You see, I was starting my transformation, a transformation that was molding me into that person, that therapist who could form a connection with other parents only after knowing them for a few minutes. That therapist who can take off the microphone, turn off the PowerPoint, sit down and have a candid conversation with other therapists – not as a therapist but as… a special needs parent. I am a special needs parent.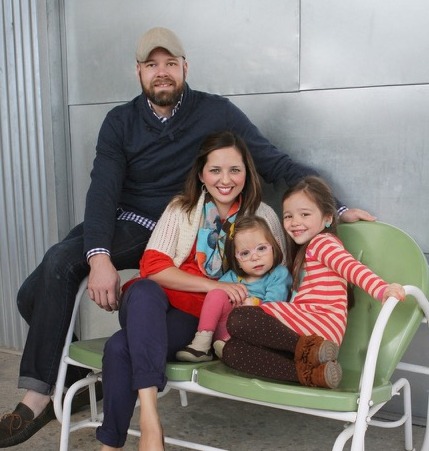 The Mighty is asking the following: What's a moment that changed the way you thought about a disability or disease? If you'd like to participate, please send a blog post to community@themighty.com. Please include a photo for the piece, a photo of yourself and 1-2 sentence bio.
Want to end the stigma around disability? Like us on Facebook.
And sign up for what we hope will be your favorite thing to read at night.