To My Future Self, From a 16-Year-Old Facing Chronic Conditions
---
Hi, Em. It's me again. I wanted to ask you some questions. I don't know when you'll read this again, but I hope that you're older and infinitely wiser.
It was only a little more than a month ago that I found out about this clot thing. I would exchange some choice words about the hell-devil that has made a home in my chest, but you already know how much I hate it. It has been less than two weeks since the surgery to remove my rib and free up my vein, and I've already had to stick myself in the stomach 20-something times. It's become so normal that I find myself answering the door with a syringe in my hand. Do you find that funny now? I'm so ready to do my last shot of anticoagulants. With my bleeding risk this high, Mom seems scared to even let me ride in a car. I want to go ice skating and drive down back roads at night with my friends without worrying about what would happen during a fall or minor crash.
You probably have some wicked scars now. Do they look good? Did you get tattoos of flowers and life and beautiful things around an area so filled with fight, or did you opt to keep your battle wounds as they are? Are the hard years over?
Em, I've been feeling separate from the world again. That odd kind of other-ness that comes from spending five hours watching true crime documentaries and watching life pass me by from my window. Do you still get that? My life feels more like one of those "follow the life of a sick person" TV shows. You know, the ones where the sick protagonist is put in a life-or-death situation and learns so much about life and family. I've learned a lot about many things, but instead of parading around with my new outlook on life, I've been attempting to buy everyone incredible Christmas gifts because if we didn't do repeat ultrasounds I could have died this year, and I feel really freakin' bad about it.
I'm still hopeful, and I hope you are, too. Even if you get pulled back to the hospital and have to watch life from your window a million times over, watching life from your window is a heck of a lot better than not having a life at all.
I don't know what year it is or what your life looks like, but go outside and taste the snowy air. Pull those you love close. If you're old enough, have a glass of Champagne with friends. Celebrate. Celebrate the fact that against what seems like all odds, you're here. I don't know what tomorrow holds. I really wish I did, but I hope it's good. I hope you're well. And I hope that no matter what happens, you're surrounded by people who love you and bring you joy in the darkest times.
There's a Jack's Mannequin lyric that really stuck with me. The one that revolves around the premise of "somedays" and says we'll "laugh about a year that felt a little more like war."
I hope you're laughing.
With love and hope,
Your 16-year-old self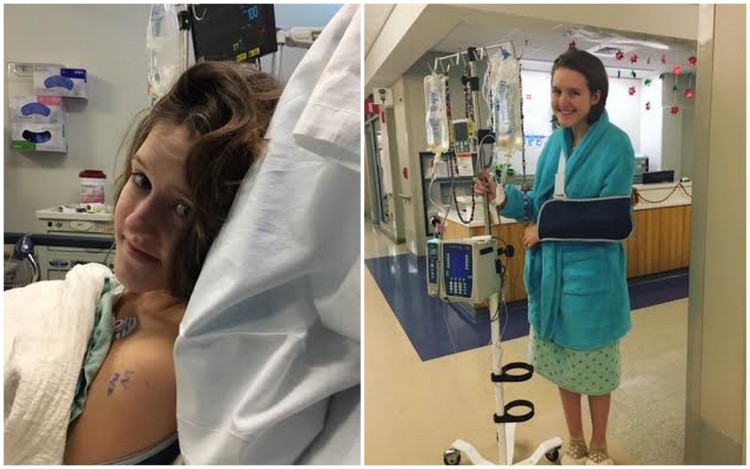 The Mighty is asking its readers the following: If you could go back to the day you (or a loved one) got a diagnosis, what would you tell yourself? If you'd like to participate, please send a blog post to community@themighty.com. Please include a photo for the piece, a photo of yourself and 1-2 sentence bio. Check out our Share Your Story page for more about our submission guidelines.
Originally published: December 24, 2015