To the Musician Rob Thomas, From a Thankful Special Needs Mom
---
Dear Rob Thomas,
My daughter, Sam, has been at home sick for the past three days. Since she can't speak, this morning she grabbed my purse, took me by the hand and walked me to the door that leads to our garage. This meant she wanted a car ride, so I helped her into the car and off we went. I turned on the car stereo and began to listen to my playlist of your music. Sam hummed and kicked her right leg to the beat.
I was feeling tired, and I started to think about some of the heartache I've experienced as mom to a child with special needs. I thought about the moment my husband, John, and I found out about Sam's cleft lip and palate; the moment I had to give Sam to the nurse for her first major surgical procedure; the moment we found out she was deaf; the moment we found out she would need special education; the moment we found out there was "something neurologically wrong" with her; the moment she was diagnosed with a chromosome 18 abnormality; and the moment she was officially "labeled" intellectually and developmentally delayed. I also thought about the moment when I blamed myself for her challenges. A tear rolled down my face, and then your song, "Little Wonders," began to play.
That's when I realized my thoughts were headed in the wrong direction.
I've never been one to wallow in self-pity, yet here I was, forgetting about the beauty and blessings that existed in "these twists and turns of fate," as you put it. Sam is almost 15 years old. She is sweet, smart, beautiful and funny, and she's becoming a fantastic nonverbal communicator. She is also strong, brave, loving, intuitive and even a little bossy! She has given me a special wisdom and compassion and has even taught me to celebrate life's "little wonders," every milestone she achieves and every moment in which she defies the odds. She also brings the most joyous, amazing moments and generous people into my life.
Thank you for being one of these generous people and for creating one of these amazing moments.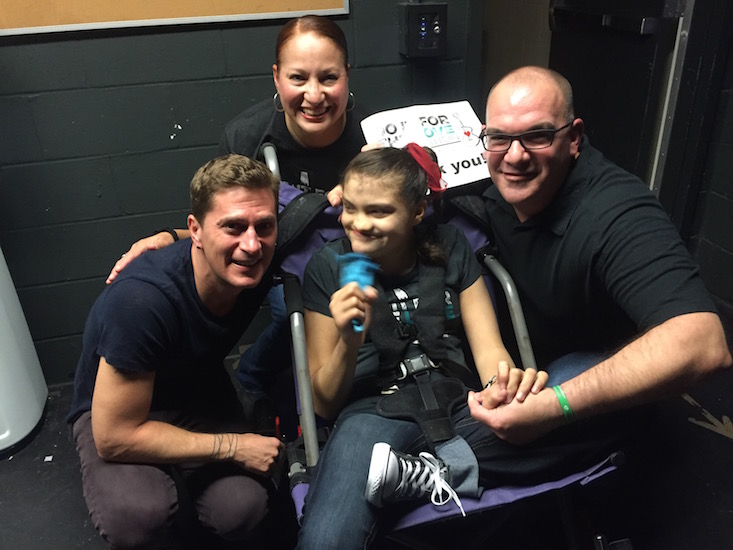 Thank you for teaming up with Michael Franti and his Do It For The Love Foundation to help grant Sam's wish to meet you and see her first rock concert. If anyone would understand and help us grant a wish for Sam, my instinct told me it would be you, and I was right.
Thank you for having a gracious tour assistant and tour manager. Please let them know how much I appreciate their generosity and compassion, and the time they took to help coordinate Sam's meet and greet with you.
Thank you for being the genuine person you are. Though I was star-struck, I felt like I could talk to you for hours.
Thank you for kindly and patiently listening to my stories about Sam.
Thank you for sitting next to Sam and understanding that she was having a shy moment. I assure you, she knew something truly special was happening.
Thank you for taking the time to say hello, shake our hands, give Sam your autograph, take photographs with us and share your warm hugs.
Thank you for giving my husband, John, and I the chance to see Sam giggle, smile, feel the vibration and kick to the beat of your music.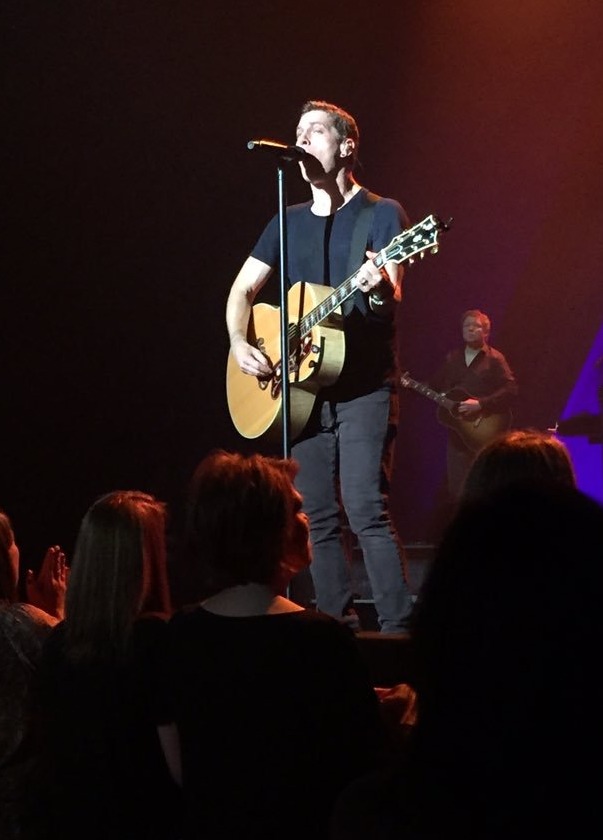 Thank you for the endearing and heartfelt sentiment behind the songs you write. Thank you for sharing your perspective in your music and giving hope and inspiration. Thank you for sharing your life, your lovely wife, Mari, and the challenges you have both encountered and overcome.
Thank you for reminding your fans that we all have things we deal with in our lives every day, and for encouraging us to forget about these things during your concert, sing your songs together and make a memory for us to share and hold onto forever.
Thank you for letting me know you read my children's book about Sam.
Thank you for believing in hope, healing, music… and love.
Thank you for reminding me that "these little wonders still remain."
Love,
Monica
Do It For The Love is a nonprofit wish-granting foundation that brings people living with life-threatening illnesses, children with severe challenges and wounded veterans to live concerts. Founded in 2013 by musician Michael Franti and ER nurse Sara Agah, Do It For The Love has, to date, granted more than 400 wishes, working with a wide variety of musicians. Through the healing power of music, our goal is to inspire joy, hope and lasting celebratory memories in the face of severe illness or trauma. Nominate someone online and learn more at www.DoItForTheLove.org.
The Mighty is asking the following: Write a letter to anyone you wish had a better understanding of your experience with disability and/or disease. If you'd like to participate, please send a blog post to community@themighty.com. Please include a photo for the piece, a photo of yourself and 1-2 sentence bio. Check out our Share Your Story page for more about our submission guidelines.
Originally published: November 14, 2015