To the Special Needs Parents Who Don't Always See the Glass as Half Full
---
Approaching the entrance of the concert hall to attend Vivaldi's "Four Seasons," I see a family ahead of me. A boy is walking between his parents. I notice the boy's blond hair and height. The top of his head reaches to about mid-arm of his mother. He looks to be about 10 years old.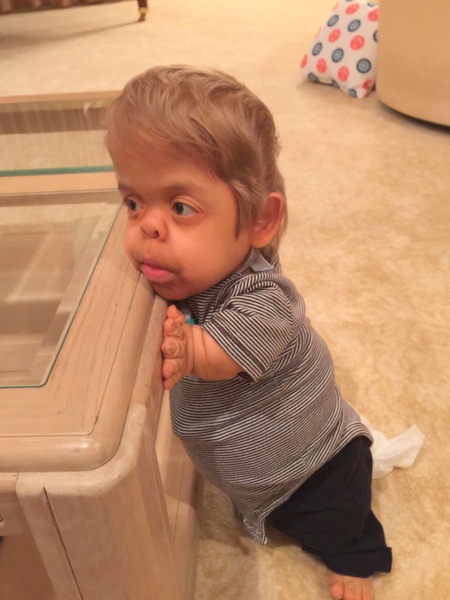 Then it strikes me. That's my son Samuel's age. In that moment, I realize I'm living an alternative reality. My son isn't tall. He only stands 25 inches. He isn't walking alongside me to enjoy this performance. He's at home with a qualified trach-trained nurse watching over him.
It's too much of an unknown to bring him into a venue with 2,000 other music enthusiasts. I couldn't imagine Samuel getting upset and needing to be taken out of the concert hall. Or worse yet, what if he needs medical intervention or even something as simple as suctioning? So to avoid all these unknowns and potential opportunities for things to go awry, we have a wonderful nurse caring for our son.
The performance begins and soon the soothing music washes over me as I close my eyes to hear each note. The boy I saw earlier is but a memory. That is, until much later. For days afterward, the image of the boy walking between his parents keeps popping into my head. It reminds me of what I don't have.
Soon after Samuel was born, I remember seeing a friend's baby at the mall. All snug in his stroller, I stared at him for a full minute. I didn't notice his hair, his face or his cute clothes. I was simply awed at how well he breathed. That was a sign, early on, I was living an alternative reality.
Those who know me will agree that I rarely, if ever, contemplate this reality. I choose to see our glass as half full. I reflect on the miracle of my son's life from a dire diagnosis. I bask in the joy of his smile and his laughter. I believe his life is a gift from God for which I am extremely grateful. I believe he's a living testimony showing nothing is impossible with God.
But things tend to sneak in unawares. Like the day I realized I won't be a grandmother. I quickly brushed the thought aside. What does it help me to see what I don't have when what I do have is staring at me asking me to kiss his hand? So I choose to live in the moment. To cherish the time I have with the son God has given me. If I miss this precious truth, I will only see the glass half empty, and completely miss that it's also half full.
What do I wish someone told me when I first started this journey, back in the days of the NICU, to help me see my glass as "half full"? I imagine a kindred spirit, a woman sitting me down to say: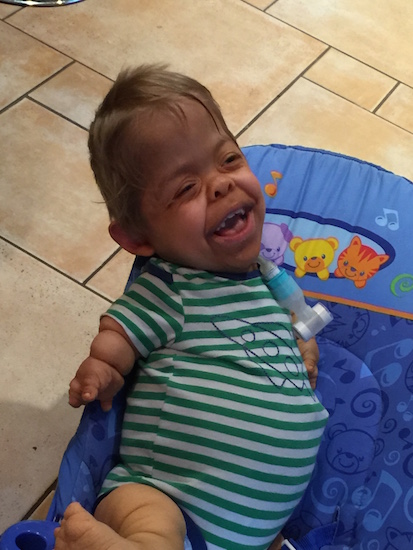 There will be many days you find yourself focusing on the negative effects of your child's medical diagnosis. Instead, be thankful for the good also, even if it's the fact that your child is breathing or gives you the sweetest smile.
The hectic pace of life will threaten to take away your joy, the joy of being a mother to a miracle. Be purposeful and protect sweet times with your child. Establish a reading time even if they can't read or comprehend. Your presence is felt. Snatch snuggles and hugs throughout the day. You'll both benefit.
Don't focus only on what your child can't do. Each child's milestones are different. Rejoice in your child's first step, even if it's when they are 10 years old. Or when they make a choice or say their first word. Your child may never say a word, but his smile speaks volumes. 
Believe the impossible. Doctors, nurses, staff and a whole host of others have opinions on what will happen with your child, but I believe God has the final say. My son came off the ventilator against all odds. Hope for the best even though the circumstances tell you otherwise. Even though it may seem impossible.
If you haven't had a woman hold your hand to offer tips like these, imagine having a cup of tea with me as you read this. I share my heart and a hug with you. You are not alone. We are all in this together. There is always hope.
Follow this journey on Miracle Mann.
The Mighty is asking the following: What's one thing people might not know about your experience with disability and/or disease, and what would you say to teach them? If you'd like to participate, please send a blog post to community@themighty.com. Please include a photo for the piece, a photo of yourself and 1-2 sentence bio. Check out our Share Your Story page for more about our submission guidelines.
Originally published: November 19, 2015