To the Woman at the Store Who Reminded Me That I'm 'Different'
---
I went to our local home improvement store just a few days ago. My family and I were laughing, making jokes and having fun just by making the best out of everything, which is what we do no matter where we are. We were waiting at the checkout line when an employee approached me.
She had paused a former conversation with another employee, and walked behind and all the way around a counter, to come stand awkwardly close to me. Then she looked me in the eyes and asked me the words, "How are you doing?"
I felt like knew all too well why she was asking me this question.
I was in my wheelchair…
I looked at the employee and said "Fine," as I unlocked the brakes and started rolling toward the exit. There were many other customers around me at that time, all of whom she could have approached to ask how they were doing. But she didn't; she chose me. She didn't even seem to notice my parents or my sister, who were all standing next to me at that time as well. She didn't ask how they were doing, just me.
This conversation, this woman, made me both mad and sad, intertwined into one. I believed I knew why I was the only person she asked that question to, despite the many others around me at the same time. She saw my disability. She saw my physical limitation. She saw a young woman in a wheelchair. She didn't see me. She didn't see me as a person.
In the middle of my state of contentment, she reminded me that I'm not like everyone else. She reminded me of my differences. She reminded me that some people look at me and see the wheelchair, not the person inside of it. She reminded me that some people feel sorrow and pity for me.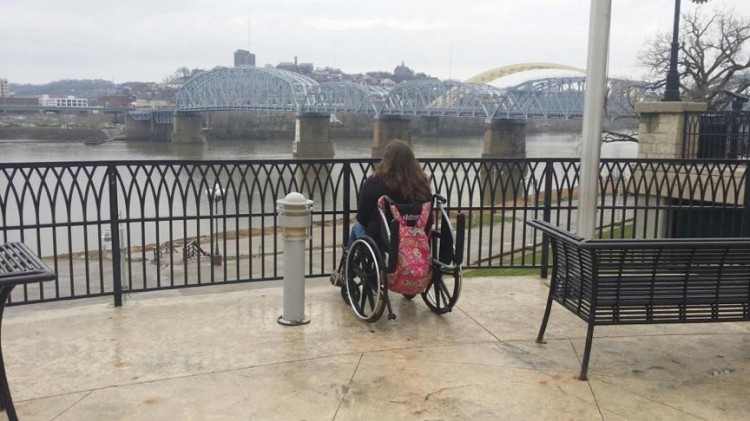 So, to that employee:
I'm sorry if my differences attracted your attention. I'm sorry that you felt the need to end your conversation with someone else to move closer to where I was. I'm sorry that you felt the need to ask me how I was doing, as if you expected a long, honest answer that was going to be anything other than "fine." I apologize if the sight of my wheelchair made you feel as if you had to come talk to me, as if I was anything other than normal.
I'm sorry that it took away my happiness in that moment. I'm sorry that it changed my mood that night all because you had one question for me. I'm sorry for the reminders it gave me. I'm sorry that it seemed like you felt pity for me.
I understand employees ask customers "How are you doing?" or "Did you find everything okay today?" But, I don't understand when an employee doesn't ask all of the other customers around those same questions. I don't understand why you wouldn't ask the person who is actually checking out, and not someone who is three people deep in line.
Did you expect me to not think anything of it? Well I did. Want to know why? Because I'm still me. I'm still another human who is just like you. I may do things a little different than you, but I'm still me. I notice when people look at me differently. I notice when someone is "overly enthused" to talk to me, as if because I'm in a wheelchair, it means I don't talk to people much. I still notice the "aww…" that people whisper as I roll by them, as if my being in a wheelchair is a symbol for "feel sorry for me."
So, next time you see someone in a wheelchair, casually continue with everything you were doing. Treat them as if they are just like everyone else, because they are. Don't remind them of their differences, like you did to me.
The Mighty is asking its readers the following: Describe the moment someone changed the way you think about disability and/or disease. If you'd like to participate, please send a blog post to community@themighty.com. Please include a photo for the piece, a photo of yourself and 1-2 sentence bio.
Want to end the stigma around disability? Like us on Facebook.
And sign up for what we hope will be your favorite thing to read at night.
Originally published: April 15, 2015