What I Want Every New NICU Mom to Know About the Journey
---
Dear NICU Mama,
I wish there were words I could say to bring you comfort. But I know there's nothing I can say to make you feel better or give you more confidence in your baby's future. You see your baby so fragile behind that plexiglass, hooked up to wires and tubes and monitors. You have no idea what all this stuff connected to him is for. You hear those alarms going off every few seconds, and you can't help but feel this overwhelming feeling of fear and worry. The heaviness in your chest you feel, that's your heart breaking for your baby.
Take a deep breath. Take a few deep breaths. This is your new reality.
The sooner you accept this new reality, the sooner you'll learn to appreciate the miracle unfolding before your eyes. You see, that baby of yours is a miracle. Your baby, right now, is fighting to live in a world they weren't prepared for. Your baby is strong and amazing. Look at your baby. They need you to be strong. And you need to find the mama bear in you to fight. Fight for your baby. No matter how bad of a prognosis the doctors give you, fight for your baby.
I know it's hard. I know you're probably thinking, How am I supposed to fight when all I can do is cry? Honestly, all I can say is that some people have it in them, and some people don't. This moment will define your experience. This is the beginning of your NICU journey.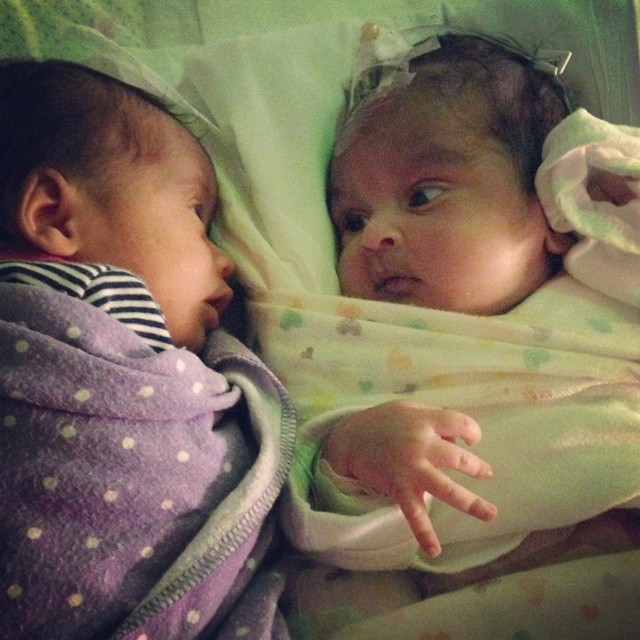 You're going to feel your heart break every step you take in and out of that NICU. But you will survive this. You're stronger than you give yourself credit for. Every day may be the hardest day of your life. And when that day is over, here comes another day you don't think you'll be able to get through. And then that day will end, and another will start. Every day is going to be hard. But you'll get through it. You have to keep going. Your baby is fighting to survive; you should be, too.
Learn everything you can about your baby. Memorize what their skin feels like, what their little cheeks look like, how their nose is squished up with that CPAP or vent tube in their face. Memorize the wrinkles in their toes, how their hand looks wrapped around your fingers. This is what you'll remember for the rest of your life. You'll never forget the way the NICU feels. But you'll also never forget the incredible love you feel for you little fighter. It is your choice to decide which one overwhelms you the most.
The NICU journey will turn your life upside down as a mother. We're so used to being the ones who feed and change our babies. We're the ones who get to hold them and touch them and make them feel better. But when your baby is in the NICU, you aren't in charge. You won't get those amazing baby firsts without someone saying it's OK or someone else doing it for you. But don't get mad about it. It's not your fault or the nurse's fault. That's just part of the reality you are living. That's the life of a baby in the NICU. What you need to do, mama, is make the best of what you got.
You have to live on purpose when you're in the NICU. You have to purposely get up and go. You have to purposely enjoy your time. That takes time and a whole lot of effort on your part. And you might have a lot of prayers. I never felt closer to God than when I begged Him to heal my son, to comfort my baby and to hold my baby because I couldn't; he was too fragile. But the vision I had in my mind of my baby in the palm of His hands — that's what got me through the day. Plus we were blessed with some pretty amazing nurses.
Sometimes I want to go back to the NICU and thank those nurses with every ounce of thankfulness I have in me. But the NICU journey still gives me anxiety. It's hard for me to go there sometimes. I put on a brave face and go there for special occasions and events, but that's because I've become a pro at pushing my fears back and not allowing my tears to fall down my face. I can force myself to think of the positive instead of the negative. I learned that from having a baby in the NICU. And I believe you will, too. It is going to take time. And it is going to be painful and emotional. You will cry at times, and that's OK. But you'll learn to get through it. In a time like this, you have no choice. You have to keep going. You have to live.
Every day, your baby fights to live. You, their mother, their favorite person in the entire world, need to be strong. Because as time passes, your baby is going to need you more and more. And that baby will rely on you to take care of them and raise them.
Believe in your baby, and stay filled with hope. Believe and have faith that no matter what happens, you will get through this. You are not alone.
The Mighty is asking the following: Write a letter to anyone you wish had a better understanding of your experience with disability and/or disease. If you'd like to participate, please send a blog post to community@themighty.com. Please include a photo for the piece, a photo of yourself and 1-2 sentence bio. Check out our Share Your Story page for more about our submission guidelines.
Originally published: October 21, 2015