When a Man in a Shoe Store Thanked Me for Inspiring Him
---
Years ago I worked at a shoe store.
It was a full-service store where we helped every customer find the perfect shoe for their needs. Sometimes this meant taking down and stacking boxes of shoes up to your eyeballs. We'd sit the customer down and have them try the shoes on, then ask them to walk or run around to see how they felt, oftentimes even tying the shoes for the customer.
Not until years after the fact did I ever think about how my customers must have felt when I, a guy with only one hand, tied their shoes for them.
One afternoon as I was stocking our shelves, I had that feeling. You know that feeling when you can sense that someone is behind you. Well, eventually I saw him. He was much older than me, probably in his early 60s. He looked nervous, almost scared.
At some point, I approached him and asked how I could help. I'll never forget his response.
"I'm actually on my way to a job interview and I stopped in here to try and calm down," he said. "I'm incredibly nervous. You see, I have a bad foot and it makes me very insecure. Even though I know you can't see it and that nobody will notice it unless I tell them about it, I know it's there and it makes me feel like a loser. I just wanted to tell you … I've been watching you for a while now and you've inspired me to go to the interview and do my best. You've been helping people confidently and you've been doing all of your other tasks without even thinking about your arm, it seems like. I'm envious of your confidence, honestly! So, thank you."
I just stood there, stunned. I hadn't been doing anything out of the ordinary. I'd just been doing the same things I did every day. I was just doing my job.
That gentleman was encouraged by me that day, but really, he gave me a gift, too. He taught me we don't have to do extraordinary things to make an extraordinary difference in the world. You never know who you'll inspire just by being you.
We ended up having a great conversation, and I encouraged him the best I could to give it everything he had at that interview. To be confident. To focus on his strengths and to let them know why he was the best person for the job.
If this were a storybook, I'd tell you that he stopped in a couple weeks later to tell me he got the job. But, it's not and he didn't. And that's OK. Because that's life. We have a moment and then we move on.
I was happy he was able to learn something from me that day, but I'm even more grateful for the lesson he taught me.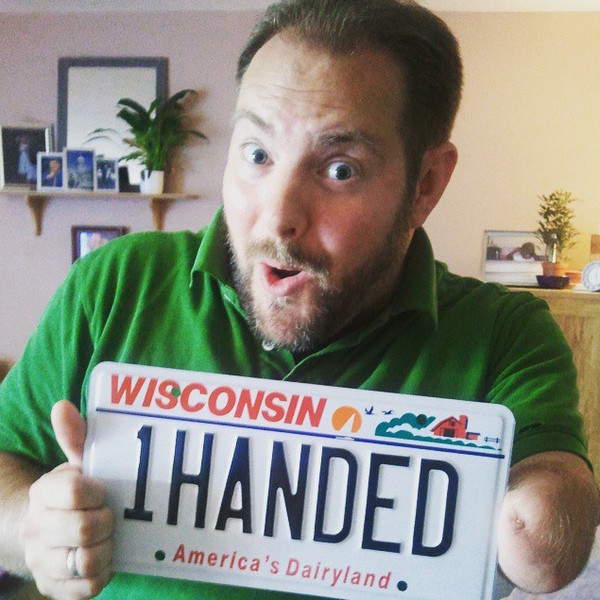 Follow this journey on Living One Handed.
Originally published: August 19, 2015