When I Became a Mother to a Baby I Would Never Hold
---
My first baby died in 1991.
I was 22 years old. It was my first pregnancy. We were overjoyed. We took great delight in telling everyone. We started dreaming up baby names, and I started writing.
I reminisced yesterday about how my first many years of writing caused me to develop a callous on my right ring finger (and yes if you just checked, I do hold a pencil propped on the wrong finger). I had piles of journals full of writing going back to the years of teenaged angst and crushes on boys.
And now here we are in 2015, writing from our phones, iPads, laptops and desktops. With the Internet at our fingertips, we can share what we think with others in a matter of moments.
If then were now, I would have shared with you my joy. I might have even given you a glimpse into the things I was thinking and dreaming about my baby.
This is my journal from 1991-1998 that was specifically devoted to writing to my children before they were born. The ultrasound photos are of my son, Nicholas. They have been tucked in that book for 23 years.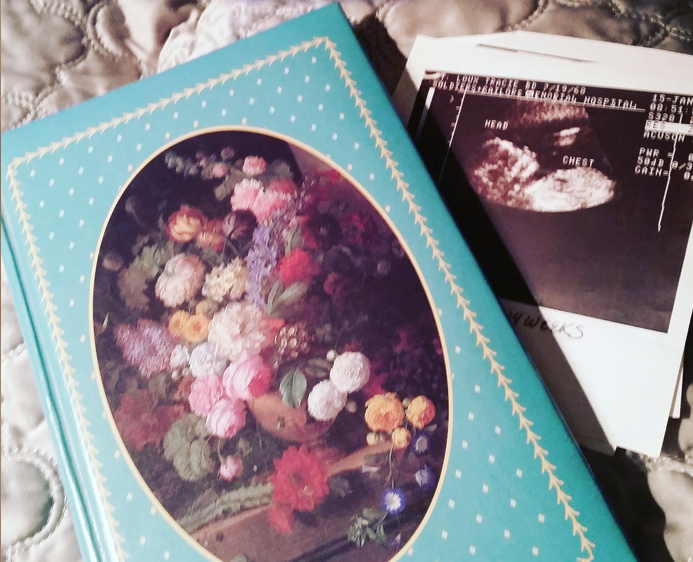 I wrote:
February 25, 1991

Your life is a miracle. I hope that someday you will realize how miraculous and how wonderful you are. You, my dear child, are a reflection of love…
I went on to write out Psalm 139, which I have spoken and prayed over each one of my children more times than I can count. I wrote of telling grandparents and soon to be aunts and uncles the good news. I wrote about love and hopes and dreams. I wrote about nausea. I told this little one how Daddy would lay his face close to my belly and pray and speak love and kindness.
March 15, 1991

….even your fingerprints are evident, and if something were placed in your hand, your tiny fingers would curve around it. You can squint, swallow and wrinkle your nose. You are almost 2 inches long. Aren't you amazing? Mommy's tummy is starting to get a little bulge. I am so hungry!….

We are starting to decide on names for you. It's so fun getting ready.
And then I woke up the morning of April 2nd and everything changed. Things were not right. We rushed to the hospital. My baby was gone. I needed surgery.
My heart broke.
April 7, 1991

So I say, "My splendor is gone and all that I had hoped from the Lord." I remember my affliction and my wandering, the bitterness and gall. I remember them and my soul is downcast within me. Yes this I call to mind and therefore I have hope; because of the Lord's great love we are not consumed for His compassions never fail. They are new every morning, great is Your faithfulness. I say to myself, "The Lord is my portion, therefore I will wait for Him."

My dear child,

It is so different now this time as I write. I weep because I will never rock you in my arms…. I weep because I will never see you grow into a young man or woman, I will never laugh with you or cry with you, never watch you from a distance with a mother's pride, and never have you near to thrill my heart and fill me with joy…..
And I continued to pour out my heart to my child.
People reached out to me. Women who had also lost shared that I wasn't alone. They knew this pain. A few weeks of hugs and meals came and went, and then mostly I was alone with my journal and my pain.
May 3, 1991

It has been over a month since the loss of our child. I have not been doing well. It seems that the reality of our loss has hit extremely hard recently. Sometimes I feel so empty and confused. It seems like those around us must think we are "back to normal." I guess I'm good at giving that impression….
And so I kept writing.
May 5, 1991

Everything reminds me of you baby.

I try so hard not to cry, but that day that you died,

Life ran out of me,

Just like these tears now running down my face.

Your tiny heart beat echoes across my mind,

Fading away like a whisper in the night.

You've drifted up to heaven's arms,

Heaven holds you now my darling,

But everything reminds me of you.

Miracle of life, Mystery of death,

"A time to be born and a time to die,"

Your time came too soon for this mother's empty arms.

But child know one thing, I will come to you one day.

And you will fill these empty arms,

But until that day, sweet child.

Everything reminds me of you.
I wrote about my first Mother's Day. I wrote about how I had to learn to share my feelings with my husband, John. I wrote about John's struggle on Father's Day. I wrote about seeing other babies and the feelings it would stir.
I wrote and wrote in a little blue book I would write in for the next eight years.
Other babies came. Beautiful babies. I wrote many more pages in this little blue book.
But I became a mother for the first time in 1991 to a baby I would never hold.
One day many years later, I would have a dream, a dream of beautiful little girl with long flowing blonde hair and crystal blue eyes running in the most amazing field of color and light. And she was mine. I knew she was mine.
Follow this journey on From the Heart.
Originally published: October 16, 2015