When My Daughter With Special Needs Felt Included at the Water Park
---
Today, my aunt took us to a little water park. She called it the Splash Pad, so I assume that was its name. It was a flat, concrete area filled with fountains and all sorts of contraptions that sprayed water. My daughter, Namine, was very excited.
When we got there, I gave Namine the choice of staying in her wheelchair or scooting around. Scooting on pavement is nothing new to her — not to mention she prefers to move around on her own — so I helped her get down onto the ground.
I kept my distance at Namine's behest. I wanted her to have fun, unhampered by a hovering dad. (I try not to be a helicopter parent.) Namine was so happy scooting through the water, splashing and playing, she didn't even notice her ankle was bleeding. I don't know if it was because her pain tolerance is high or if it was because she was just having so much fun, but she had no idea.
I didn't notice right away, either. Because I'm colorblind, the pavement was the same color as the blood-tinged water. (It probably wasn't to anyone else.) If Namine had shown some sign of being in pain, I would've noticed sooner. As it was, another child's mom came up to me and told me that Namine's ankle was bleeding. I went over to her, and sure enough, it was. So I picked Namine up and sat her on a bench.
Neither my wife, Jessica, nor my aunt had any bandages, so we thought we'd have to cut short our afternoon at the park. But to our surprise, several parents came up to us, offering Band-Aids. I dried off Namine's foot and bandaged it, then told her she'd have to stay in her wheelchair for the rest of her time at the park. She was fine with that; she was just happy to be able to stay.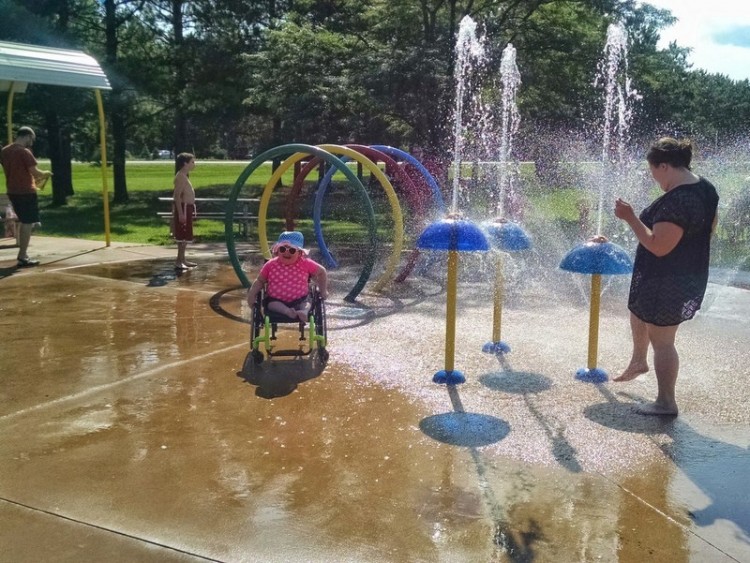 What was it I wrote the other day about Namine being shy around people she doesn't know? Apparently, she didn't get the memo today. She wasn't shy at all about going up to other kids and saying hi, running around with them across the park and generally having a great time.
Namine ran into a metal pole more than a few times due to having closed her eyes or ducking her head because of the water. Luckily, she never ran into a kid or over someone's foot. (I can't totally credit Namine with that, either; I did observe some kids darting out of the way of my daughter as she careened across the park, squealing with laughter.)
As much as Namine deliberately wheeled on through the waterfalls, I got just as wet. It's a good thing I had my swimsuit on. I seemed to draw the fire from water-guns manned by kids eager to target a parent. Or maybe it was just that I was an adult who didn't mind getting wet. Either way, Namine came to my rescue. She started to scold the kids spraying me until I explained to her it was OK. I didn't mind. Well, after that, she joined in spraying me!
I was impressed at how the other kids included Namine. We've seen plenty of situations where some kids will include her, some will ignore her and some will be mean — either by pushing her out of the way or by simply saying insensitive things.
But not so today. Namine made a dozen friends today (even if she never sees any of them again) and had a great time playing in the water.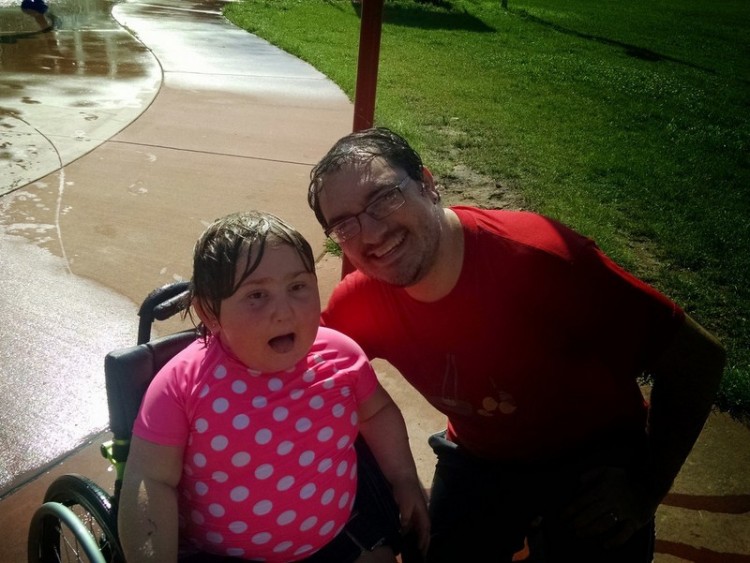 Follow this journey on eichfam.net.
The Mighty is asking the following: Tell us about a time someone went out of his or her way to make you and/or your child feel included or not included. If you'd like to participate, please send a blog post to community@themighty.com. Please include a photo for the piece, a photo of yourself and 1-2 sentence bio. Check out our "Share Your Story" page for more about our submission guidelines.