Why It's Good That This Photo Once Made Me Cry
---
There are things you just don't expect when you think of your life plan. Having a child with special needs is one of them.
When Reagan had her metabolic crisis and we were in the hospital for two weeks, some Disney characters came around to take photos with the kids in the hospital. The photo we got was so depressing, at least for me. First of all, it looks like it's from the '80s, because it's a Polaroid, so there's a look of dinginess about it. Secondly, even though Rob and I are smiling, the amount of pain we were in was practically unbearable. I guess we put on a good face for the camera. When it developed, I looked at it and just cried.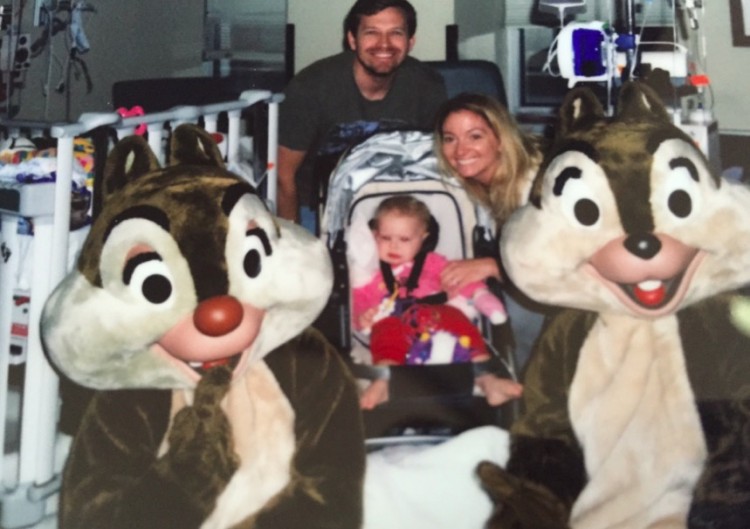 "Are all our photos going to look like this now? With all sorts of machines and tubes or wires?"
I would describe our entrance into the world of special needs parenting as a violent push over the edge of a high mountain. One day, Reagan was a typically developing child, and the next she was a 13-month-old with the skills of an infant. That's violent. That's drastic.
We've come a long way and are accepting of our circumstances (most days). But I'd like to highlight that it took time navigating the path toward acceptance of our new normal. It's certainly possible other people could roll with that punch and just keep going, but I think they would be remiss in not validating feelings of grief, sadness and loss. Doing that has allowed Rob and I to have a healthy view of each other, our family and a greater understanding of who we believe God is.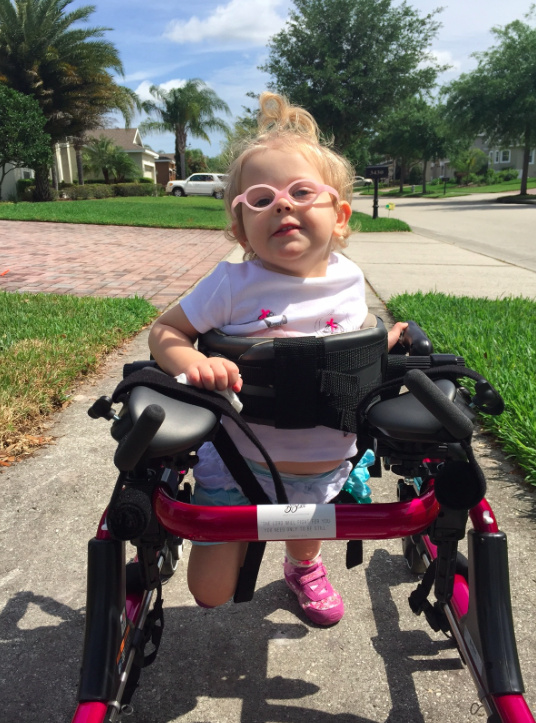 That's why today… when I look at this picture of Reagan in her walker, I'm not sad. I'm filled with joy.
I know the toil that went into getting this far. I bet if a stranger saw us walking Reagan in her walker, we'd get the pity stare.
"Oh… that poor family, that poor girl; that's just so sad."
No, it's actually amazing. It's actually a visible miracle. That is what it is.
A longer version of this post originally appeared on Rob & Anne-Marie.
The Mighty is asking its readers the following: Describe the moment someone changed the way you think about disability and/or disease. If you'd like to participate, please send a blog post to community@themighty.com. Please  include a photo for the piece, a photo of yourself and 1-2 sentence bio.
Want to end the stigma around disability? Like us on Facebook.
And sign up for what we hope will be your favorite thing to read at night.
Originally published: April 9, 2015