Why Being in the Back of the Ambulance Brings Me Comfort
---
Living with anaphylactic food allergies and asthma, I'm all too familiar with the fear associated with riding in the back of an ambulance.
When I'm in the back of an ambulance as a patient, it means I'm having difficulty breathing. As a family member, I've seen the back of an ambulance represent death for my Papa after he suffered a massive heart attack and the unknown for my Nana after she had a bad reaction to medication after surgery.
Despite all of the negative connotations I have with the back of an ambulance, oddly enough, I consider it to be the one place that reminds me everything is going to be OK.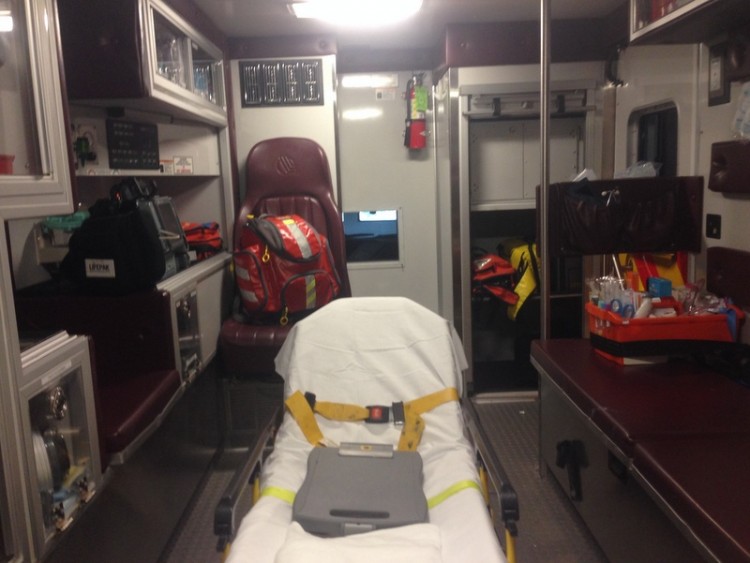 When I was 15, I started riding with my local ambulance squad. I was too young to become an emergency medical technician (EMT), but I was looking for a unique summer opportunity and riding on the ambulance seemed like the perfect fit since I was an aspiring doctor.
I never thought it would be more than just a learning experience, but I ended up falling in love with every aspect of emergency medicine: the adrenaline rush, connecting with patients and watching firsthand as people put their lives in the hands of complete strangers.
At the beginning of the summer, I was an aspiring pediatric oncologist. But by the end of the summer, I was (and still am) an aspiring paramedic and pediatric emergency physician.
I took an EMT course at my local community college the following summer. After intense training, hard work and extreme anticipation, I passed my EMT test.
The day I got my EMT certification number was probably one of the happiest days of my life. I knew I was far from "saving" anyone, but the prospect of getting to spend more time in the back of the ambulance excited me. Not only was I craving the adrenaline rush of a good call, but I was also excited at the prospect of providing patients with a sense of comfort during the most vulnerable time of their lives.
This summer marks two years since I have had my EMT certification and three years riding in the back of the ambulance. Responding to 911 calls is my ultimate therapy. For 12 hours at a time, I get to drop my own health issues and worry about the health issues of others.
In the back of the ambulance, I've seen people pass away and new life come into the world. Some patients' lives shatter before them, while other patients gain new hope. Our patient's situations help put my own health conditions into perspective. I have the physical, emotional and financial support from my family and great doctors. I'm luckier than many of our patients.
Many patients are scared and alone without the support of their family. For some of them, the ride in the ambulance may be the last time they'll be outside the hospital again.
As an EMT, I have a small window to make a tiny impact on their lives. I know I can't cure them and that they probably won't remember my name, but I can try to make them comfortable. I can talk to them, I can listen to them, I can hold their hand and I can try to make them smile.
I'm only three years into this career, so I understand that I haven't seen everything. But I've seen enough to realize how truly fragile and amazing life really is. And for once, my conditions mean something and seem to have a real purpose: They have given me a level of empathy that only people who have been patients in the back of an ambulance can have. My anaphylactic food allergies and asthma have made me a better provider and more aware of a patient's emotional needs as well as their physical needs.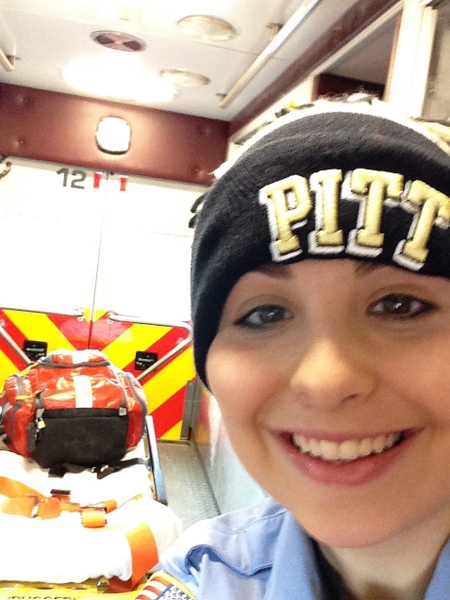 After a long 12-hour shift, I have a renewed sense of encouragement. So many of our patients are facing the final chapters of their lives, but my life still has many chapters left. There are many opportunities available to me, and I need to take advantage of them, not just for myself, but also for all of our patients who can't.
One day, I hope to be fortunate enough to have an M.D. at the end of my name and wear a white coat. Until then, I'll continue to use the ambulance as an outlet, a learning opportunity and as a natural source of adrenaline (unlike the artificial adrenaline I inject myself with when I have an anaphylactic reaction).
No matter where my life takes me, I know everything is going to be OK as long as I can practice medicine. I may not have power over my own medical conditions, but I have the power to use them for good.
The Mighty is asking the following: What's one unexpected source of comfort when it comes to your (or a loved one's) disability and/or disease? If you'd like to participate, please send a blog post to community@themighty.com. Please include a photo for the piece, a photo of yourself and 1-2 sentence bio. Check out our "Share Your Story" page for more about our submission guidelines.
Want to celebrate the human spirit? Like us on Facebook.
And sign up for what we hope will be your favorite thing to read at night.
Originally published: June 4, 2015