Why I'm Stressed About My Father-Daughter Wedding Dance Song
---
I've been searching the Internet for weeks now, trying to pick the perfect song for the father-daughter dance at my wedding. I'm marrying the love of my life in a month, and I've been swept up in dress fittings, ring shopping and day dreams about our future together. I'm not stressing out about the little things you see on wedding reality TV shows, like the flowers and the color of the tablecloths. But I do want the song I dance with my father to be perfect. But where to start?
I've asked my father for suggestions, but he doesn't know where to start, either. I want the perfect sentiment to be expressed, a three-minute snippet to show my unspeakable gratitude for my father, the most devoted, loving and hard-working man I know.
I want a song that will evoke the joy he's constantly filled my life with. Every 22-hour road trip to Disney World, every piano recital he sat through, every karate class he carpooled me to — what kind of song will let him know I remember every small, selfless act? 
Maybe my father isn't much help with song suggestions, because he's too overwhelmed with feelings. I often wonder how he feels letting go of his only girl and youngest child. I'm sure he is sentimental as he recalls his first dance with my mother more than 40 years ago. He also must worry about me and how I will fare in the uncharted territory of marriage and adulthood.
When I become a married woman, just under a month away, I'll be closing a chapter of my life — a chapter that has been filled with unexpected medical turbulence and a bit more time spent with my parents than I had anticipated as a teen.
Nobody could have predicted my coma when I was 18 and the life-altering events that would unfold in the next 10 years. Nobody could have warned my father that his duties as a physician would extend past his office. But without a second of hesitation, my father doubled his role as a love-filled, dedicated dad and tireless hero. My father was incredible just being my dad. But he was also instrumental in saving my life and then keeping my spirit alive.
Nobody wishes for their child to get sick, and I often think of the dual responsibilities that my father had to manage. As a physician, he understood the danger I was in as I was transported from hospital to hospital. And to this day, I still see the unwavering strength and determination in his eyes to make sure nothing prevents me from living the health-filled, limitless and vibrant life I deserve. 
When I was stuck in hospitals for months (and when he wasn't trying to analyze my latest blood work with the nurses on call), he was taking me for wild and crazy wheelchair rides, rubbing my feet to ease the neuropathy or reading to me by my bedside. And now I just want to repay him with the perfect song.
The wedding is in less than a month, and I still don't have a song in mind. But perhaps it's not the song that's so important. As a daughter, I want to show him that I love him, even when I lose my patience, or rush by him, or forget to thank him for every little act of kindness he's shown me since I could say the word "dad." 
I want to make my father proud, to give him the confidence that I'll make a wonderful wife and the faith that I'll thrive living on my own, swept away by the new man in my dreams. I want the song to show that although my fiancé is the love of my life, my father will always have my heart.
I'm still waiting for the song to come to me. All I want is to show my dad is how unconditional my love is, whether it's the bratty little girl he raised, the moody teen, the busy bee, the out-and-about woman or the person who's hard to reach sometimes.
But that's the thing about fathers. They always know. Whatever the song, whatever the mood, my father knows how much I love him. I just want him to know that I know it, too!
I'm searching all over the Internet still, and I'm lost in the pages and pages that come up with "father-daughter wedding song" results. But with my heart in the right place, I hear the music already.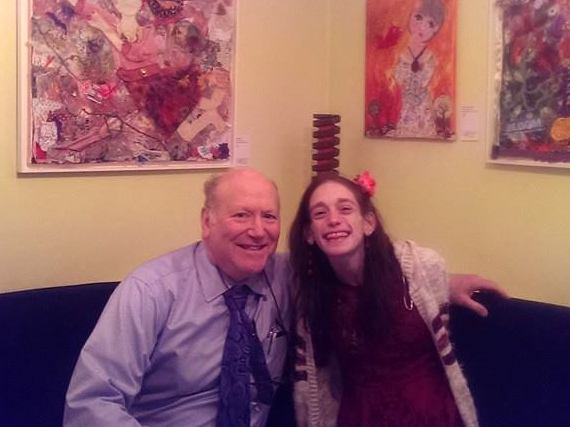 The Mighty is asking the following: What's one unexpected source of comfort when it comes to your (or a loved one's) disability and/or disease? If you'd like to participate, please send a blog post to community@themighty.com. Please include a photo for the piece, a photo of yourself and 1-2 sentence bio. Check out our "Share Your Story" page for more about our submission guidelines.
Want to celebrate the human spirit? Like us on Facebook.
And sign up for what we hope will be your favorite thing to read at night.
Originally published: June 17, 2015