Why 'Is She Your First?' Isn't a Simple Question for Me
---
Someone asked me a question the other day, a rather ordinary question: "Is Poppy your first?" The problem is it's not a simple question for me, and it's something I've had to get used to over the past three and a half years. Mostly I have a little way of saying the truth, but quickly — like pulling off a BandAid — so the other person doesn't feel too awkward and scramble for something to say.
You see, no one expects you to say you have a baby who died; they're expecting a quick exchange where everyone has some children, we all go "aww" and then we move on. But unfortunately, that's not my truth, that's not my story and I can't lie — most of the time.
It made me think back to when I was pregnant with my second daughter. A question like "Is this your first?" would send my mind whirring, trying to work out what the hell to say back. I would think: Are you worthy of hearing my story? Do I want to go there? How will I feel if I lie about this pregnancy being my first? What would Evie (my first daughter) or others think of me if I lied and feigned being a first-timer? How much time do I have? Who can hear what I'm saying — is this an appropriate place to talk about dead babies? You can see there was a lot to balance.
Then when I was going along to playgroups and starting to meet other new moms with my second brand spanking new baby girl — motherhood mark two — I often wished dearly I'd had a leaflet printed with my story neatly summed up with bullet points for easy reference. I could sadly shake my head and silently hand them the sheet of paper that said what I could not.
I remember once while going for a walk around our little town with baby Poppy, I decided to indulge my weakness for penny sweets and set off to the shop. That makeshift shop, cobbled together by its owners, was the perfect treasure trove to browse on a lazy afternoon stroll. As I selected and filled my paper bag with sweetie treats, an old lady — one of the staff — cooed over my delightful bundle of joy and asked if she was my first. Unsure of what to say and beguiled by the sweet perfume of confectionary extravagances, I panicked and admitted that no, she was my second and that my first baby died.
Rather than being shocked into submission, she began to ask a series of intrusive questions that rather stunned me. Questions like "Do you have pictures of the baby?" and "How much time did you spend with her?" floated around the little shopkeeper's head like absurd speech bubbles. It felt like an out-of-body experience. I hurriedly paid for my sweets, their appeal now lost in the haze of conjured memories filling me up instead of sugary fluff.
I felt mauled as I staggered down the road pushing my baby, stuffing sweets into my mouth to stop from crying out that honesty should not be this painful. I decided I could say my second was my first in all future scenarios of this nature and vowed it would not matter to my firstborn – she would understand, if I could ask her.
I understand the lady was probably trying to be nice and sensitive by asking what others feared to probe, but I'm afraid I didn't see it that way. The upset it caused me could not be justified by what I gained from it, and so I have strived only to discuss my story with others when I need support or feel able to answer their questions.
As the years have passed, I've developed a repertoire of scripts (mentally written and memorized sentences that describe what happened) to help me explain the unimaginable; they range from a 5-minute vignette to a saga lasting about an hour. It's about self-preservation; "What's the cost to me?" has become my new mantra. It helps me detach from what I'm saying in order to get through saying it.
So now when asked the question, "Is this your first?" I feel more confident in saying the truth. I can reply, "No, I have two daughters, but my first daughter died just after she was born." I find it the simplest and quickest way to share my story — it has the salient facts and not much more. There's no emotion either, which helps I think; they have no idea the cliff we've just jumped off when they ask me that question and by keeping the response minimal, it softens the landing. People can take what they want from my statement and usually their response is along the lines of, "Oh I'm sorry to hear that." And often that's all they say, which is OK — I'm sorry, too — or they fumble around for something deeper to say. The main consequence of conversations like this is that I end up swooping in to save them and trying to lessen the blow of my words, still hanging in the air above us like a threatening rain cloud, ready to rain on our pleasant conversation at any moment.
At first I really wasn't OK with that. Why should I shield them from the horror I went through? They're lucky they only have to listen to it; I had to live it. But over time my bitterness and anger at the world (because that's what it really is) lessened, and my endless questions of "Why me?" have quietened. I don't need to take it out on others anymore, so I can talk about my experience more openly and less defensively.
I'm more comfortable with my story now. I'm used to it now, so perhaps it's starting to sink in that this is a part of my life story that I must weave in rather than try desperately to deny or reject. It's a horror film I've seen hundreds of times — I know the scary bits, the bits to look away and leave the room to make a cuppa. I know the ending and over time I feel the raw shock has worn off sufficiently that I can cope with other people's shock better.
The truth I'm coming to terms with is that it happened. My daughter was real and she died, and I have to learn to live with that if I have any hope of living life to the fullest without her, because of her… for her.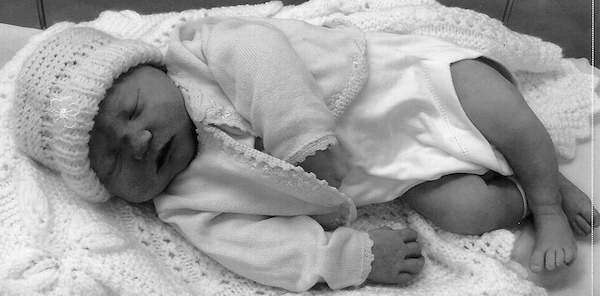 Follow this journey on One for Sorrows Twos for Joy.
Originally published: July 29, 2015