Woman Who Lost Hands and Feet From Septic Shock Skydives to Raise Awareness
---
Sue Stull went into septic shock last fall, and her future was looking so grim doctors told her family and friends to say their final farewells. An unknown infection had spread through her body and caused her lungs, kidneys and liver to fail, and after spending 50 days in the hospital, doctors were forced to amputate both of Stull's hands and feet.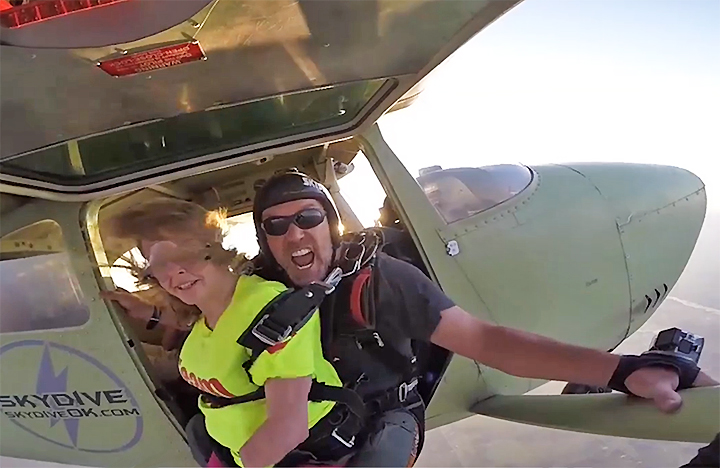 These days, things are looking up for Stull — literally. Over the weekend the spunky 42-year-old went skydiving for the first time, and judging by the smile on her face, it won't be her last time jumping out of a plane.
"It's liberating," Stull told The Oklahoman after her maiden jump at the Oklahoma Skydiving Center. "I didn't feel handicapped while I was up there or while I was coming down. It just was so fun and so exciting. It was nice and awesome to see that I can still do things. A year ago, if you had told me I would be able to do this, I would never have believed it."
Stull went into septic shock in August 2014, and a month later she was fitted with prosthetic legs.
"If I want to do something I'm not going to take no for an answer," she told local news channel Fox 25 KOKH of her desire to move forward. "I'm going to continue living my life and doing the things I want to do. If you have a handicap or a disability, don't automatically think about all the things you can't do — think outside the box and think about all the things you can do."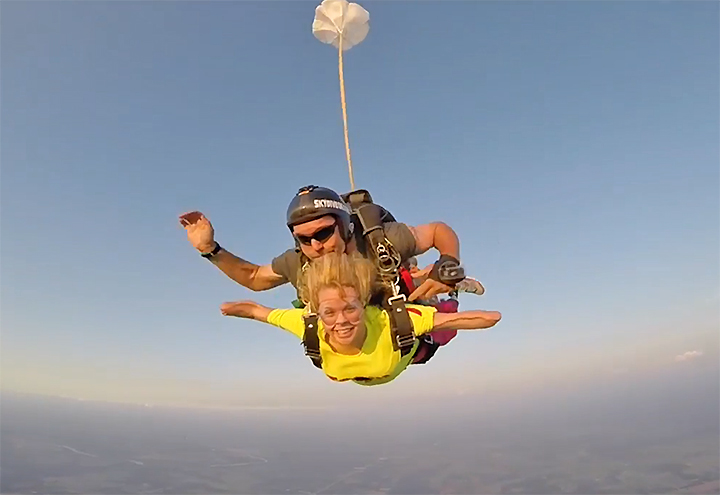 Stull wore a neon green t-shirt with "Team Sue" printed on the front, and her support team on the ground included her husband Jay Stull and 16-year-old son Devin, along with her prosthetist and a number of other individuals. And what's even more inspiring than her bold decision to fly through the air at 10,000 feet? The fact that Stull is doing all of this to raise money for sepsis awareness. On top of that, Stull and her family are hosting the Sue Stull Sepsis 5K Fun Run/Walk in Midwest City, Oklahoma on September 12 to raise even more money for the illness.
Sepsis is a response to an infection in the human body, and according to the Centers for Disease Control, it can quickly become life-threatening, as it is "very difficult to predict, diagnose, and treat." Septic shock occurs when blood pressure drops and the heart weakens, and in severe cases, one or more organs may fail.
Stull admits the road to recovery has been a tough one, but she's determined help others who have battled the illness.
"It's scary when you're facing this," Stull told The Oklahoman. "You kind of feel like you're alone because other people can only imagine what it's like. To know that someone will come in and talk to you who actually has been through it and has amputations, you tend to rely on them and trust them a little more."
To help Stull's fundraising efforts, be sure to stop by her GoFundMe page and sign up for her 5K Run/Walk next month.
Originally published: August 31, 2015