How My Torn Achilles Tendon Relates to My Parkinson's Disease
---
You'd think that once you're stricken with a devastating illness like Parkinson's, you'd get a free pass on other medical calamities. But that's not how life works. Fellow blogger Allison Smith (The Perky Parkie) has had to deal with Parkinson's as well as colon cancer. Sheryl Jedlinski, another fellow blogger (Living Well With Parkinson's Disease), not only has PD but underwent two knee replacements, followed by surgery and 18 chemo treatments for stage 4 endometrial cancer that had spread beyond her uterus.
In light of their experiences, I feel lucky that my second medical condition, while it sounds gruesome, is relatively… well, I was about to say "is relatively a walk in the park," but in fact, I can't walk at all. Over the summer, I injured the Achilles tendon on my left foot; eventually, it tore entirely free from the bone. About two weeks ago, a surgeon sliced open the back of my ankle, reached in and grabbed the end of the tendon, pulled it back down to where it belongs and screwed it directly into the bone. Now I have to stay entirely off that foot for about six weeks. No walking allowed.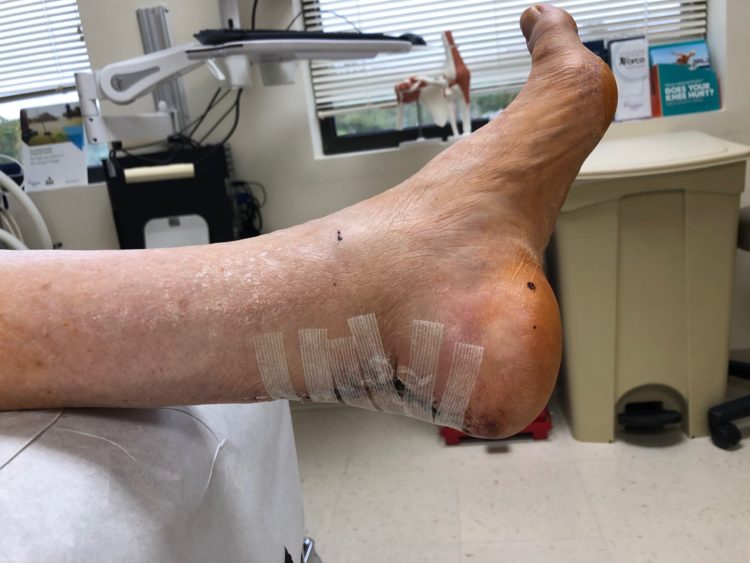 Here's my foot about two weeks after the operation when the doctor removed the cast and the staples and stuck bandages over the wound. Now I wear the clunky black boot that you see in the screen's top photo. I keep it on even when I sleep at night. To get around at home, I crawl on my hands and knees. When I'm at work, I use a wheelchair, and someone needs to help me get in and out of the car. No walking allowed!
(I learned empirically what "no walking allowed" meant when I absent-mindedly put all my weight on my left foot as I was climbing into bed.  A searing pain shot up my leg like a lightning bolt. Ouch!)
So…
Why am I writing about this? Because I see it as a conceptual metaphor for having Parkinson's disease. My torn Achilles tendon is an unexpected medical condition that puts me at a fork in the road, meaning I can choose how I'll respond to it.
If I were to choose the grumpy route, what would infuriate me? Let the bullets fly:
My injury has caused me to experience Parkinson's symptoms that I never had before. For example, I can't turn over in bed at night while wearing that bulky boot.
Similarly, when the hospital's physical therapist tried to teach me to use crutches, I became dizzy and kept falling to one side or the other. The therapist and her assistant kept catching me as I fell. The same happened when I tried to use the crutches at home: my husband needed to stand next to me and pull me upright whenever I lost my balance. I never fell with Parkinson's disease before this. I had good balance up until now. Falling is such a downer!
For the first few days after the operation, my foot hurt a lot, yet the powerful drug the doctor gave me provided no relief.
I had to withdraw from competing in the world's first table tennis tournament for Parkies: 60 ping pong enthusiasts (including a former Olympian) from a dozen countries converged at a large table-tennis hall near my house last weekend and duked it out in doubles and singles matches. Talk about drama, fun and excitement! I really wanted to do this! Damn!
It hurts when I have to crawl on my hands and knees at home. I don't understand how babies manage it! My knees are scratched and scabby from crawling on the carpet, and it's just plain painful to crawl on the tiled floor in the bathroom.
I can't go to the gym to exercise, nor can I swim laps in the town pool. I miss my workouts! They're what keep me sane!
But enough with the downers. Let's choose another route. Can we view my foot operation and recovery as an unusual life experience with a set of challenges that I would never have imagined otherwise? Let's see…
When I leave home to go to work, I have to descend a flight of stairs on our front stoop. I could sit on my bottom and work my way down step by step, but this isn't practical if I'm wearing work clothes, nor is it dignified(!). So what do I do? I hold myself up with my hands on opposite railings and work my way down by landing on each step with my right foot. This is an enjoyable physical challenge for me — a little scary because the two railings are so far apart, but also a thrill. When I look at the bottom half of my body in the picture below, I imagine that I'm levitating.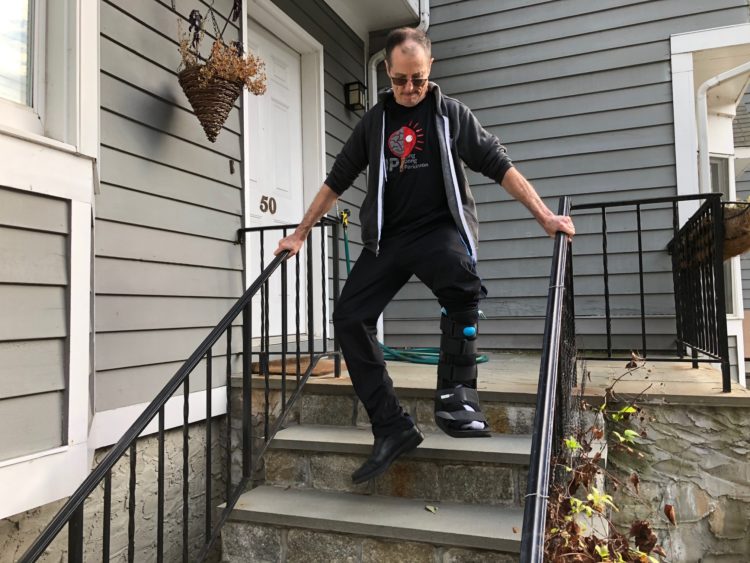 Here's a situation that might exasperate some people, but I found amusing. My husband and I recently ate in a restaurant, and at one point, I needed to use the toilet. The restaurant had a large handicapped-accessible restroom. I wheeled myself up to the toilet, grabbed one of the silver handrails on the wall with my right hand, stood up on my good foot (the right foot) and proceeded to pee in the toilet bowl, using my left hand to guide the stream dead center.
Everything was going smoothly (or should I say flowing smoothly?) until the wheelchair started rolling away from me because the floor wasn't level. Panic in the restroom! Fortunately, I was able to stretch out my left leg and hold the wheelchair in place with the toe of the boot until I finished the job. I thought, "This is amazing — all four of my limbs are working productively on independent tasks, and I'm just overseeing everything like a manager. Great teamwork!"
I work at a public charter school in the Bronx which is known for its relaxed, friendly atmosphere and for offering children challenges they willingly work hard at. We're an elementary school, and we try to set up as many unusual situations for the kids to experience as possible. My desk is at a cubicle in a room that's been divided up into eight smaller spaces. If I have to attend a meeting in another part of the building, the school's founding director, whose cubicle is next to mine, wheels me out into the hallway. As soon as he sees a student walking alone in the hall, he waylays the child and says, "Please wheel Dr. Ballard to his meeting in Room X." The child usually smiles in disbelief and seems thrilled by this unexpected opportunity. In addition, it gives the two of us a chance to chitchat, and if we have to round sharp corners or maneuver between tables and chairs, the whole thing turns into a learning experience as the child backs up the wheelchair, tries to reposition it and proceeds forward again. In the photo below we're just about to make a sharp left turn into the school's main office.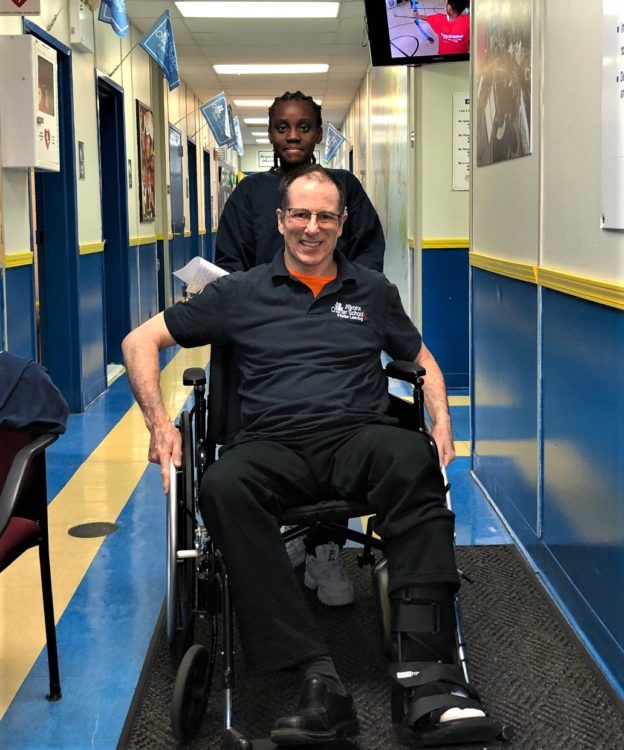 It's marvelous.
In this way, I live for the moment, in the present, finding fun and doable challenges along the way. And that's how I view having Parkinson's, too. Sure, there may be rough times ahead with
my foot and with PD. After all, remember that Achilles' mother held him aloft by his left ankle and dunked the rest of him into the river Styx ("Styx was primarily a feature in the afterworld of classical Greek mythology, similar to the Christian area of Hell… The ferryman Charon often is described as having transported the souls of the newly dead across this river into the underworld" – Wikipedia).
But why let that hamper how I live now?
P.S. I mentioned two other bloggers who have had to deal with multiple medical maladies. Here are links to their blog posts that I particularly like and are relevant to my own here.