What It Means to Our Family to See Kodi Lee and Ryan Niemiller on 'America's Got Talent'
---
I've been a fan of "America's Got Talent" for several seasons—but this season has been especially great. From their very first auditions, Ryan Niemiller and Kodi Lee have captivated audiences with their respective talents. Ryan, the self-proclaimed "Cripple Threat," is hilarious; he uses his physical disability in his jokes in such a way that invites the audience to laugh with him, rather than at him. For Ryan, his physical disability makes him different, but not worse off than anyone else. He knows people are often uncomfortable with his disability, but his approach to life invites them to view disability from his own joyful perspective.
Kodi Lee is an amazing singer. Shows like "America's Got Talent" often have great singers, but Kodi is special. Part of what makes Kodi such a special talent is his story. Kodi is blind and autistic. As his mother beautifully described, music allows Kodi to express himself, to communicate, and to flourish. Kodi is a musical prodigy and his talents are only magnified by his disability and what he has had to overcome in his life.
As the parent of a child with both physical and intellectual disabilities, I'm so happy to see these two amazing people in the spotlight. All parents of children with disabilities know that our children are special—not in some sort of derogatory or limiting way—but in a literal sense. As Kodi's mother and Ryan have shared, there are unique challenges that persons with disabilities are faced with—some much more significant than either Kodi or Ryan have faced—and yet there are so many people with disabilities who overcome those challenges and flourish in ways that surpass all hopes and dreams.
You see, when we first learned that our son has a rare genetic condition called peroxisome biogenesis disorder – or Zellweger spectrum disorder (PBD-ZSD), our hopes and dreams came crashing down. You can't prepare for the moment you find out your son has a progressive terminal disorder that has no effective treatment or cure; you can't prepare for the moment you have to face your child's mortality at 3 months old. That moment hit us like a train; we cried and grieved over the future we had hoped for and braced for the unknown.
We knew our son's diagnosis, but neither we nor our doctors really knew what the future looked like for our son. PBD-ZSD affects our son in many ways; he is deaf-blind, he has low muscle tone and cannot hold his head up, and he has a gastrostomy-jejunostomy feeding tube. He also has seizures, liver disease, adrenal insufficiency, and global development delays. Most recently, he has become chronically anemic. Furthermore, when you look up his disorder on the internet, most of the medical literature is quite scary. But despite all the ways PBD-ZSD affects him and his poor prognosis, he is such a happy little boy.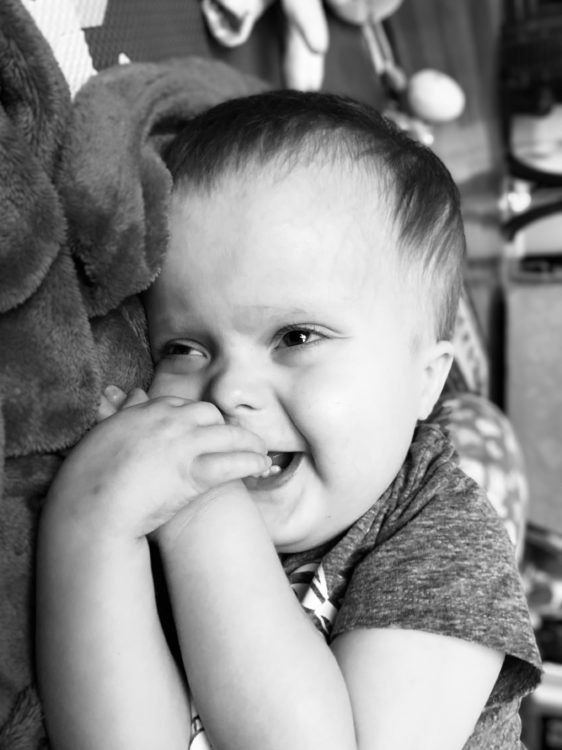 My son is incredibly tactile. He loves to hold hands or the neck of your T-shirt as you lean over his wiggly body. He loves to blow raspberries and to be tickled. He likes to roll around on his foam mat, searching for the edges to pull apart (and chew on). He vocalizes his own vocabulary, often interspersed with giggling late at night. He loves to snuggle on the couch while he quietly explores a blanket with his delicate fingers. Most of all, he loves to be loved on and played with; he just likes to feel you close and be held in your arms. The little things he does make a huge impact in the lives of those around him.
I know my son most likely won't be a finalist on "America's Got Talent" and that's OK because I know my son is amazing and special in his own way. Ryan and Kodi are rightly being celebrated for their special talents, and when I see them perform, I think of my son and all of the amazing talents he has and the joy he brings to those who know him. Those of us who know and love my son see these special talents and unique gifts, and, just like any proud parent, I hope that others look beyond his disorder and just marvel at the amazing person he is.
Originally published: November 15, 2019