When a Stranger Yelled at Me in San Francisco Because of My Birthmark
---
Yesterday, I felt beautiful.
With my favorite glittery eye shadow on my eye lids and eye liner that made my eyes pop, my makeup for the evening was on point.
As my fiancé, Richard, and I stood outside of the Museum of Ice Cream in San Francisco, waiting for our turn, we spoke of our wedding and upcoming marriage.
"Excuse me, ma'am!" I heard someone yell, distracting me from our conversation.
Looking to my left, there was a person standing over their bike about 15-20 feet from where he and I stood, looking at me. I was the "ma'am" I had heard this person call for.
Dramatically touching their face, they rudely yelled a loud response to my facial birthmark, "You have lipstick ALL OVER your face!!"
Looking back at Richard, wanting to finish my train of thought, I found myself stuttering, "Um…umm…ummm…I honestly have no idea what I was saying. I need a minute." And in that moment, I think he could see my heart being shaken as he looked into my eyes, watching me stumble for my words.
Once I finished what I had to tell him, I asked him, "Did you hear what was said?" And he had.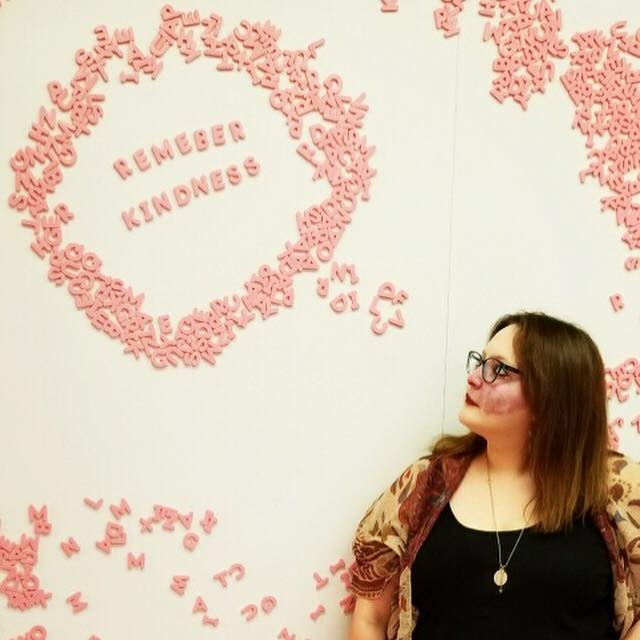 The exact phrase wasn't the worst I have ever heard. But being yelled at in a large city, in a rude and dramatic way? That was a first. My heart stung a bit, making me lose my mental footing for a few minutes.
Often when I share hard stories, like this one, I people tell me, "Don't let other people bring you down," or, "You should ignore people" – and I get that. To an extent, I believe and preach that. But I also know my feelings are valid, and it's OK to feel what I felt in that moment – and what I feel the next day. It's OK to process and honor those feelings however I feel the need to. And some days I hear people's comments and laugh them off with joy, other days some comments are just plain hard.
Tomorrow morning I'm speaking to 150 kiddos in their school cafeteria. As their new school year starts, I hope to remind them to be kind to one another – no matter what their peers look like or don't look like, whether they're online or off.
Maybe, just maybe…if they get in a good habit of that this year, in seventh grade, they won't yell at a stranger in a busy city. Maybe they won't steal other people's images, or tell strangers they need plastic surgery. Maybe they'll get to know people first, seeing them as a human being with feelings before they see their condition or what makes them "different."