I Tried a Wearable Device to Help With My Complex PTSD
---
Recently, I started seeing targeted ads for mental health-related wearable tech, and to my own surprise, I found myself being intrigued. My interest was a little unusual because I'm typically quite wary of things that seem like quick fixes, especially when it comes to my mental health. Yet the more I read about these devices, the more I decided I wanted to try one. The hope being it could help me with my diagnosis of complex PTSD.
• What is PTSD?
Ultimately, I chose the "Apollo Neuro" device because its claims best aligned with my understanding of the way my nervous system behaves due to having C-PTSD. There are a handful of options to choose from, and while the Apollo suited me best, be sure to research the various brands.
A quick summary of how Apollo Neuro claims to work: it claims to stimulate the parasympathetic nervous response through gentle vibrations, and in doing so it trains the user's nervous system to respond more effectively to stress. It also claims to help with sleep, but that was not a deciding factor for me. In recent years it's become more apparent to scientists that for many folks with past trauma, our nervous systems become hardwired to respond to our environments within the flight, fight, freeze and fawn framework. This is especially unhelpful when we are not in imminent danger, and can be the source of a variety of difficulties. With this new understanding has come new forms of treatment, hence these wearable devices.
After a month and a half of use, here are what I feel are the pros and cons.
Pros:
1. Not complicated.
The device itself is easy to use and can be worn all day if you want. It's connected via your cell phone, and it's pretty well a matter of pressing a button to get it going. It holds a charge for several days even with several hours of daily usage — they recommend at least two hours of usage a day.
2. Easy to wear.
It's slightly bigger than your average smartwatch and comes with two straps for the wrist or ankle. For the most part, I tend to wear it all day and don't feel it gets in my way at all. It's comfortable, silent and light.
3. Variety.
This particular device gives you seven different vibration patterns to chose from. You can also adjust the intensity and length it remains on. I liked that this one has a variety of settings, which was not true for some other wearables.
4. HRV is improving.
My heart rate variability (HRV) has been steadily improving as I use my device. While not all aspects of this are fully understood as of yet, there is a growing body of evidence that suggests that folks with trauma histories tend to have low HRV, which again has to do with getting stuck in one of the four trauma responses. The theory is that increasing variability can improve one's capacity to respond to stress.
Now I must admit I only have a month's worth of HRV data before using the Apollo, so it's not like this is solid evidence. Regardless, I think it's interesting, and it's something I will continue to track. During April when I did not have the device, my HRV average was 29 — anything below 35 is considered low. In May, my HRV average went up to 37 and in June so far, my rate is up just slightly to 38.
5. Return policy.
Apollo now offers a 60-day return policy at the time of writing, so if you try it and it's not for you then it can be refunded.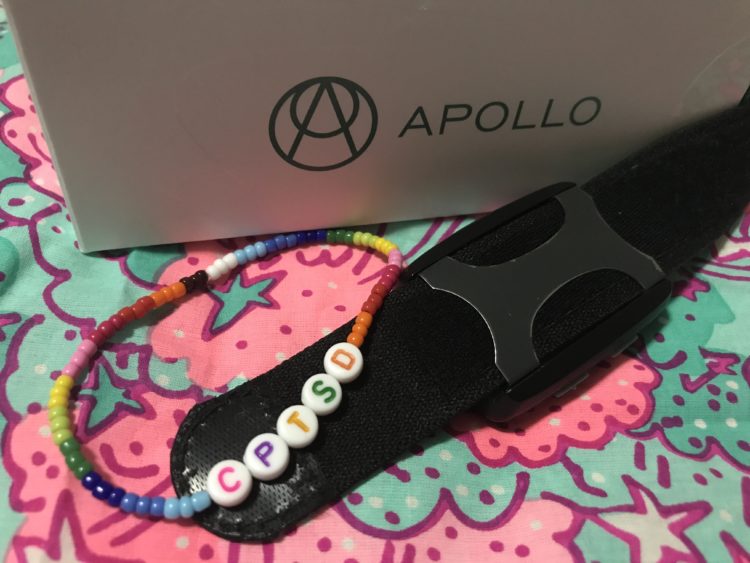 Cons:
1. It's expensive.
These devices are an investment, and from what I could tell Apollo Neuro also happened to be the most costly option. Expect to pay somewhere in the range of $200 to $500, depending on which device you choose and where you happen to live. In time the cost of these is likely to go down, and it may be possible to get financial assistance as well.
2. The science.
The science on these devices and their benefits is still iffy. There is a lot of research being done, but at this point, we do not have fully peer-reviewed data. Most of the manufactures of these devices do cite studies on their websites, but it's important to note what type of studies these are. In my case, I made the calculated decision that since there is no risk involved, I was OK with science not being fully caught up to this yet. I did factor this into my decision and opted to still go for it.
3. Doesn't track HRV.
On one hand, it's good that these types of devices tend to be simple and do not become yet another distraction in our lives. With that in mind, just know that most do not track HRV. This would increase its cost even more, so I get why it doesn't. Just be aware that if you don't have a smartwatch or other device that tracks HRV, you won't get this data.
4. A little basic.
Honestly, the device does what it needs to do without a lot of flash, which in the end is OK just so long as you are aware. The app could be a little more interesting, and I think it would be neat to be able to create custom vibrations and to retitle the existing ones. Regardless, these are just minor things as far as I'm concerned.
Final Assessment
The real question is, of course: Do I feel it is helping me with the symptoms that relate to my nervous system and C-PTSD? My subjective answer is yes, but I don't have exact proof. Anecdotally, what I've noticed is my ability to tolerate distress has increased, my ability to stop negative thoughts has improved, my concentration and creativity have been off the charts, and I've felt more present in my body. Other people in my life have commented that they have noticed differences in me. Did the device do all that or is this a type of placebo? I have no real way of knowing.
In the end, I'm willing to cautiously endorse the Apollo Neuro, again based solely on my personal experience. Having said that, I also need to add the caveat that, it is important that folks are aware that such a device is not going to be a cure-all. I take a big list of medications, attend regular therapy and utilize other supports — none of that will be terminated.
Additionally, as I mentioned previously, it's very important to consider your level of comfort with the amount of science that backs all this as well as the cost, which is noteworthy. After my research and experience of using the device, I feel happy with my decision and the results. I'm looking forward to seeing if I continue to notice improvements.
Have you ever given wearable tech for mental health a try? What has your experience been? Is this something you think may be helpful to you, or does it seem too good to be true? Further thoughts? I'd love to hear them in the comments!
If you enjoyed this article, please take a moment to check out some of my other articles here on The Mighty. If you'd like to follow along with my journey, you can find me on Instagram.
Originally published: June 15, 2021