Female Veterans With PTSD, Where Are You?
---
Editor's Note: If you've experienced sexual abuse or assault, the following post could be potentially triggering. You can contact the National Sexual Assault Telephone Hotline at 1-800-656-4673.
I have searched my local and regional Veteran Affairs offices for other female veterans who are in my age demographic, the ones who fought in "the war on terror." I have talked about various things with a few older women and have been met with sympathy or interest, but they can't really understand the ways of "the sandbox."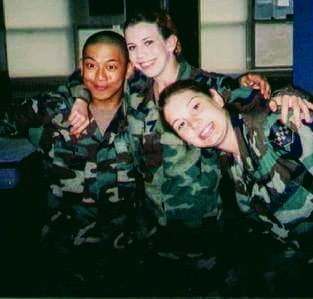 I love shooting a few words with the more mature generations. They look at me like I'm in a different world, which is true. So much is the same and so much is different. My insecurities tell me the ones who don't say anything think I am a wife of a veteran. I'm used to that, even with my ex-husband. It's too bad that I hate baseball caps because they all wear them proudly.
It is hard to write or speak about this because it means admitting I'm vulnerable. I was taught that vulnerability is a weakness. It is not though, and I am finding that sometimes I feel better after I share. The shame eventually chips away to reveal strength and perseverance.
I was raped while I was in Iraq by my platoon sergeant. I'm not going to say anything to justify it, because it happened. I have lived on the defensive for too long and I should not have to. There are other things like being shot at, mortar explosions, friends you barbecued with one night who were then gone the next, or the worst, driving past what was left of children. Those are the easier things to talk about because people accept them. There were two serial rapists on my post, four that we knew of in Kuwait with different "MO's." They were us, whether they were civilian contractors or in any branch of the military, foreign and domestic.
How am I supposed to talk about this to a group of guys? Any of them could be one of them, or know one of them. It is a polarizing topic in the spirals of my thoughts. It is isolating. I'm reaching out here for other sisters, regardless if you were in the military. I know you're out there. I understand you may say nothing. I did not for a very long time. We each have our own journey. If anything I want you to know that you are not alone. I'm here and I'm listening in the quiet.
If you or a loved one is affected by sexual abuse or assault and need help, call the National Sexual Assault Telephone Hotline at 1-800-656-4673 to be connected with a trained staff member from a sexual assault service provider in your area.
We want to hear your story. Become a Mighty contributor here.
Getty image via Jupiterimages
Originally published: January 3, 2018