What Meeting Céline Dion Means to Me as a Person Who Experienced Trauma
---
"I am a recovering
Anxiety addict
A broken perfectionist
Somewhat erratic
I am recovering
A constant regretter
Hold it against her
At least till forever
Little by little, day by day
One step at a time
Shake off the devil, oh
Take back my peace of mind"
"Recovering" by Céline Dion. Written by Pink.
Hans Christian Anderson said: "When words fail, music speaks." I've always been obsessed with music. As a child, I watched every Rogers and Hammerstein musical over and over again, recreating the scenes alone in my room, me as the heroine, my favorite stuffed kangaroo as the hero. I worshipped singer after singer. Diana Ross, Tina Turner, Madonna. I always lived my life vicariously through music and found it to be the one constant in my life — my steadfast companion when I was alone and felt like life had left me alone, helpless and powerless in a home without competent parenting, emotional incest and sexual abuse.
School wasn't much better, with the constant bullying and feeling like I don't belong. But… all that changed in high school. In my sophomore year, I met my French teacher — a warm, caring woman with whom I felt safe and connected. It was during her classes, during lunch hours spent with her and after school listening to French music where I was introduced to a young French Canadian songbird from Quebec named Céline Dion. I didn't know who she was, but I knew while listening to her sing in the safety of my teacher's classroom that all my fears and loneliness faded away, even if for just a moment.
In 1997, a small film became an enormous success and with it, a song took the world by storm. The film was "Titanic," the song "My Heart Will Go On," and seemingly overnight the Canadian songbird became an international superstar.
Céline was everywhere, and all of a sudden I was reminded of the safety of that classroom, listening to that angelic voice. I was a fan of her singing, but I soon became a fan of the woman she was. Born in a tiny town outside of Montreal in a poor family, the 14th child, the accident. This child, who had remarkable talent but was teased for her "vampire teeth" by her schoolmates, was turned into an international superstar through perseverance, hard work, support from her family and an incredible producer turned husband.
I was mesmerized by her story. But more than that, I was enamored with her. I've been called a stalker, but those who have spent any time with me know that my love for Céline goes so much deeper. She has represented a safe place for me for as long as I can remember. In her I see the mom I always wanted, the sister I always wanted and the best friend I wish I had.
I've been lucky enough to have met her twice. Both times I felt so incredibly cared for. She has no idea how she made me feel as though I mattered. I was important. She gave me a gift I had been waiting for my whole life — a gift I deserved as a child but was finally given by a stranger for no reason other than that she was an incredibly empathic person.
The first time I met her was on a golf course in 1999. A newlywed who knew nothing about golf, I attended a PGA tournament with my husband. We decided to follow famous lefty, Phil Mickelson. The amateur playing with him was René Angélil, Celine's husband. Throughout the round, I periodically spoke with her. She was constantly lovely, constantly engaged. At the end of the round, she went out of her way to find Phil Mickelson and Rene to get autographs for me, signed herself and then hugged and thanked me for being a fan. I couldn't fathom how someone as famous as her could care for someone as insignificant as me. In that moment, I was made to feel like I mattered. I was important. And that forever changed me.
Fast-forward to 2016. It was my 40th birthday. My only wish was to see Céline, take a photo with her and express my love to her. On January 13, I was successful in meeting her. She was everything I had remembered and more. She was patient, caring, respectful, empathic and so strong. She wished me a happy birthday, signed an autograph, I wrapped my arm around her and got my photo. It was the greatest day of my life.
The next night, I saw her show from the orchestra. She was the epitome of power, elegance, strength, courage. It was the greatest show of hers I'd ever seen.
The following afternoon, as I was scrolling through my Facebook feed, I learned her beloved husband René had passed away. I was heartbroken. I felt like a member of my own family had died. My heart ached for her, her children and her family. I just wanted to give her the comfort that she had shown me.
I had no way of expressing that to her but I decided to take her autograph and have it tattooed onto my arm in honor of René, her, her family, her love.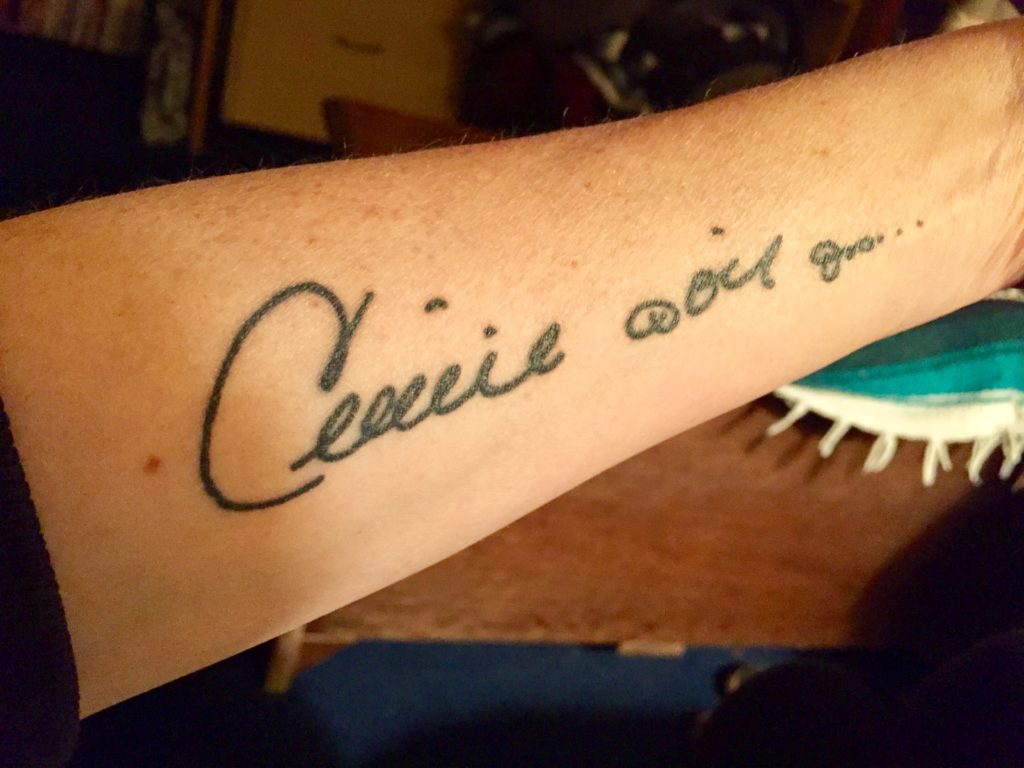 Céline, you may never see this, but I want you to know how very much you have meant to me. People make fun of fandom, but sometimes fandom replaces family, friends and safety.
For as long as I can remember, you have been my home. Everything you do brings me joy. Seeing you eat a French fry makes me less self-conscious and less anorexic. Watching you express your sensuality during your concert emboldens me to discover my own sensuality. Seeing you with your children gives me a sense of peace that great moms exist.
My therapist asked me to pick a safe place for my sessions. I picked you. She said nobody's ever selected a person but she knew it was right. I could be talking about the worst and most traumatic experiences of my life, and yet when I think of you I become calm.
You have been the elixir to my soul, the fulfillment to my empty heart, the inspiration to my frightened child.
Céline, I wish I could tell you what you mean to me in person, but I'm sure I will never get that chance. But what I hope this story will convey to others is the power of music in healing. Thank you for being the inspiration, the safety and the love I've needed for over 30 years.
If you or a loved one is affected by sexual abuse or assault and need help, call the National Sexual Assault Telephone Hotline at 1-800-656-4673 to be connected with a trained staff member from a sexual assault service provider in your area.
If you or someone you know is struggling with an eating disorder, you can call the National Eating Disorders Association Helpline at 1-800-931-2237.
We want to hear your story. Become a Mighty contributor here.
Images via contributor