Professor Creates Genius Post-It Note Accommodation for Student With PTSD
---
Having an invisible illness means facing challenges that most people will ever know about. It can be isolating, which, in the case of mental health issues, can actually exacerbate symptoms and difficulties.
• What is PTSD?
Teachers want their students to be able to pay attention in class. Something that it can be nearly impossible to do when you're dealing with a flareup or symptoms of your condition. One very smart professor came up with a way to accommodate the needs of a student who has post-traumatic stress disorder (PTSD), and it's an idea that could help so many.
A social media post from an account labeled spoonsandweasels gave the deets. "Today I was talking to my professor about my ptsd and how it may affect class performance, because it's a very participation-heavy class. The system that my professor came up with is kind of beautiful, so I want to share it with you guys," the post begins.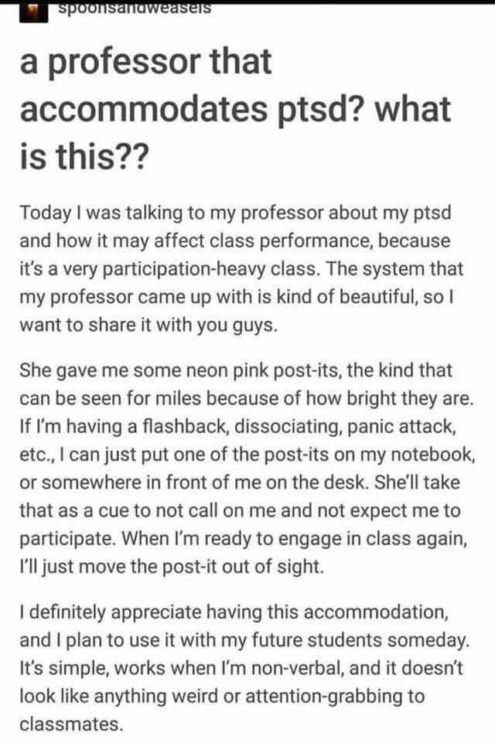 It then goes on to explain that the student was given a pack of neon pink post-it notes. If they were struggling — having a flashback, panic attack or another symptom that would make it difficult to participate in class — the student could put a post-it on the desk. This will be a signal to the teacher not to call on this student or expect them to participate, temporarily. When the moment passes the student just removes the post-it and can reengage.
This instructor's idea for the post-it signal is brilliant for so many reasons. It maintains the student's privacy — they don't have to disclose their health condition to the whole class. It allows them to stay present in the class, manage their PTSD symptoms and still engage in the lessons in a way that feels safe and supported. It also shows that accommodating people with disabilities isn't difficult.
Whether it's for a mental health condition, chronic illness or disability, accommodations at schools aren't always easy to ask for. The American's With Disabilities Act and section 504 of the Rehabilitation Act make it mandatory for colleges to make "reasonable accommodations" for students with disabilities, including mental health issues. So why do so many fail to do so? It may, in part, be because they don't know problems exist.
Unfortunately, the onus is students to directly ask their professors or institution and request accommodation. Being often met with probing questions, scorn or unsolicited advice can make asking daunting. According to the American Psychological Association, only if a student has revealed the need for accommodation is the school responsible for meeting it. Many schools have a disability resource officer or center, which can be a good place to start.
Going directly to a teacher, as the student in this viral post did, may also be a good action step. It can allow for a personalized plan to be instituted that will be specific to the class. And, as anyone with a mental illness knows, safety plans are a key part of mental health. Nancy Darling, Ph.D., a professor at Oberlin College, advised in Psychology Today that you speak to the instructor early in the semester and be very clear about what you need to succeed.
Many professors may also be resistant to class-level accommodations because they aren't creative enough to come up with solutions. In this case, Darling suggested being prepared with some ideas of your own, perhaps written out along with a letter detailing the disability accommodations you need.
There are unfortunately some people who simply resist making accommodations or won't implement them broadly and consistently. In this case it's time to get officials involved. If you've gone to the teacher, administration, disability officer and even your state advocacy center, it's time to call the Department of Education's Office of Civil Rights. Its contact page lists local offices and provides phone numbers and email addresses to file a complaint.
And most importantly, never feel the need to apologize or feel ashamed for asking for accommodation. This is your life and education, and these are your rights.
Originally published: January 22, 2021