PTSD: How the Women's March Has Changed for Me in 2 Years
---
Editor's Note: If you've experienced sexual abuse or assault, the following post could be potentially triggering. You can contact the National Sexual Assault Telephone Hotline at 1-800-656-4673.
In 2017, I attended my first Women's March.
I'm Canadian, but this didn't stop the American election results from devastating me, as I know they did people all over the world. It awoke in me a deep-seated fear and mistrust in the world, and my fellow humans. It terrified me to realize that this misogyny was potentially all around me; I was overwhelmingly triggered.
Ten years prior to the 2016 election, I survived an event that has caused me to have post-traumatic stress disorder (PTSD) symptoms. In brief, a male in a powerful position, whom I trusted, took advantage of a vulnerable moment in my life, and forcibly tried to kiss me in a room he had locked. I am fortunate to say that I escaped this situation quickly and before he took it any further. I'm lucky because no physical damage was done, but it created psychological trauma.
This trauma was started by the man in question but was then perpetuated by others in power. Immediately after, I went to the police, along with two friends who wanted to support me. I was visibly shaken and having difficulty describing what happened. The police officer behaved irritated, would not let my friends speak for me, and in general, gave off the vibe that he wasn't going to take what I was talking about seriously. I left without making a report, unable to withstand the scrutiny and disinterest. After this police incident, I turned to a friend, who had contact with the abuser's supervisor. When the story was relayed, it was again dismissed, with the supervisor stating he didn't believe it happened. After these two very painful dismissals, I gave up on my pursuit of justice and felt severely let down by those in authority.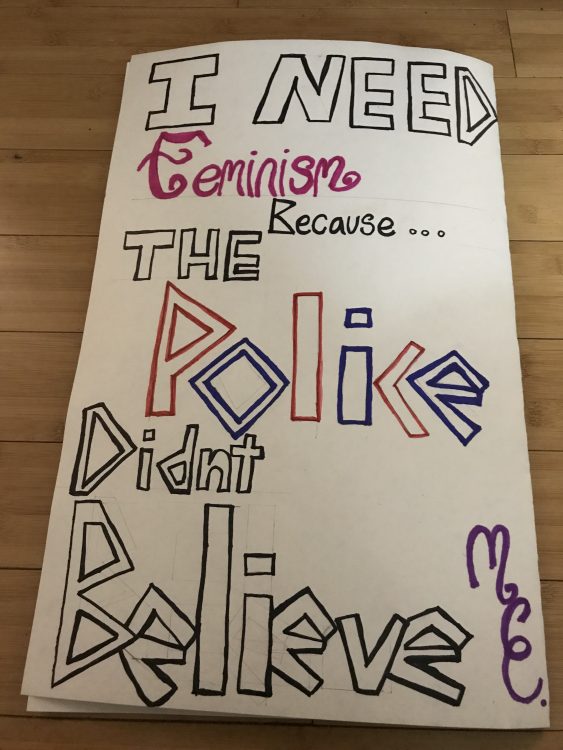 Fast-forward again to the 2016 election results, and you can understand why my trauma was reawakened. A large section of people had chosen to elect a known abuser, a man whom in his own words "grabs pussy" without consent, and who has been accused of much more. When I chose to attend the 2017 Women's March, I did so for myself. I needed to know that there were safe people out there, that there were others who would stand up for women's rights, and against their abuse.
I shook at that march, and I cried. I needed to be there for me. It helped me to heal; it showed me I was not alone.
This January, I attended again, and my reasons were altered.
This year, I marched for my sisters and brothers, who have also survived trauma. For those who, like me, need to visually see that there are safe people and places in this world. I also march for the people who would like to attend but are restricted by their own PTSD and other mental illnesses.
I am now on a mission to help people with mental illness and trauma to know that they are not alone. I do this through my Instagram, through my writings on The Mighty, as well as one-on-one conversations with friends and internet followers. In response to the let downs of those in authority who could have lessened my trauma and PTSD, I am trying my best to both share my story and listen to others.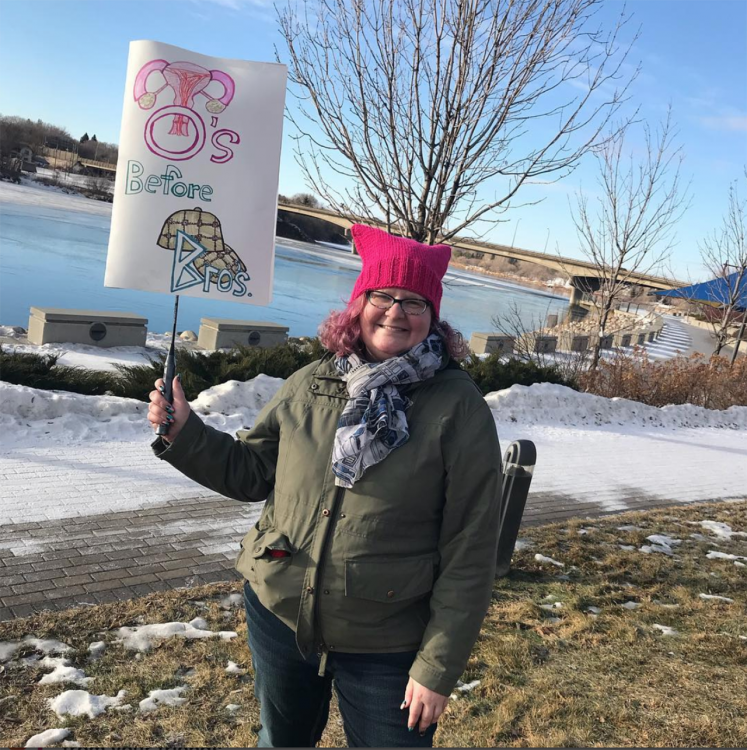 I continually strive to be somewhere in-between my reasons for marching — a balance of fighting for myself and fighting for others. I want to be an example that you can overcome trauma with time, and I also want to help support and uplift those still finding their voice. For those of you who have endured trauma, I want you to know that when you choose to attend a march, sit in a support group, go to therapy and so on, you are doing something brave. Not only this, you are doing something that fights against the abusers in this world. You are saying it's not OK, that we are standing against it and that we can and will heal. For that, I am proud you. Keep fighting, and look around you to see that others are fighting too.
If you or a loved one is affected by sexual abuse or assault and need help, call the National Sexual Assault Telephone Hotline at 1-800-656-4673 to be connected with a trained staff member from a sexual assault service provider in your area.
Images via contributor
Originally published: January 25, 2018