Can Depersonalization Be a Symptom of PTSD?
---
For some, a fun house that makes you feel like you're having an out-of-body experience and observing rather than being in your body may seem entertaining. When this type of dissociative experience happens all the time, however, it's usually not fun at all.
Called depersonalization, feeling detached from your internal experience or feeling unreal is one way your brain helps you survive trauma. This type of dissociation, however, can get in the way of your life when it continues long after the trauma has passed.
What Is Depersonalization?
According to the Diagnostic and Statistical Manual of Mental Disorders (DSM-5), depersonalization makes you feel like you are detached from or an outside observer of your mind or body. You might experience depersonalization in a number of ways. For example, some people feel like time is moving slowly. Others may have the experience of floating above their body as an observer.
Like all types of dissociation, depersonalization serves as an important tool for survivors, especially those who experience chronic trauma. Depersonalization is part of your freeze survival response, which gets activated when you're in danger and fight or flight are not an option. Your nervous system checks you out during trauma to lessen the pain. If chronic depersonalization continues after you're safe, it can get in the way of your goals and ability to connect with others.
Is Depersonalization a Symptom of PTSD?
Depersonalization is not technically a required criteria to determine whether or not you have post-traumatic stress disorder (PTSD). If depersonalization occurs frequently with other symptoms of PTSD, your doctor or therapist may add a specifier or additional note to your PTSD diagnosis to say you have PTSD "with dissociative features."
Dissociation of all kinds correlate with trauma and trauma-related diagnoses, including depersonalization and PTSD. Depending on your other symptoms and trauma history, your doctor may opt for a different diagnosis, however. Some other diagnoses that can include depersonalization as a symptom are:
Complex PTSD (C-PTSD)
Borderline personality disorder
Dissociative identity disorder
Depersonalization-derealization disorder
Bipolar disorder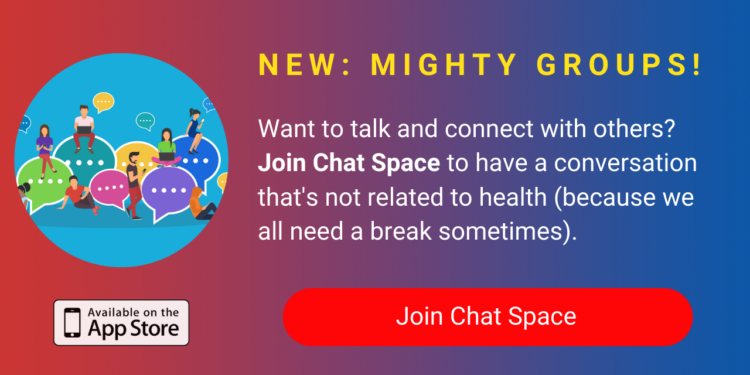 Want to talk with others who get you? Join the Chat Space Group on The Mighty here.
What Does Depersonalization Feel Like?
The experience of depersonalization will be different for everyone. Mighty community member Vanessa L. shared how depersonalization feels for her:
It's like no longer being connected to your own body. Your mind is so overwhelmed that it just detaches from reality completely. You question whether or not you're real. Everything about you is unfamiliar. You look at your hands and wonder whose they are. It's almost like watching a complete stranger go about their business.
Mighty community member Rowan S. offered another perspective on depersonalization:
It feels like you're playing a first-person video game. You can sort of control your actions and choose to interact with objects and people, but it's not actually you doing or experiencing any of it. You're just watching what happens from behind a screen, completely disconnected.
Learn More About Depersonalization
To learn more from others with PTSD who know what it's like to experience depersonalization, take a look at the stories below. And if you want to share your experience with others who get it, post a Thought on The Mighty. Here's how.
Other Symptoms of PTSD
If you live with PTSD, you know the condition is more than just depersonalization and dissociation. Here are some other common symptoms of PTSD:
Originally published: November 25, 2020