What a Flashback Feels Like as a Survivor of Sexual Abuse
---
It starts with something feeling "off."
Just a moment ago, all of me was all here. Now a piece of me is somewhere else, gone missing.
Sometimes I can pinpoint what caused it. Sometimes I can't. All I know is this: In the place of the whole, integrated woman I was a moment ago, there's now a part of my soul that feels like the black and white photo of a little girl on a milk carton. The little girl I've lost is somewhere on a one-way train, a train without brakes whose tracks are aiming off a cliff edge. I feel like a bystander watching it all unfold in slow motion, but in truth the little girl on the milk carton is inseparable from me. She is the deepest essence of me, the child whom I was borne out of. I'm tied to her forever by a soul-bond. Wherever she goes, I follow. Today she's going off the cliff edge, and it's only a matter of time before I tumble off the precipice with her.
It begins with a tug deep in my core. It's the tug of a past life, a dystopian world where even those who I trusted weren't safe, where touch equated exploitation. The woman I've become has escaped that nightmare — the little girl who I came from lives there eternally. She carries on in a strange alternate universe, a ghost town where nothing ever dies and memories live as long as the people who carry them. Today she's calling for my compassion. She's calling for my help. And I can't hurt her the way the others did, I can't abandon her, because to forget or deny the suffering of my younger self would be an act of betrayal to the one who made me who I am today. I couldn't live with myself if I did. So instead I turn toward her; I dare to feel her pain.
The train falls over the cliff edge into a whirlpool of emotion. There is rage. A feminist rage towards the ones who have dehumanized women into objects of gratification for centuries, a rage towards the patriarchal society that programmed and enabled a culture of sexual violence in the first place. There is misplaced rage towards the self, the voice echoing that patriarchal society: "this is your fault. you tempted him. saying no is selfish. satisfying men is what makes you worthy in this world. you didn't really mean no. you wanted it so stop creating a fuss. stop creating lies to get attention. you're completely fake. you should be ashamed of yourself. you've sinned against man. you deserve to be punished." 

There is panic, terror. I become the little girl cornered with no escape. I am the feeling of crying out for help and nobody hearing, not even those within earshot. Those who hear do not listen and I live in a world where my voice doesn't matter, I am what they make of me and nothing else. There is despair. Hopelessness. Grief. Disgust. Worthlessness. It's all coming so fast now and there isn't time for me to make sense of it. There is a parasite living in my chest tearing apart my insides and pumping poison through my blood and I need to get it out. I don't know how to get it out and I feel weak and stupid. Stupid. Shame. Shame. Guilt. Guilt. Guilt.

The guilt is strong. I'm laying in the arms of someone I love and I've been here before and the fall off the precipice has always been the beginning of the end, my demons are too strong to be loved through and I don't want to lose him but if history doesn't lie the god's honest truth is I might. He doesn't know what he's getting into, and today is only the tip of an iceberg so deep that even Mount Everest would be afraid of its heights, and I want to call up my ex-boyfriends and hand him the phone so they can warn him how bad it gets, how I'm not worth the trouble and how I'm all the awful things the voice in my head tells me. By now that voice has become a tape-loop — worthless, stupid, burden… worthless, stupid, burden. It plays on repeat until it is the only reality I know. Just a few moments ago I was revisiting a past life of a little girl — now I have become the past life. I have become the ones who hurt me, I have taken on the job of destroying myself in their absence.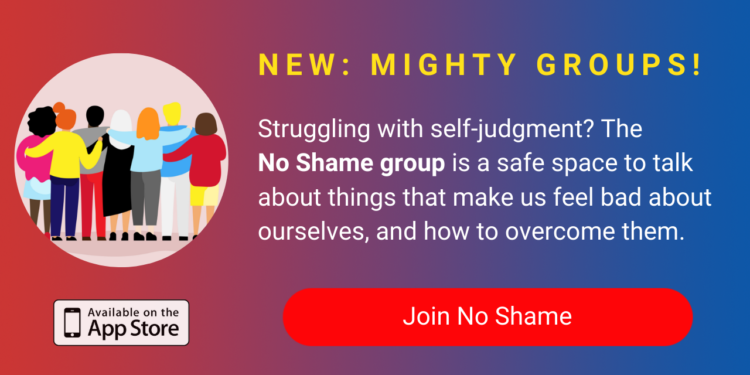 I am laying in the arms of someone I love. I open my eyes, and I am laying in the arms of someone I love. I've been shaking and squirming for nearly two hours and I'm still sick to my stomach from the whirlwind and the life is mostly drained out of me, but he's not angry and he's not blaming me and he's not accusing me. He's not echoing the tape in my head or the voice of my past. He's not coercing me or pushing me or punishing me for failing to fulfill his needs. He's saying kind things and he's holding me and he is not the people who hurt me. He is not the people who hurt me.
I open my eyes. I am laying in the arms of my best friend and he has never done me wrong in 18 years and somehow he's still here. He loves me in a way nobody ever has and he loves me in a way I've tried to learn to love myself and failed a million times. He even loves me more than I think I deserve and I'm afraid he might not tomorrow, but somehow the risk is worth it. Somehow the risk is worth it and I know this is my stop to get off of the train.
The little girl on the milk carton isn't ready to say goodbye yet, so as I turn to go I feel her pull at my sleeve. The truth is this isn't goodbye. I'll be back to visit the little ghost town of memories many times over, sitting with her and feeling through the things she still needs to feel through, the nightmares she can't let go of just yet.
The truth is this isn't goodbye, because the little girl and I are inseparable. I am the essence of her manifested in womanhood, I am the fruition of the child I was borne out of. We are tied forever by a soul-bond — wherever I go, she follows — and today, I'm coming home to the time and place I belong to. Today, my home is a world where touch is a language of intimacy, not exploitation, and where those whom I've put my trust in are safe. Today, I'm stepping off the runaway train, and I figure it's only a matter of time before the little girl passes through the portal with me. And when she does, whenever she's ready, I intend to do everything in my power to show her a world where healing is possible and kindness reigns.
Photo by pawel szvmanski on Unsplash
Originally published: December 31, 2020