The Negative Effect of the #MeToo Campaign
---
Editor's Note: If you've experienced sexual abuse or assault, the following post could be potentially triggering. You can contact the National Sexual Assault Telephone Hotline at 1-800-656-4673.
Disclaimer: Please know I believe the #metoo campaign has impacted and moved people in profound and incredible ways. I do not want to take away from its original intent, which is creating hope and starting a conversation about unwanted sexual encounters of any kind. I think it has done these things and more. This is only my personal experience regarding the campaign.

Over a year ago, I became a victim of sexual violence. I truly never thought it would happen to me. I never imagined sexual violence being interwoven into my story. But, it happened. It completely sucks, and I wouldn't wish it on my worst enemy. Though I've experienced tremendous healing through psychotherapy, eye movement desensitization and reprocessing (EMDR) therapy and my faith in God, I still become anxious and panicky around men at times. Occasionally, I experience a flashback, but nothing overwhelming.

After the #metoo campaign blew up online, the flashbacks and anxiety raged back with tremendous force. I scheduled an emergency session with a counselor and bawled my eyes out for half of the session because it was too much to take. Somehow, a campaign to promote hope became a nightmare for me. As the stories continued to flood my social media and news pages, I had to significantly limit my time on these pages. In reading everyone's stories, it felt like I was reliving my own trauma. I cried and panicked over being around men (specifically attractive men) in coffee shops, work settings and pretty much everywhere else. Anxiety rattled me, often shackling me and taking away my focus and peace of mind.
But, things accumulated more at a recent singles event for my church. It began out as a pretty good night. I found a few friends and couldn't wait to dance with them. But as I started to see an overwhelming amount of men and couples, anxiety creeped in and I was forced to rush out of the building to soothe myself in a non-stimulating environment. I managed to reset my mind by listening to a few worship songs, breathing deeply and affirming my identity. When I entered the building, I started to walk into the dance room when panic suddenly made me freeze. Loneliness, hopelessness, fear and anxiety rushed through my veins. Lies put my mind under attack. Tears quickly filled my eyes. It somewhat felt like an out-of-body experience. At that point, I walked straight out of the building to my car. As soon as the car door shut, I rolled up into a ball and cried hysterically. I couldn't take it. It was all too much. I couldn't do it. I couldn't manage to do one "dosie-doe," and it stung. A lot.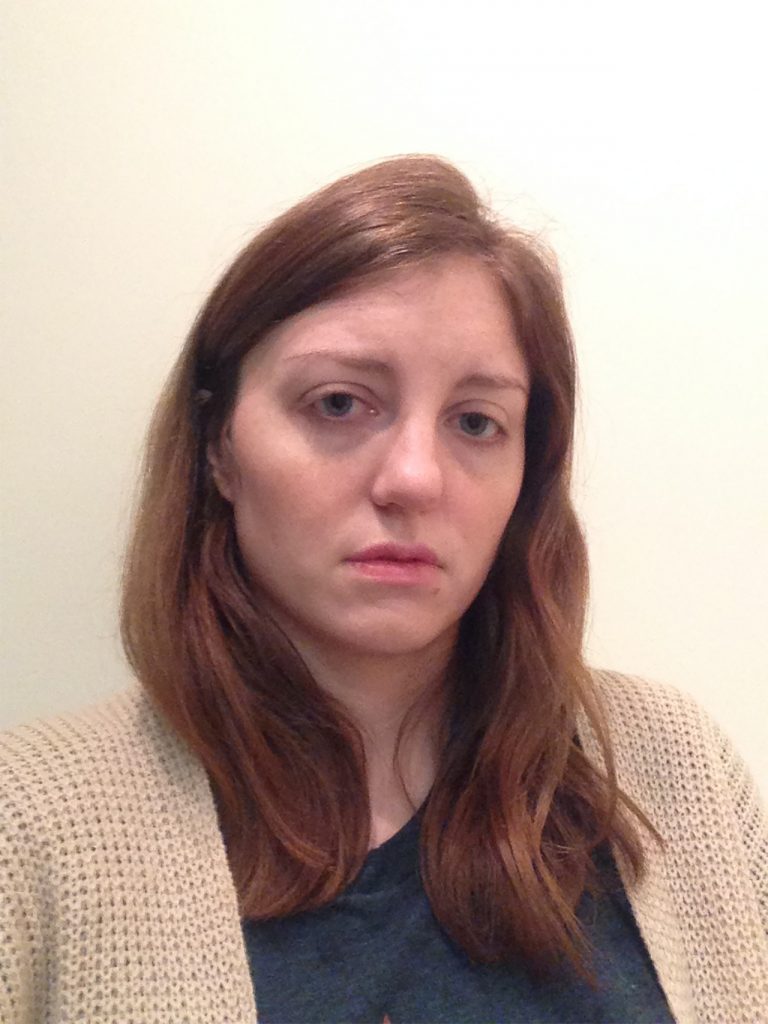 The above picture of myself is one I took after the immediate panic went away. Though I felt a little better, I still felt hopeless and defeated. How could I ever interact with men and be in a relationship with one when I feared them? Would this happen again? How long would it be before the anxiety and flashbacks didn't bother me as much?
Though I haven't answered the last two questions, I have answered part of the first question. I've been able to interact with men without getting panicked since that moment. I don't take that for granted anymore. I know it sounds weird, but it's honestly relieving.
For those of you also triggered by the #metoo campaign, know you're not alone. It's OK to feel the way you feel. Just because you've had a negative association with it doesn't mean you and your story are less valuable. Continue to be brave and have hope, even in the darkest moments of your journey to recovery.
If you or a loved one is affected by sexual abuse or assault and need help, call the National Sexual Assault Telephone Hotline at 1-800-656-4673 to be connected with a trained staff member from a sexual assault service provider in your area.
We want to hear your story. Become a Mighty contributor here.