How Therapy Memes Can Be a Powerful Tool in Therapy
---
They say "laughter is the best medicine," and by "they," I mean there are countless scientific studies that have been conducted on the health benefits of laughter which range from reducing anxiety to improving your immune system. Therefore, incorporating laughter into any health or wellness treatment protocol doesn't just sound good, it's good science. It's in this vein that I assert that using therapy memes in therapy can be a powerful asset to the therapeutic process.
• What is PTSD?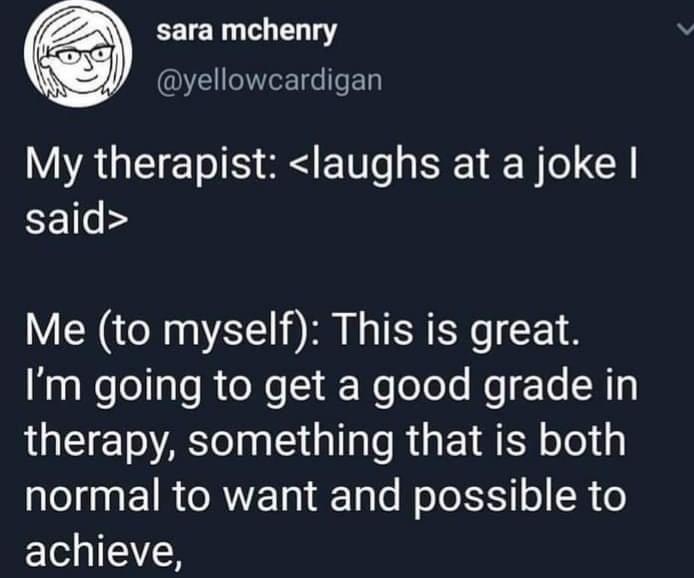 Hear me out. One of my core values in life is humor. It's the thing I value most in my relationships and one of the things that I value most within myself. For a long time, I felt insecure about my quirky sense of humor. I thought it contributed to my constantly feeling like I don't belong anywhere. It has taken a lot of self-discovery in therapy and the acceptance of who I am at a more fundamental level to own my humor is uniquely a part of my identity. Being able to bring it into therapy with me and have it reflected back to me as something valuable has been both healing and validating. This is why I wholeheartedly believe that therapy memes can and should be an invaluable asset to therapy.
How can therapy memes benefit therapy?
1. Building the therapeutic alliance.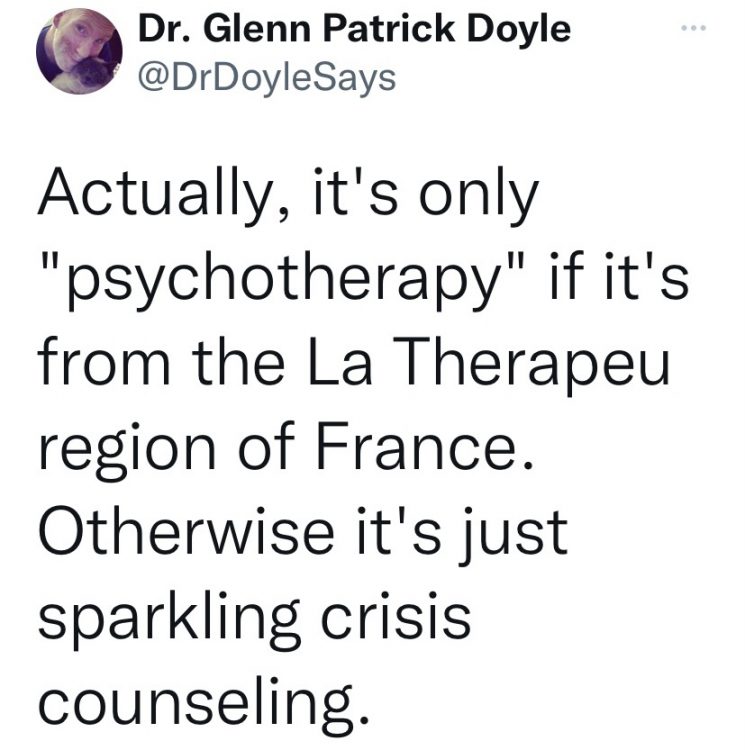 As I mentioned, my sense of humor is very important to me. In my relationship with my first therapist, I was painfully aware of the fact that she not only didn't appreciate my sense of humor, but was noticeably irritated by it. She'd roll her eyes at me or groan when I cracked a joke. I do tend to deflect painful feelings and memories with humor, but making me feel like a core part of my humanity was annoying certainly didn't foster an environment that was safe or conducive to my further exploring my painful feelings or memories, nor did it encourage me to accept myself for who I am. My current therapist not only laughs at my jokes but will occasionally crack a joke to make me laugh. That kind of humanity makes it much easier for me to trust her with the darker scarier things that I need to disclose. Exchanging therapy memes is often a part of this dynamic. It's almost a warm-up exercise to set the stage for safety between us so that I can then move on to an EMDR session or other intense therapeutic modality.
2. Helping to convey a difficult emotion or something I may be struggling with.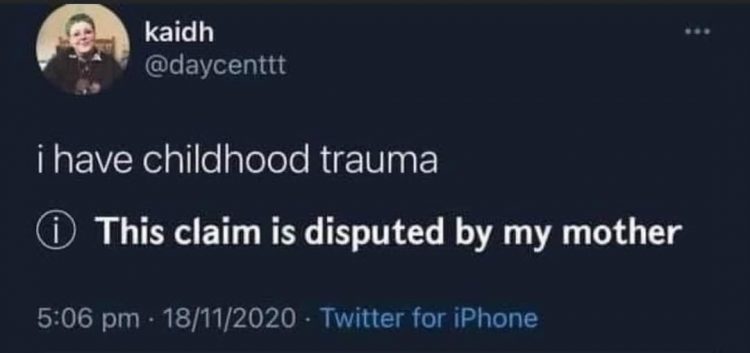 The thing that's so brilliant about memes is that they often poke fun at things that can be deeply painful to discuss. I will often read one that talks about codependency or inner child work, subjects I still find hard to address, and the sarcastic way in which it articulates my angst helps me feel less alone in my struggle. I can show my therapist these memes and she will immediately understand my feelings about the subject without me necessarily having to articulate them, especially if I'm at a loss for words. It's like a feelings wheel, but with more nuance and context.
3. Establishing where I'm at in therapy and what to work on next.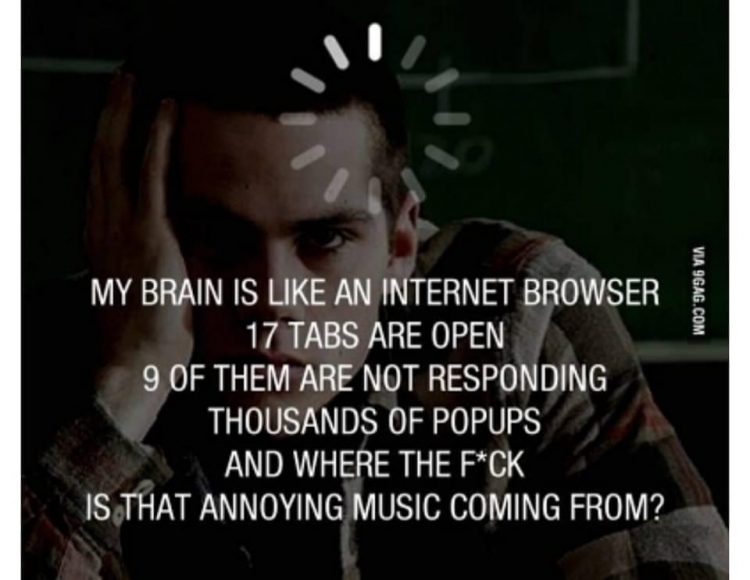 Sometimes the memes that are resonating with me tend toward a theme. I may bring in two or three that all relate to not sleeping well or mom issues because these are the places where I'm currently struggling in life. The memes become a kind of roadmap for where we need to focus our attention that session or for the next few sessions. And when certain themes pop up over and over again, we know that we need to revisit those areas to continue exploring how they still affect my daily life, like overthinking or people-pleasing.
4. Helping me get in touch with my inner child.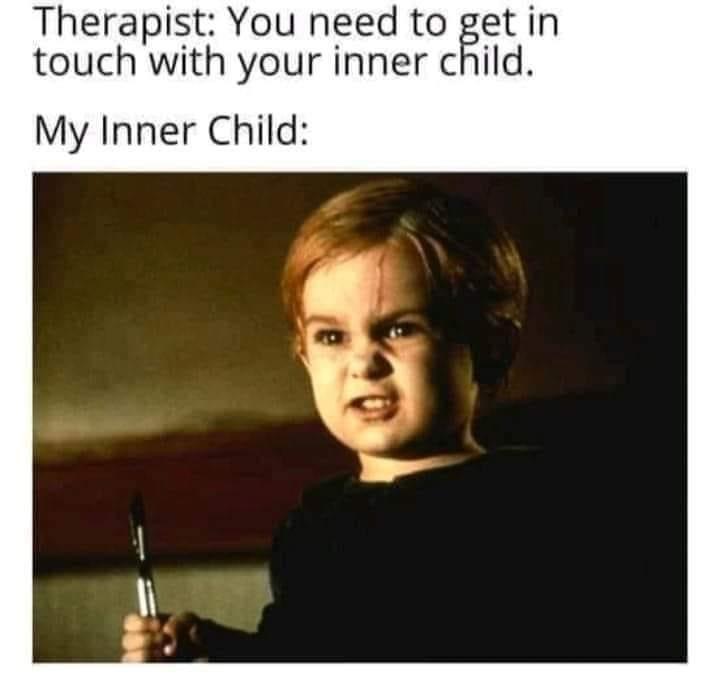 It goes without saying that humor is an important aspect of play and that play is crucial to getting in touch with our inner child. I have had a very ambivalent relationship with my inner child, and allowing myself to be silly or giggly or to just have some fun doesn't always come naturally to me. Being able to laugh at therapy memes has a playfulness to it that helps me tap into that part of myself that needs to spend less time working hard, being productive, and always being serious. By honoring my sense of humor I am honoring my playful inner child and giving her permission to not achieve or have to hustle for her worth by constantly trying to meet the needs of others.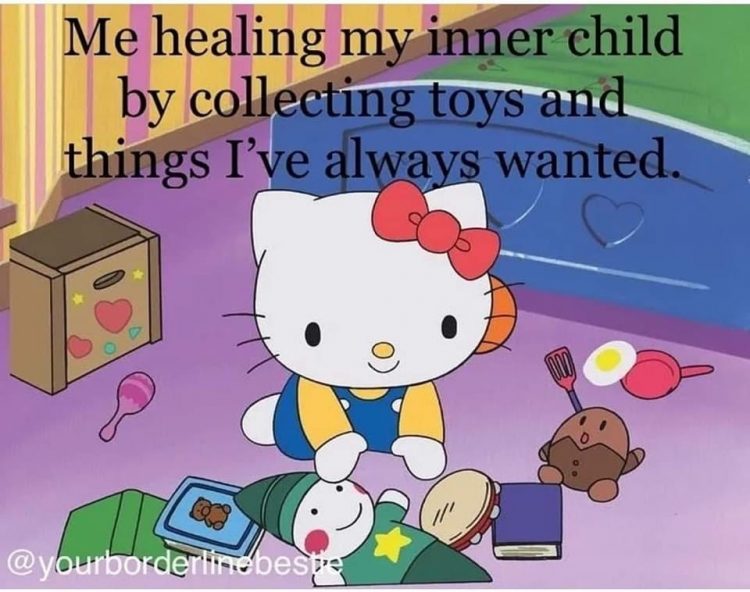 Let me be clear, I have no interest in delegitimizing or poking fun at therapy as a profession or as a critical service within our health care infrastructure. I have the utmost respect for the profession and for those who have dedicated their lives to it. But there's no reason why we cannot infuse the therapy process with a little lightheartedness. I think we could all benefit from that at this point. Therapists are humans too and have survived through this hellish past two years while holding space for others. That's a Herculean feat. Let's honor that humanity that we share by allowing for some humor to be incorporated into the work we do together.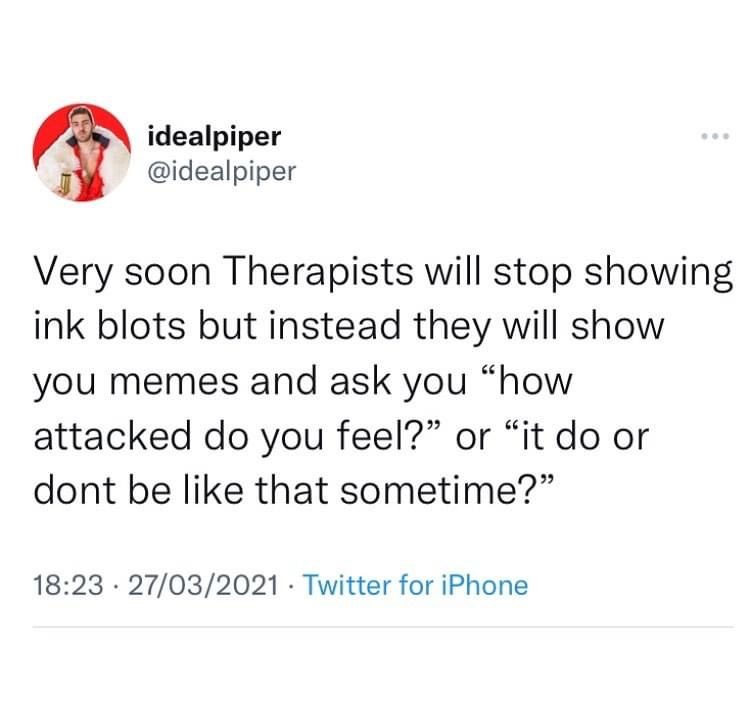 Originally published: May 27, 2022