Speaking the Language of PTSD
---
June was National PTSD (post-traumatic stress disorder) Awareness Month. This encourages me to write of my own experiences and some lessons I've learned along the way.
I was diagnosed about six and a half years ago, although it often seems like an entire lifetime. Everyone's story is different. A variety of things led to my PTSD diagnosis, but there may be some commonalities between myself and others struggling.
One thing I realized after a lot of frustration was that I speak a different language, or no language at all, when trying to express myself. It's as if I'm an alien who has been dropped into a foreign land. This leads to the feeling of being misunderstood.
There are so many things that feel virtually impossible to explain to someone without PTSD. For example, hypervigilance. It's noticing everything and constantly scanning my environment; being alert even when I'm trying to sleep — it's depleting and it never stops. Or trying to explain how noisy the world is to me. Today, I had to banish the food dehydrator to a closet because I could not take the noise. The suggestion of a white noise machine is just one more noise to add to an already overwhelming cacophony of sounds. How do I explain the pain in my body from reliving trauma?
I also notice a difference in my experience with the world. I used to be so angry at hypervigilance. I have also found a sense of gratitude toward hypervigilance. I get to see things that other people take for granted. or more likely don't even see; like the ladybug on the sidewalk.
Humor and gratitude are vital in other aspects of learning to cope and move forward in life. I keep a daily gratitude list. Even on the worst days I can find something to be grateful for. Recognizing success is also key for me. Some days, success is getting out of bed or taking a shower; but other days are more significant. Noticing moments of joy and what makes me smile are other crucial elements to fighting against PTSD — maybe it's something in nature, a color, my dog or a card in the mail. I then take it one step further and recognize how my body and mind feel different in that moment. I then try to recreate that feeling more and more.
The trauma that lead to PTSD left me without words to express myself. It is in that frustration I discovered art. I had never considered myself artistic. It started with scribbling to get out anger and frustration; or using certain colors to describe my mood. I have created art using mediums involving my body, such as finger painting; splattering or spitting paint through a straw and tearing paper. I had to learn the the outcome didn't matter. It was vital to be nonjudgmental — it's about the process. I have used art to express the noise in my head and body.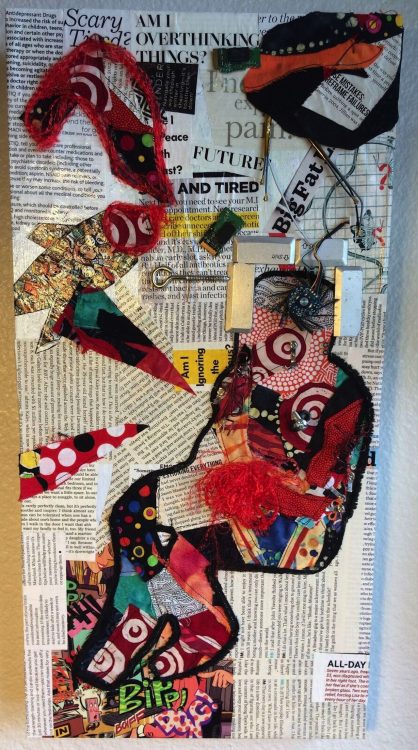 Throughout my journey, I sometimes feel overwhelmed with emotions. I've learned I can have more than one emotion at a time, even two that seem polar opposites; sad and happy, anger and joy. I've also learned to acknowledge what I am feeling, to give myself space and time, and know that it's OK to feel whatever I'm feeling. It is OK to grieve the life I "lost." It is OK to be angry. It is also OK to have times I must sit with being miserable and honor that feeling. In those times, it is OK to tell others to sit with me, and to tell them I don't want to hear their advice, or that, "Time heals all wounds," or similar platitudes. It is OK to tell others that maybe tomorrow you can acknowledge growth, but today, you just need to sit with it and feel it; give it space and honor it.
I will continue on my journey of healing. It is not a straight path, but a very circuitous one with ups and downs. I keep moving forward, or try the best I can, one day at a time; sometimes one hour at a time and sometimes just one moment at a time. Many battles have been won, but there is still a war going on and I will keep fighting.
We want to hear your story. Become a Mighty contributor here.
Lead image via contributor