My Guide to Visiting Las Vegas With POTS, or Other Forms of Dysautonomia
---
So you want the bright light city to set your soul, set your soul on fire, eh? Here is my little guide to surviving with POTS.
Water
Pack it, or plan to bring a small fortune to stay hydrated. The other option is to learn to like tap water. Bottles of water on average were anywhere between $3.50 and $6. These are for 20 oz. bottles, not even big bottles. Some hotels had vending machines with bottled water, but those were still around $4 each. If you're living the POTS life, you need a lot more water than that. We searched high and low though for the very best deal, in case you don't want to pack it. The very best deal we could find was the CVS across the street from the Mirage. It was $2.39 for a gallon. Walgreens and the ABC store both had water for $2.99 a gallon. Your first stop after landing should be one of these places.
Electrolytes
Don't count on being able to buy Gatorade in Vegas. Gatorade wasn't found anywhere. We did find Powerade once, and only once. We found a small bottle for $5 at the Bellagio pool gift shop. I suggest you bring Nuun tablets, or something similar to dissolve in water and make your own electrolytes. I don't get paid to say I like Nuun tablets, I just prefer them the most.
Wheeling Around
Bring someone strong and able to push your chair. Walking (or rolling) the strip is no easy task. Some parts have crosswalks where you can cross, but other portions have fences that do not allow you to cross at the corner, but require you to walk up the street a bit and then take an escalator to a sky bridge to cross the street, then go back down again on the escalator. Obviously escalators are not made for wheelchairs, but there are elevators available. They are farther back behind the escalators through a sketchy alley way. Special bonus: some of the elevators smell like urine and one had a man passed out sleeping on his skateboard on the floor. He was there several hours because we saw him twice. They also have scooters available to rent, but I'm not sure on the pricing.
Also, if you think about a street corner filled with people, it's definitely a hassle to wait to be able to roll the wheelchair down the sidewalk ramp instead of jumping off the curb. Vegas is filled with adorable cobblestone too. Be prepared for bumps. I should point out that Ubers are readily available and taxis too. As with most places, Uber is more affordable than taxis. From a wheelchair you get to see Vegas from a whole different perspective. You can't see over most table games and railings, not to mention you are traveling through Vegas at hiney level. Maybe that is a bonus for you. I found it a bit annoying.
I don't use my wheelchair much in my life around home. So when I suddenly am being wheeled a few miles a day, my dizziness, and sometimes my nausea, increases. Going up and down on the elevator over and over can help to create that "I just got off a cruise ship and I feel like I'm swaying when I'm standing still" feeling. I found rest to be incredibly necessary. Afternoons always included a nap. I know this is silly and vain, but being in a wheelchair makes attractive selfies difficult. I prefer a camera above looking down, but if you are trying to get someone else in the picture, it's frequently a camera looking up to capture you and another person, unless they come down to your level. At the end of the day, choose to enjoy the moment and the time and not worry about an unflattering picture. It's small potatoes – which brings me to food.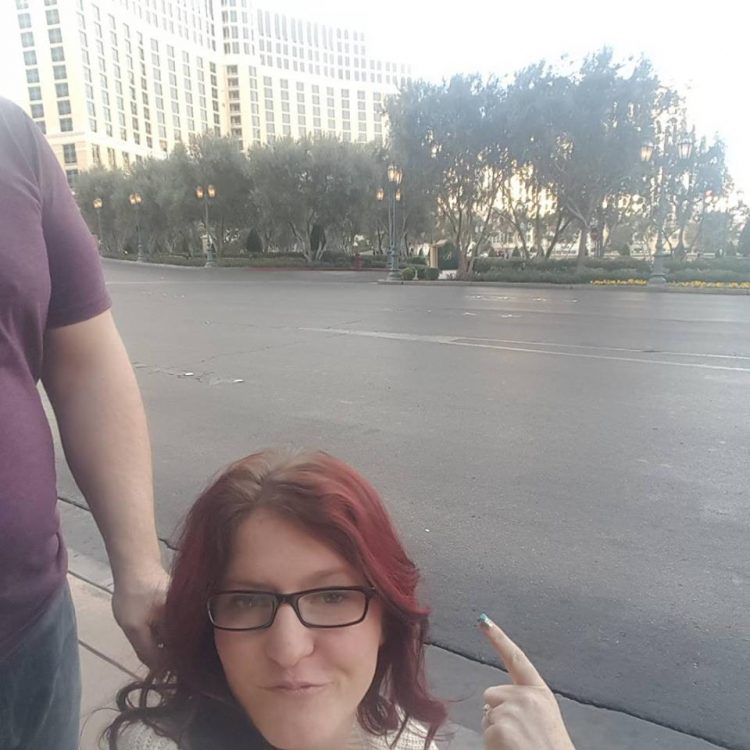 Eating
If you have POTS, then you know that eating is most effective and least symptomatic when eating a bunch of small meals, instead of two or three large meals. That's not what Vegas is about. Vegas is about all you can eat, all at once for one price. If you do the buffet scene, take your time. The water is free and unlimited too. I am sure it is tap water too, but I do think in some of the machines it is filtered, since it tastes less like a swimming pool. If I could go back again I would bring some little salty snacks and granola bars, etc. to help in between the expensive Vegas meals. Sure, I could get a piece of pizza in the afternoon, etc. but it is $12-$15 for a slice, and then it seems like you absolutely must finish it, so you don't waste the money. Don't think you can eat half of your dinner and take the rest back to the fridge in your room. No fridge. No microwave. I'm not talking about a Travelodge; I'm talking the Mirage and the Bellagio. No fridge. No saving or buying string cheese at the Walgreens and storing it in your room.
Bathrooms
Locate the restroom as soon as you enter a casino or restaurant. You never know if you are going to suddenly vomit on a slot machine in the Bellagio, not that I know anyone who did that… (It was me. I did that. It wasn't even alcohol-related, sadly.) Also, sometimes the bathroom is a trick. We were in one pub having dinner and asked about the bathroom location. We walked over to the sign and there was a set of stairs up to the bathroom. No elevator. We ended up walking almost a mile back behind two different hotels in through a parking garage to find the closest bathroom. That was frustrating.
Oxygen
If you are dependent on oxygen, I would make a plan to bring a concentrator. Everyone, everywhere smokes in your mouth. I have tanks and a concentrator at my house at home, but for trips I rent a portable, airline approved oxygen concentrator for $100 a week. It's annoying to have to pay for it, but I'd rather have it than not. Yes, there are oxygen bars in Vegas. I don't know how many liters per minute they can do though, so I wouldn't count on them being able to do whatever your prescription approves. They do have cute bright colored water bubbling though too.
Light and Sound Sensitivities
Vegas is kind of known for being bright and loud. If you have a lot of issues with neon and flashing lights, it might not be for you. I have issues with certain fluorescent lights increasing my POTS symptoms. I was only really bothered by one buffet's lights. The other lights didn't cause me too many issues. Tom said that Vegas would be perfect for our 8-year-old because there are people everywhere making noise for no reason at all, other than just to make noise. He's not wrong.
Debrief
It might seem like I'm being negative, but that is not the case at all. I just want to be sure that you know what you are preparing for exactly. I had a great time. We went to the George Strait concert and it was amazing to hear him in person. My brother and his wife flew in and met us there for our little Christmas together. We made all kinds of memories together. My brother got flustered in the sports betting area and accidentally bet on the wrong team. He ended up winning $20. My husband won $69 on the nickel slots and $20 at Roulette. My sister won $38 on the big six wheel. I donated to the casino on every game I played, but I made my money back in free drinks. I'm no fool.
We want to hear your story. Become a Mighty contributor here.