What I Wish Parents of Children With Chronic Illness Understood
---
Dear parents of children with chronic illness,
I understand the confusion. I see how impossible it is for you to continue on knowing your baby girl or boy is in pain in some way that no one seems to be able to solve.
I understand the struggle of not understanding what's happening. The want for a diagnosis when it just isn't coming. The need for a treatment plan that's just too complex. The constant want for us to just be "better."
I understand the feeling of not knowing how to help because those of us with chronic illness don't always know how to help ourselves.
What I can tell you is this: we're doing the best we can, and as hard as it is for you, it's hard for us, too.
It hurts to see you struggle mentally with this as much as it hurts you to see us in physical pain.
I speak from experience when I say there are moments I feel on the brink of passing out and just keep pressing forward, praying to God I make it to the destination before my legs buckle under me. There are times I've lost it in the bathrooms of public places because the pain is increasing, only to walk out like nothing substantial happened 20 seconds ago. And this might be TMI, but many times I've lost a meal only to pretend like I'm completely fine and full.
I've talked to many chronically ill kids, and they've all said the same thing. Often we try so hard not to let you see how sick we really are because we know how much it hurts you.
I know all you might think about is finding the next treatment plan or correct diagnosis. But please don't try to fix me. Don't take me on as your project that you won't be satisfied with until it's all over, because sadly it doesn't work like that.
People with chronic illness don't always have a diagnosis all the time, and if we do, our treatment plans may not be set in stone. Sometimes the tests become too much. The lack of knowledge about what's happening, the failing treatment plan over and over again — well, it gets to be a lot.
All I want is a hug, not a rush of more doctors or being pushed back into society like I'm fine. The guilt we feel when you're upset because you can't figure us out can be more unbearable than our illnesses sometimes. It can bring on thoughts like, "It's all our fault" and "Why can't I just suck it up and get on with life?"
If I find something that works, let it be. It works. It may not fix me, but if it's enough to let me press on with the "good" days, please don't take it away from me because something better may be out there. I know my own body better than anyone. You don't see the inside of me or feel what I'm going through, as much as you say you wish you could. I believe I know how you feel whether you think I do or not. I live it. I watch it.
Thank you for all you do. I would be nowhere without your dedication, but please take a deep breath and step back just a little. I appreciate every dollar spent, every consent form signed, and every bit of love more than you'll ever know.
But just see us as your son or daughter and love and support us, because I believe this is what we really need. Please don't see us as your next patient.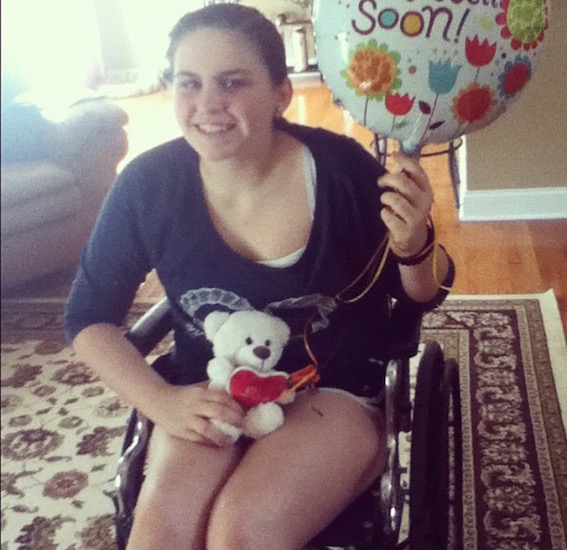 Follow this journey on Ashley Elizabeth Lives.
The Mighty is asking the following: Write a letter to anyone you wish had a better understanding of your experience with disability and/or disease. If you'd like to participate, please send a blog post to community@themighty.com. Please include a photo for the piece, a photo of yourself and 1-2 sentence bio. Check out our Share Your Story page for more about our submission guidelines.
Originally published: September 17, 2015