What I Wish Doctors Had Told Us Before We Got Our Daughter's Feeding Tube
---
The Feeding Tube Awareness Foundation estimates that approximately 40% of feeding tube users are children, and there are more than 350 conditions that can require children to need nutritional support via tube feeding. I am thankful for this medical intervention that has helped many children to live, grow, and thrive.
For us, the decision to get a feeding tube for June was complicated, and she did not have her feeding tube placed until she was two-and-a-half years old. Looking back, I wish the option of a feeding tube had been presented to us differently. Doctors were worried about June's lack of weight gain and told us a feeding tube would help. I struggled with the choice to get a feeding tube because it was another thing to "fix," and I knew it wasn't the direction we wanted to go, but I never saw it as a first sign that June was dying.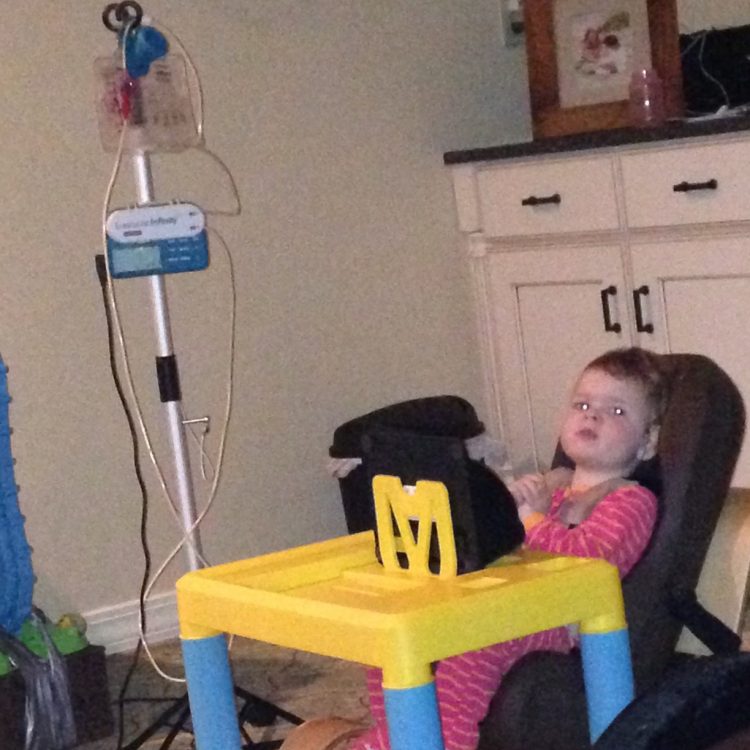 It was not until after June had her feeding tube placed that our family was connected with a palliative care physician. It was then that I learned loss of appetite could be the first sign of the body shutting down. I don't know if that knowledge would have changed anything about our decision to place the feeding tube, but in hindsight, I wish the doctors had been more direct about what a feeding tube meant for June and how appetite and death work together. Parents and caregivers need to be fully informed by their doctors about why an intervention is necessary and any potential unintended side effects. Healthcare professionals shouldn't assume that we realize the complete picture. After all, we don't usually have the same medical background and level of knowledge that they do — especially about death and dying in children.
In the end, getting June a feeding tube allowed her a little more time to meet her little brother, George. I was newly pregnant when she had the feeding tube placement surgery, and I often wonder if she would have lived long enough to meet him and spend time with him if we hadn't chosen a feeding tube.
No matter where a family is on their feeding tube journey, there are many great resources to help navigate the complexities of feeding tubes. While I love embracing the positive stories surrounding this little medical device, I think it's equally important to discuss the more complex experiences so that all families have a better idea of what's at stake.  The Feeding Tube Awareness Foundation has a parent guide on tube feeding written by parents for parents. The Courageous Parents Network has several videos where parents discuss the complexities around feeding tubes in children with life-limiting conditions. Complex Child Magazine has many articles on the subject too.
I know the decision to put your child on a feeding tube can be hard. Still, I'm personally thankful we decided to place a feeding tube for our daughter.