Mariah Hillis, on Going to the Beach With CCHS and Scoliosis
---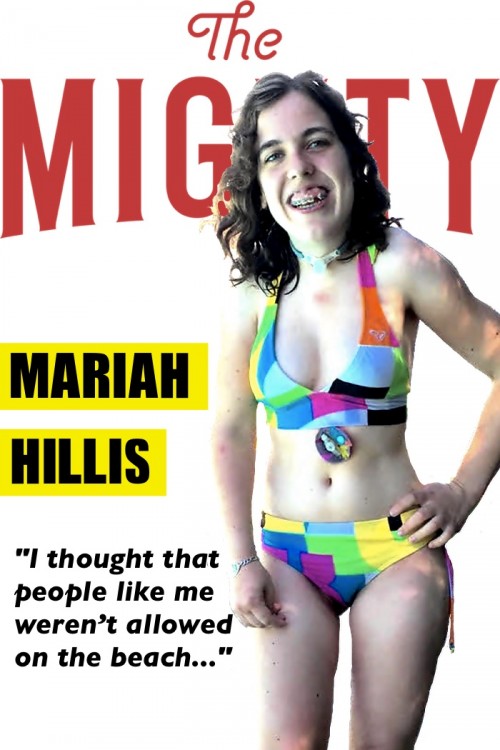 Mariah Hillis loves the summer. For the 21-year-old, summer represents trips to her family's cottage and time spent by the water. But she can't help but feel her disability become more noticeable as the temperature starts to climb.
"In the heat of the summer, dressing how I want to dress, I suddenly am very aware of how different I really am and how much of an impact my medical [equipment] has on my physical appearance," Hillis said.
Hillis, a student in Saskatoon, Canada, lives with scoliosis and congenital central hypoventilation syndrome (CCHS) – a rare disease that affects breathing. Because of CCHS, Hillis lives with a gastrostomy tube (g-tube) and tracheostomy (trach). In the summer, without layers and sweaters, Hillis knows those around her can see the outline of her g-tube and the drainage gauze around it. Her trach, too, becomes harder to hide.
"You never [see] people like me, people with g-tubes, trachs, and a physical disability on the cover of magazines," she said. "[Magazines] excluded us for a long time. I thought that people like me weren't allowed on the beach because we could never look like what was on the cover of those magazines."
Hilis doesn't let her conditions limit her from enjoying the warm weather and summertime activities, but they do give her pause when it comes to her wardrobe.
"The first time my little brother noticed my scoliosis I was wearing this tight tank top," Hillis said. "Mariah, what's wrong with your back?" he asked as he ran his little finger down her spine and over her curvature.
Hillis is constantly aware her summertime outfits may show people more than she wants them to see. "I rarely wear a bikini to the beach because I don't want someone to see my tube and tell me the way that I eat is weird or disgusting," she said. "I'm afraid all the time at the beach. I have to choose between feeling comfortable and eating, and choosing what I want to wear and what keeps the staring at bay. "
At the end of the day, Hillis doesn't want to choose. She just wants to do what every other 21-year-old wants to do at the beach – get a tan.
Read More: This Is What It Looks Like When You Feature Disabled and Chronically Ill People in Magazines
Next: Yvonne Evans-Nevin on How Ehlers-Danlos Affects Her Appearance