When I Asked People With Rare Diseases What They'd Most Like to Say
---
I was given five minutes to speak on Rare Disease Day in Washington DC on February 28th. Having had a piece of art accepted into the Rare Disease Artist Exhibition, my award included a chance to express myself in person. However, living with a rare disease and being in the midst of recovery from a recent flare that literally knocked me flat, I was unable to participate in person. Thankfully, they made an accommodation and allowed my dear friend Irene to speak on my behalf. This is what I wrote for her to share:
I live with several rare conditions (dysautonomia, adrenal insufficiency, and an undiagnosed neuromuscular/autoimmune disease among other diagnoses) which makes me a zebra in a horse world. But, I choose to take that a step further — in my case, with the number of rare diseases I have, I choose to think of myself as a zebra unicorn.
Why unicorn?
It's simple. My chronic illnesses come with a gift. In the wake of a traumatic brain injury that changed my life almost exactly seven years ago, I suddenly developed the ability to paint. It happened overnight. Thus, I am one of 70 officially tracked acquired savants in the world. With the insatiable desire to express myself through the language of color, I later learned that this was synesthesia.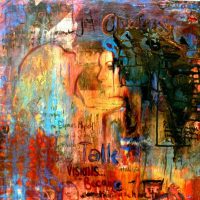 While the brain injury came with certain gifts, it also came with a variety of chronic illnesses. As a former strategist in home health and hospice, disease management is near and dear to my heart. And yet, the lack of training in rare diseases throughout the medical community, along with the assumptions that physicians make, is a significant, even life-threatening problem.
Imagine the terror of going to the ER for life-saving treatment only to be counseled on opiate seeking behavior, then told there was nothing wrong with you. It happened to me. I arrived in the ER via ambulance on Christmas Eve in 2016 with a second episode of acute abdominal pain over the course of two weeks. I had confirmed adrenal insufficiency. I was passing out from the pain. I told the ER doctor that this could be adrenal insufficiency. He not only insisted it wasn't, but refused to run my cortisol levels, refused my emergency injection, and instead ordered a CT with Dilaudid for pain. I am lucky I didn't die that night. This is life with rare disease.
Living with rare disease can mean going decades without knowing what is wrong. As we persist, we are told we need psychiatric evaluations, or to increase our pain tolerance, or to simply move on with life because there is nothing more that can be done. But the truth is, we have reached the limits of that physician's knowledge –or their curiosity –or even the knowledge of the medical community in general.
Why am I saying all of this? Two reasons.
First, those of us who have any kind of a rare condition face a brutal uphill battle in the medical world. When I asked others what I should communicate on Rare Disease Day, the most important thing they shared was their plea to be believed. "Take our symptoms seriously, treat us with curiosity, keep searching for answers and best practices. Don't give up on us, and please avoid trying to fit us into diagnostic boxes that simply don't suit the zebra unicorns of the rare disease world. "
But there is a second reason…
The human spirit is resilient. And within the rare disease community there is a depth of courage and persistence that is remarkable. Out of great suffering comes perseverance and hope. And in my case, the gift of art is well worth the difficulty imposed by life with chronic illness.
So my hope on Rare Disease Day is this: To all of those in the medical community who are willing to listen, please embrace the issue of rare disease with the same courage and perseverance with which we embrace our daily lives. To the Zebra Unicorns out there: Keep walking. You are not alone.
We want to hear your story. Become a Mighty contributor here.
Getty Images photo via ipopba
Originally published: February 27, 2018