What I Learned From My Father About Parenting a Child With a Rare Disease
---
I was 3 when I decided my father was my hero.
As I stood at the Heathrow Airport waving goodbye to him, I didn't readily comprehend that I wouldn't see him, or my family, again for another whole year. Daddy was leaving me to stay with my uncle — a surgeon who was scheduled to operate on me.
I've never been a fussy kid, and my father was never one of those over-dramatic fathers you see pictured so quaintly in soap operas. I never sat on his lap while we shared a "heart-to-heart" or a "philosophy of life." He never read bedtime stories or played piggy-back. Instead, he was my "matter-of-fact" man. He had a job to do and he did it.
He waved goodbye assuredly and was off.
Now as parenthood has fallen upon me like a ton of wet cement, I often wish I could be him.
I cannot recall my father ever crying over me, or pitying his plight. I've never seen him not search for answers. But most of all, I've never seen him lose hope, or hang his head low in defeat. My father was my Iron Man and Hulk all rolled up into one. He would whisk me off to one end of the globe and back, meeting tirelessly with this doctor and that. If there was some new treatment to be tried, he would be there with me trying it. He was always the last person I saw when they rolled me into the operating room and the first one I saw when I came out.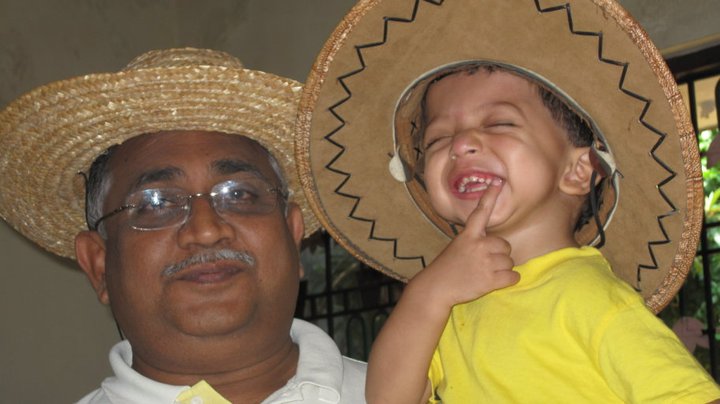 I have often wondered how he managed to keep a straight face through everything: fixing calipers or making corrective shoes on his own, carrying me up and down the stairs to school, taking me for therapies. I still remember the ease with which he cut open my plaster cast with garage tools as I sat sprawled out on the kitchen floor, while my mother called upon God and everyone else. How did he continue to charge ahead when every step was shrouded in uncertainty? How did he pick up the pieces and start again with equal zest when all his tools were worn out?
I'm certain he felt pain. I'm sure he was confused and lost at several stages. After all, it was a time when Dr. Google did not exist! I've often seen him turn away from me in hospital rooms or purse his lips tight when the "news" wasn't too good. I've learned to answer his searching eyes with "No, it doesn't hurt that much, Dad" and to quickly nod approval to yet another so-called "breakthrough." But more than the pain, it was the lift in his eyes and the arch of his back that spoke of a silent resolve to live without fear.
I doubt my father, an engineer from a little town in Kerala, ever imagined he would be the parent of a child who needed special care, a child who would test his faith and exhaust his resources. But he never stopped trying, and he never gave up on his child. I am here today standing tall because of him.
Of late I've come across many parents who wonder if they are doing all they can for their child with additional needs. I am one of them. Despite the love and relentless dedication I have for my boys who inherited my skeletal condition, the "nagging voice" that taunts and haunts me every now and then never seems to go away.
I wonder if my father ever heard such a voice in his head or even considered such a thing. If he did, he never shared it. He charged ahead with his faith so strong in a plan so great; he did everything he could with the tools he was given. As a parent staring down a similar path, I can only hope that one day I will attain this state of perfection.
It's not so easy being a parent. But Dad, you did a great job and I'm so grateful to be your special child!
Follow this journey on The Adam Boys Facebook page.
The Mighty is for the following: Write a thank you note to someone who helped you through your disability, disease, or mental illness. What about that person makes him or her a good ally? What do you want them to know? If you'd like to participate, please send a blog post to mentalhealth@themighty.com. Please include a photo for the piece, a photo of yourself and 1-2 sentence bio. Check out our Submit a Story page for more about our submission guidelines.