On Staying Strong After an Unimaginable Diagnosis
---
When I look back on my childhood, it is now clear to me that something was wrong with my health from birth. I was never physically active as a baby. My mom says that all I wanted to do was eat, sleep and watch my older sisters play with each other. By the time I was in kindergarten, I needed assistance getting up off the floor. But it would take more than 23 years before I would finally receive an accurate diagnosis of X-linked myotubular myopathy (XLMTM).
My road to diagnosis was quite a bumpy one. Despite my lethargy and apparent physical weakness during childhood, our family pediatrician insisted that nothing was wrong with me because all of my exams and tests came back normal. For most of my early childhood, I was simply labeled "overweight" and "lazy." I was eventually hospitalized at age 9 for more invasive testing, including muscle and nerve biopsies. After these came back "normal," doctors told my parents that I likely had limb-girdle muscular dystrophy.
Despite my muscular dystrophy diagnosis, my parents and I were told that I would live a relatively normal life and that I should stay as active as my body allowed. My dad built a pool in our backyard so I could swim and we moved on with our lives.
I eventually married my husband Johnny and when we were ready to start a family. We visited a geneticist to see if there was any risk associated with having our own biological children. We were told that there was a small chance that our kids would also develop limb-girdle muscular dystrophy, but that their condition would be similar to mine. We were confident that we could take care of our kids even if they inherited the disease from me.
I was only 22 when Johnny and I found out we were pregnant with twin boys. We were overjoyed. I went into labor early but our doctors told us that this was "normal" for twins and that our sons would be fine. They stuck by this mantra even when the boys needed support with eating and breathing after they were born.
"They're premature," doctors kept repeating. "It might take them a little while to catch up on their development. Just wait until they're full term!"
But as the months went by, the twins weren't catching up. Alex and Jayden were growing bigger but they still needed 24-hour care and by the time they were seven-months-old, they needed tracheostomies to help them breathe and gastronomy tubes to assist with feeding. Their doctors finally decided to run full genetic testing on me because something was clearly not right. After a long nine months of waiting, all three of us were diagnosed with XLMTM.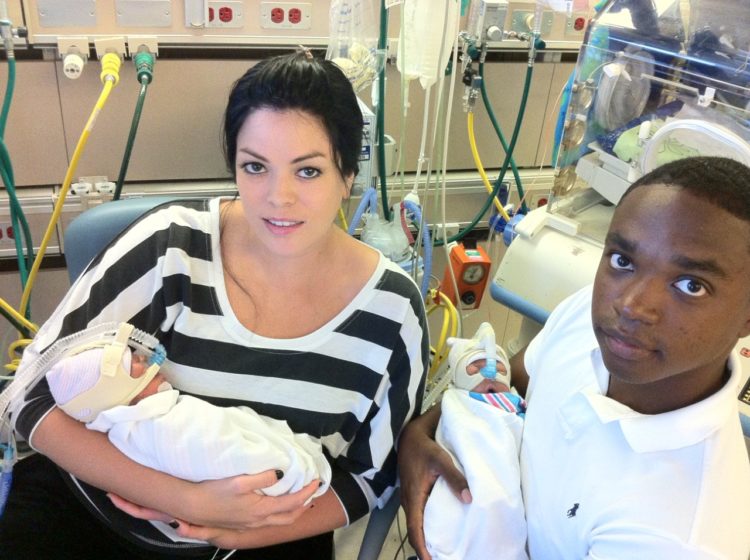 The day we were diagnosed was the worst day of my life. I remember Googling the disease with my husband and seeing that this rare, genetic and progressive neuromuscular disorder causes muscle weakness that can leave patients unable to walk, swallow or breathe on their own. XLMTM is most commonly seen in males, but female carriers like me can also experience symptoms that range in severity from mild to life-threatening. With no approved treatments currently available, our only option was to focus on managing the boys' symptoms. Alex and Jayden's lives would be full of ventilation support, feeding tubes, and physical and occupational therapies.
With our whole universe crashing down around us, we decided to make as many memories with our sons as we could. We celebrated Christmas with a visit from Santa, dressed them in costumes for Halloween and sang "Happy Birthday" to them. We took pictures and videos as a family and made sure the boys knew they were loved. Shortly after their first birthday, the boys both caught colds that their bodies couldn't fight. They developed pneumonia and passed away within hours of each other on July 11, 2013.
The immense grief brought on by the end of Alex and Jayden's lives pushed Johnny and I to shift our focus to maintaining my health. I began eating healthier, stopped drinking alcohol and started exercising as much as possible. Despite my efforts, my condition has continued to progress. Getting out of bed, walking around the house and using the left side of my body have all become incredibly difficult. I use a BiPAP machine to help me breathe at night and have modified my diet because swallowing certain foods presents challenges now. I feel like a prisoner in my own body.
While XLMTM has left my voice quite soft, I am determined to share my story with anyone who will listen. XLMTM patients and caregivers are the only ones who truly understand what it is like to live with this condition — I want to be part of the reason why the world recognizes the urgent need for a treatment that could save our lives. I dream of the day when no mother has to watch their child's health deteriorate before they've even had the chance to leave the hospital and no XLMTM patient is forced to give up the activities they love because their body won't cooperate anymore. But until that day arrives, I will fight in any way I can.