15 Songs That Give People With Rare Disease Hope
---
Not knowing other people with your illness and trying to find doctors who know how to treat your condition are two things that could understandably put a damper on your spirit if you live with a rare disease. This is why it's important to find things that can give people hope as they navigate their rare disease journey, even if it's just for a few moments while listening to a song.
Whether or not you live with rare disease yourself, you may find that songs can cheer you up, help you feel less alone or help you process emotions that you may find difficult to talk about. It could even be a coping skill. Mighty contributor and rare disease warrior Samantha Moss shared in an article how music is the one thing that distracts her from chronic pain:
Here's where music works for me. As soon as I play my favorite songs, I begin singing. My mind becomes focused on the music and the words of the song. I listen to music that is special to me. Mostly that's a variety of gospel music, but I also love country, Celtic and popular music too.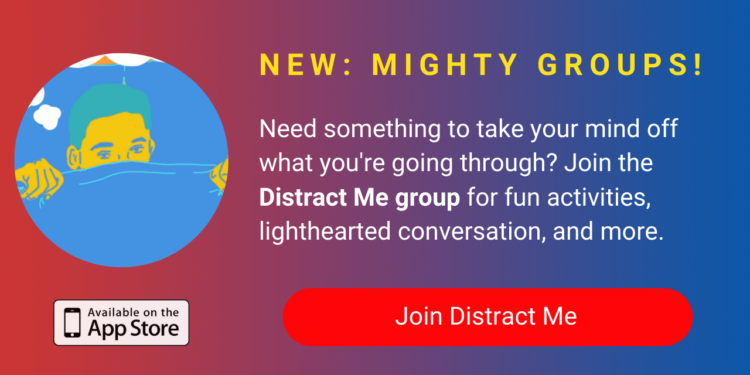 We asked members of the Mighty's rare disease community to share songs that help them cope along their rare disease journey. You may find you recognize some of these songs, and you may find new ones to add to your playlist.
Here is what they recommended:
1. 'Level Up' by Vienna Teng

"It's a beautiful song not just about being your own hero, but that it is the 'ordinary' people who have to come together and support each other and be each other's heroes during hard times. When I was recovering from a periacetabular osteotomy and femoral osteotomy, this was one of the only songs that could bring me out of my depression." – Rachel A.
2. 'The Champion' by Carrie Underwood

"It takes grit and determination to be an athlete and it takes the same to be a chronic illness warrior." – Jaime K.
3. 'Fight Song' by Rachel Platten

"My 7-year-old sings this or plays this whenever my pain is off the charts. I'm completely blessed." – Denise E.
4. 'Float Like a Feather' by Dawn Mitschele

"I have trigeminal neuralgia (TN), and this song always speaks to me. TN pain is often caused by super feather light touches." – Rachel L. 
5.  '

Worn' by Tenth Avenue North

"It's a heart torn open, soul-bearing, honest to the core expression of total exhaustion and weariness, and at the same time a prayer for hope and strength that's perfect for belting at the top of my lungs and letting the tears flow." – Melissa J.
6.  'Shut Up and Dance' by Walk the Moon

"I don't know what it is, but as soon as I hear those first few notes I smile and soon I'm bopping around. It makes me happy." – Ashley T.
7. 'Blessings' by Laura Story

"Sometimes our hardest struggles lead us to be the person we were meant to be." – Deborah R.
8. 'Take Me to Church' by Hozier

"I was in the hospital for nine months, and the song came on during a late night and made an impression." – Alexis K.
9. 'One More Time With Feeling' by Regina Spektor

"My favorite lyrics from that song: 'Try it again, breathing's just a rhythm.'" – Nur A.
10. 'This Is Me' from 'The Greatest Showman'

"We started to learn this with the Rock Choir the first day I started with them, and it resounded so much with me that I got all emotional." – Louise H.
11. 'Head Above Water' by Avril Lavigne

"I feel like it really sums up how it feels to struggle with a chronic illness. And the fact that she wrote it about her battle with Lyme disease makes it so much more real!" – Samantha V.
12. 'Heroes' by David Bowie

"I am listening to a lot of Bowie's music on YouTube. I listen to a variety of music online because it helps me forget the issues I have with narcolepsy. We can be heroes to ourselves. We can be heroes, if just for one day." – Ann F.
13. 'Outnumbered' by Dermot Kennedy

"'Outnumbered' by Dermot Kennedy helps me to see myself in the eyes of my loved ones." – Sbosa
14. 'Overcomer' by Mandisa

"'Overcomer' by Mandisa has helped me through some really tough times." – Tania M.
15. 'We Close Our Eyes' by Oingo Boingo

"One line, in particular: 'I looked death in the face last night, I saw him in a mirror and he said please smile, he told me not to worry, he told me just to take my time.' It reminds me that I've already looked at death in the face and to just keep fighting." – Heather L.
Let us know in the comments what others songs you would add to the list!
Image via Getty Images/Irina Ku
Originally published: August 25, 2020