How Exercising With My Service Dog Made My Workout With CRPS Less Daunting
---
I live with full-body complex regional pain syndrome (CRPS), a neurological disorder that makes every movement and every sensation excruciatingly painful to bear.
They say one of the worst things you can do is to stop moving. All the sites, all the doctors, they all say the same thing, "move!" Moving the affected limbs, which for me is full-body, prevents muscles from atrophying and to keep the pain from consuming you completely. It makes sense, but it's incredibly hard some days to force yourself to move when it feels like you're on fire and being ripped apart.
It's rough, it's painful, and it's necessary. I make an effort to move every day.
Two years ago I adopted a dog that my fiancé and I trained to be a mobility service dog to brace, open doors, find help, and drag heavy objects for me. Our best guess is that Robbie is a Belgian Malinois and a Great Dane cross. So he's large and has a lot of energy to put someplace. Lucky for me, that energy means a lot of our off-leash play sessions largely involve him charging through the grass with me standing nearby directing him over jumps or practicing recalls. Just running in the yard isn't enough exercise for him, though. It drains him, but doesn't give him the mental stimulation or structure he needs from going on walks.
Two years ago, I knew the importance of moving my affected limbs, but was never motivated enough to get up and get out. I was afraid to go on walks because what if I fell? What if a bad flare hit and I couldn't make it home? We live in the country, so chances are if I fell, I'd be there awhile without help. My first few years with CRPS I was in college, so exercising and being active were part of normal life. It wasn't until after I left the activeness of college that staying active despite the pain got harder. I wanted to believe that the pain wouldn't let me exercise. I wanted to believe that exercising would be unbearable or would make it worse. I was afraid.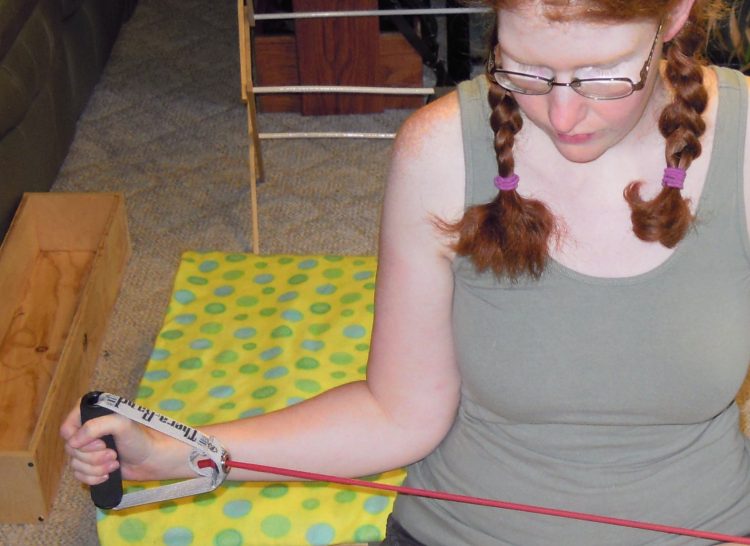 I was wrong.
In college, I was too active. I didn't respect the pain, and I pushed myself every day because the people around me didn't give me a choice. Now though, with the help of my service dog, I've learned how to push in a productive manner and how to respect the pain, but still fight back.
Every day, my dog needs two sessions of structured exercise, no matter how I feel. Every day, I need to walk around a bit and two to three times a week I need to do stretching exercises to re-strengthen my body. Every day my boy and I face those goals together.
I remain active with CRPS four ways: through therapeutic horseback riding, going on walks with my dog, doing limb strengthening exercises, and riding a stationary bike. I never do all forms on the same day, but on my good days I aim for two out of the four.
On my bad pain days and weeks (or bad weather days), Robbie, my dog, runs on a treadmill. The treadmill teaches him to accept things moving beneath him, the impulse control to stay on it, and drains energy. While he runs on the treadmill, I go through a list of exercises that target my upper body, lower body, core, and jaw muscles. All of these exercises are ones that I have done in the past under the guidance of physical therapists, so I know they work for me. My goal each time I exercise is to attempt to do five upper body exercises, five lower body exercises, one core exercise, one jaw exercise (for temporomandibular joint dysfunction), then either a walk or a ride on the stationary bike that we have next to Robbie's treadmill.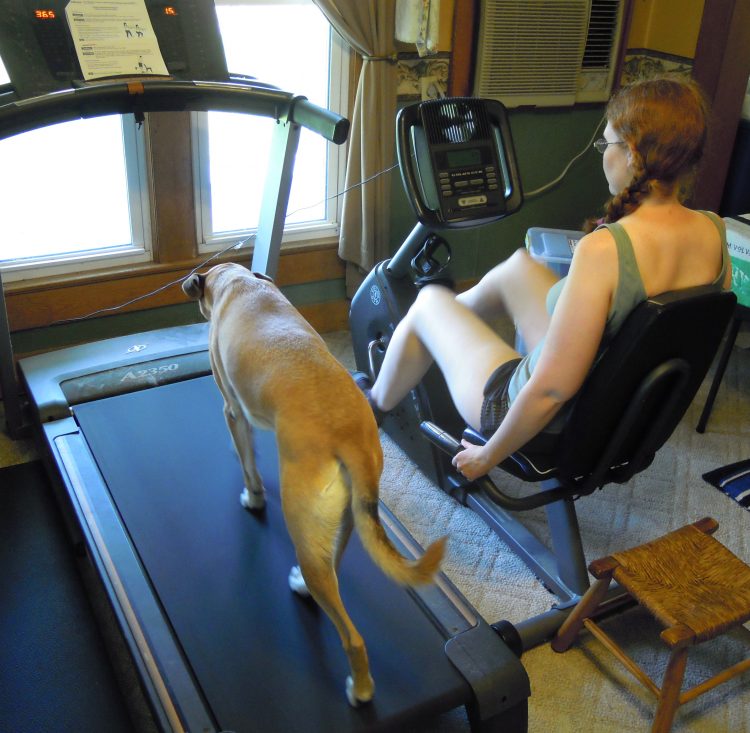 All of my exercises are done with low resistance TheraBands or my own body weight. It sounds like an intense goal,  but all of the stretches I've chosen for myself are low impact, which means none of them will stress my body or pain too much – unless I completely disrespect the pain.
There are days when it is impossible, or days where only a few exercises get done, but the point is that I try. On the days when little gets done, I remind myself that something was accomplished, and hope to do better the next time. When I can reach my goals, I feel immensely proud of myself and a little less limited. The exercises hurt a bit during, which I record, but its rare that exercising triggers a massive flare that leaves me incapacitated. Most of the time, I'm able to stay at the same pain level before and after, even if it fluctuates as I go.
Each time I do my workout or take Robbie for a walk, I feel proud of myself. I feel stronger. The next time a flare hits, my muscles don't care that they are stronger, and the pain shatters me. So what does exercising do, if not make the flares better?
Exercising, making myself stronger, means that I can give more of myself to me each day. I can give more of myself to my service dog and fulfilling his needs. It means that on the worst possible days, I'm able to draw up a little more strength than I used to be able to, in order to keep going a little bit longer.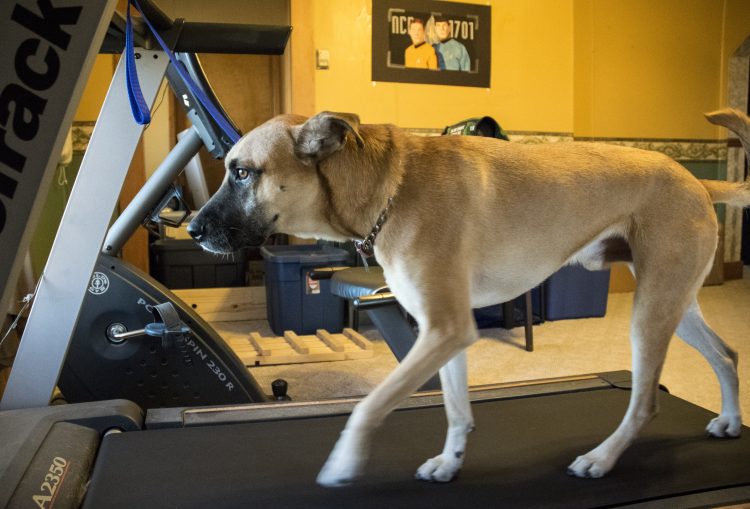 Facing the idea of exercising through CRPS pain is daunting. Doing it alone is daunting. Doing it with a partner, who needs that exercise as much as I do changed that. Each time I exercise and it goes successfully, I can say confidently, "Take that CRPS."
Exercising with my dog helped me learn to respect the pain, to listen to the pain, and ultimately, how to work through the pain. It also helped me put my dog's needs above my own. I tell myself that no matter how I feel, he needs to eat, play, go out, and exercise every day. For all that he does for me, I can find a way to exercise for him and with him.
Bonus: I'm not afraid to go on walks anymore because my legs are stronger, and I know that with Robbie, I'll always make it home. I'm not afraid to move.
We want to hear your story. Become a Mighty contributor
here
.
Originally published: July 14, 2017