The One Word My Doctor Forgot to Mention When Giving My Child a Terminal Diagnosis
---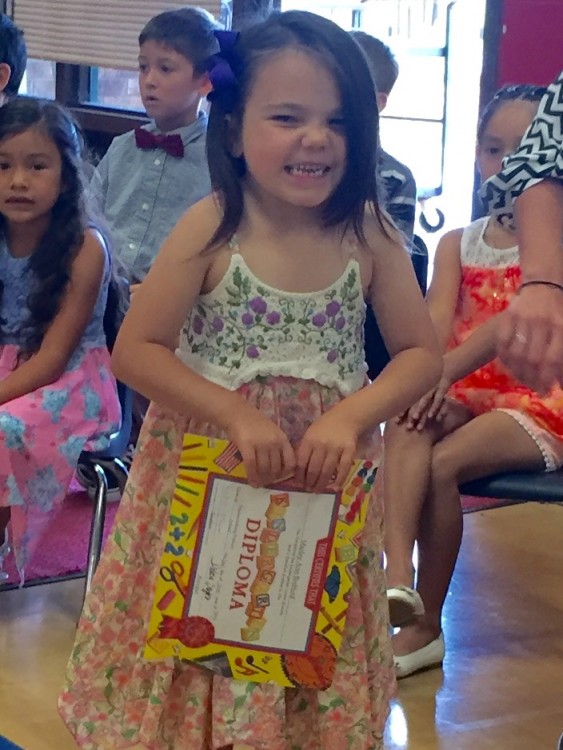 My daughter Marley was born with an extremely rare disease called Rhizomelic Chondrodysplasia Punctata (RCDP). It affects less than 100 children worldwide and is most often terminal by the age of two. Although Marley's life has not been without complication (she has had 30+ surgeries on her bones and brain and eyes and has an eye disease that has the possibility of taking her vision entirely), she has beaten the odds for her disease and we have every indication that she will continue to thrive. The letter below was written on the day of her kindergarten graduation to the original physician who diagnosed her.
Dear Doctor,
It's been six and a half years since I staggered out of your office carrying the weight of an awful diagnosis for my newborn baby. You said our only answers were morphine and hospice and that the chances of seeing a first birthday were slim to none. We haven't been back to see you since. Today that baby graduated kindergarten and you were on my mind.
While the road hasn't been easy, and she has in fact had more than her fair share of pain requiring an occasional dose of morphine, she is now not only surviving, she is thriving.
This little girl who would "never reach any appropriate milestones" has progressed from smiling to laughing to non-stop talking in the blink of an eye. She first rolled over, then crawled and now runs everywhere she goes. She has enamored an entire town and considers all who live here her personal fan club. She automatically assumes everyone loves her and rarely meets someone she doesn't know. However, if she does, she is quick to say, "Hi! Im Marley Bedford! Whats your name?"
She has an unbelievable amount of joy. It spills over into every interaction she has. She is perfection. Even in her misshapen bones and her failing eyes, she is perfection. If the rest of the world had the tiniest portion of her happiness and love for life it would be a totally changed place.
The day you shattered our world with your dire predictions, you forgot to offer us the one thing that has carried us through time and time again.
Through surgeries and uncertainties, through PICU stays and hundreds of hours of therapy, through triumphs and complete and total failures, our saving grace has been hope.
For everything you know about medicine and all the tools you have to fight disease, you have forgotten that the most powerful tool of all is hope.
I pray the next time you have a patient with a life-changing, terminal diagnosis you will remember Marley, and reassure the new family that regardless of what the paperwork or diagnosis may say, there is always hope.
Hope is not only everything, sometimes its the only thing.
Follow this journey on Smiles for Marley Facebook Page
The Mighty is asking the following: Write a letter to anyone you wish had a better understanding of your experience with disability, disease or mental illness. Check out our Submit a Story page for more about our submission guidelines.
Originally published: June 8, 2016