XOJane Writer Calls Friend's Death a 'Blessing' Because She Was 'Too Mentally Ill to be Helped'
---
Update May 20 11:15 a.m. PST: XOJane has removed the piece "My Former Friend's Death Was a Blessing" and issued an apology, which you can read here.
During Mental Health Awareness Month (May), people spread messages of hope. Every suicide prevention campaign exists on the basis of your story isn't over yet — that when those with mental illness feel helpless, outlets, people and resources can help. That their lives matter.
On Thursday, XOJane published a piece entitled "My Former Friend's Death Was a Blessing" about a person who had a mental illness.
The tagline: "Some people are so sick, they are beyond help."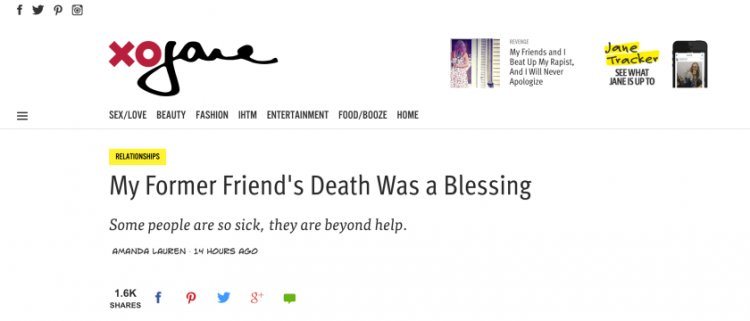 The piece is an account of a woman writing about her "former friend" from high school who changed after developing a mental illness, which she identifies as schizoaffective disorder. 
"But the person she became wasn't really her," the author writes. "It was as if mental illness took demonic possession over her."
They reconnected in Los Angeles, but eventually had a falling out. After recounting her friend's "bizarre" Facebook posts and behavior, the author explains how she died — she "supposedly" hit her head and drowned in a bathtub.
"It sounds horrible to say, but her death wasn't a tragedy, her life was," the author wrote. "This girl had nothing to live for."
After the article circulated, XOJane removed the author's name. The byline now reads "anonymous."
Sarah Fader, mental health advocate and CEO of Stigma Fighters, said reading the piece made her sick to her stomach.
"The major thing to focus on here is that there's no empathy for the fact a human life was lost," she told The Mighty. "Unfortunately some people with mental illness do die because they don't find a treatment plan that works for them, but that's a tragedy — not something to be celebrated."
Writer and activist Sam Dylan Finch wrote a response entitled, "An Open Letter To Amanda Lauren From Someone 'Beyond Help.'"
"When I nearly died by suicide six years ago, I can imagine what people would have said about me," Finch writes. "Maybe, like you, they would've said that I was better off dead. Maybe, like you, they would have callously remarked that some people with mental illness can't be helped."
He continues:
"Let's look at the facts: You celebrated the death of a mentally ill person. In doing so, you told people everywhere, 'Some people with mental illness are better off dead.'"
In the XOJane piece, the author does acknowledge some people with serious mental illness do recover and that her friend was lacking a support system. But she doesn't acknowledge the lack of services and support was the problem, as if the illness itself warranted her death. Finch writes, "You don't get to decide… which of us are 'beyond help.' You also don't get to decide which of us deserve to live. You don't get to decide who has a chance and who doesn't."
Fader said while the post is upsetting, it also proves people still view mental illness as a burden — and that advocates are not done fighting.
"It's not entirely fair to crucify this one person. She's not the only one who thinks things like this," she said. "In some ways, I want to thank her for saying it so we know what to fight against."
Originally published: May 20, 2016