Disabled Artist Rebecca Dann's Self-Portrait Wins the Praise of Stephen Hawking
---
Not many people can say esteemed theoretical physicist Stephen Hawking finds their work "truly inspiring." That is, unless you are Rebecca Dann, a 22-year-old artist from the U.K.
Dann submitted her self-portrait, titled "I'm Fine," to a competition hosted by U.K. organization Disability Talk. The portrait shows the curvature of Dann's back, the result of living with kyphoscollosis.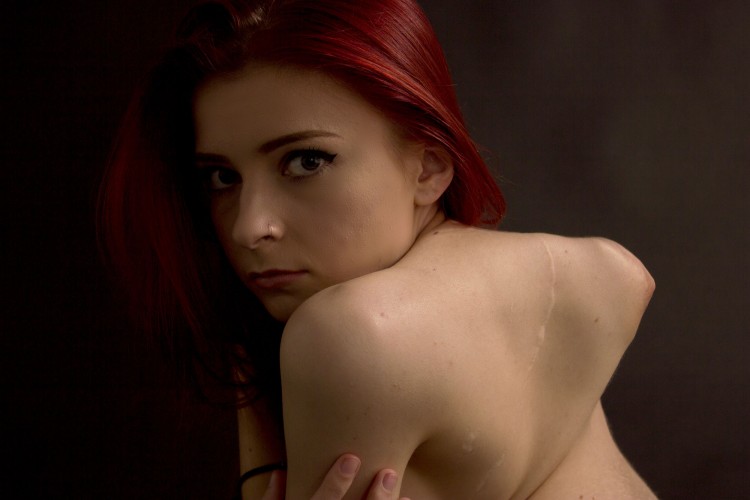 "I was always trying to hide my back but I got to a point in my life where I questioned why I was constantly hiding who I was," Dann told The Mighty. "I realized that my disability wasn't going to go away and I had to own it rather than hide it. So I did my photography project and whilst doing it, the competition came up and I wanted to try and get my portrait out there because I wanted people to see that it's okay to be who you are and yes sometime's life is unfair but sometimes when you can't change it you have to own it."
Her stunning self-portrait won first place in the competition and the praise of one of the competition's judges, Stephen Hawking, who called the portrait, "truly inspiring."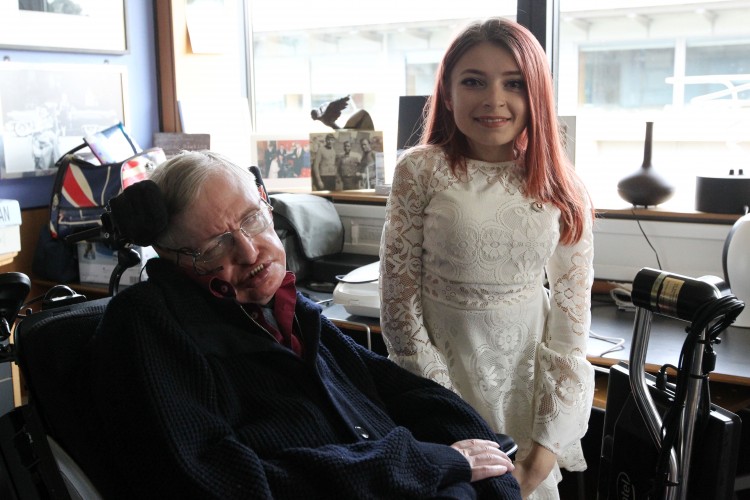 Meeting Hawking, Dann said, was an incredible experience. "Honestly, I think I am still a bit in shock, even after meeting him I feel like a deer in headlights, like did that really just happen," she said. "When I first found out he had even seen my photo let alone commented on it saying it was inspiring I was just unable to really comprehend what had happened. When I met him, I spoke to him about my photo and it was amazing because you can really see that he is listening and that meant a lot. He congratulated me at the end of it too, which just meant a lot."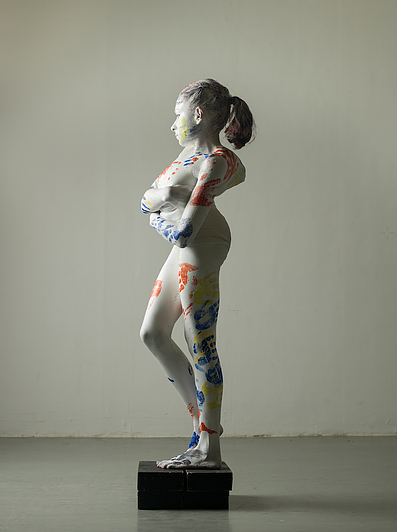 Dann's self-portrait is part of a series of artwork she's created. The entire series is titled, "I'm Fine," a play on how Dann feels when people think she is limited by her disability. "People ask me questions and that's great but I always get people saying or asking 'Can I hug you?' or 'I'm scared I will break you,'" she explained. "I have to keep saying 'I'm fine.' I want people to know that just because I have this disability, it doesn't mean that you can't speak to me, touch me, be around me. I won't break. I'm just like everyone else, I'm fine!"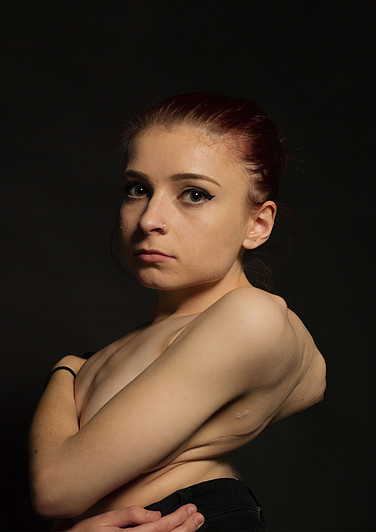 As a visual artist, Dann put a lot of thought into how she would represent herself in her self-portrait. "I didn't want the focus to be taken away from my back because that was what I wanted to show the most," she said. "I took some photos where my face was out of shot and it was just my back in the photo, but then I felt like that just showed me hiding away again and I didn't want that. So I took a photo where I was looking straight at the camera. I wanted people to look at me and see me showing my back with pride. Not being afraid of it."
Dann hopes her artwork will help others start a conversation about disability, stating she wants people to interact with the disabled community just like they would anyone else. "I also want people to stop judging someone before they know them," she added. "It's something I struggle with a lot, people judge me based on the fact I have a bent spine and use a wheelchair, they think that I'm different and then are shocked when I speak to them and they realize that actually I'm just the same as everyone else."
You can see more of Dann's artwork and the rest of her "I'm Fine" series on her website.
Originally published: October 28, 2016