28 Tattoos That Cover Self-Harm Scars
---
Editor's Note
If you struggle with self-harm or experience suicidal thoughts, the following post could be potentially triggering. You can contact the Crisis Text Line by texting "START" to 741741. For a list of ways to cope with self-harm urges, visit this resource.
While most tattoos have a story, a tattoo above, below, or on top of a self-harm scar is more than a symbol — it's a visible reminder, and sometimes an actual recovery tool, for those who are trying to recover from self-harm. Maybe it's a way of reclaiming your body, giving the story your scars tell more context. Maybe it's simply a way to cover, to start fresh and move on from a painful part of your life. Whatever the reason, it's a way for people who've self-harmed to commit to their recovery, and a reminder that stopping self-harming behaviors is possible.
To show some examples, we asked our mental health community to share tattoos they got to cover up self-harm scars.
Here's what they shared with us — and here are their stories:
1.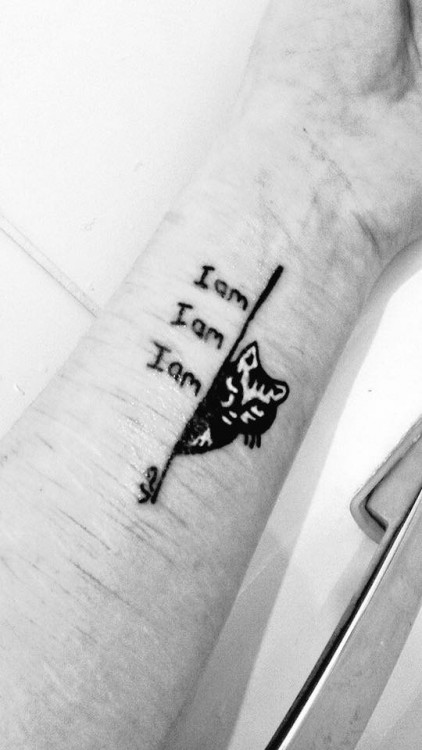 "I got a Sylvia Plath tattoo. She's my absolute favorite poet/author. Her quote 'I am. I am. I am' (from her book 'The Bell Jar') symbolizes that suicide could've been the end for me, but I'm here, 'I am' I am here, I am alive and I am determined to get through this. The cat is Sylvia's drawing called 'Curious French Cat' and it also symbolizes self-harm and depression — but how it's not the answer anymore." — Shannon P.
2.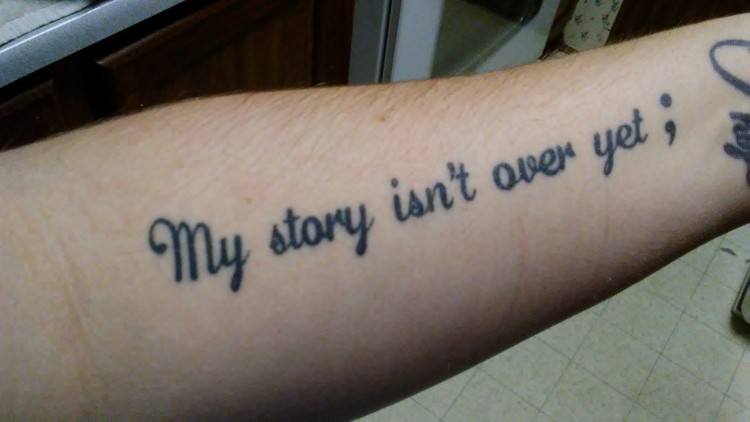 "I didn't want to cover up my scars completely because I wanted it to be a reminder that I was strong enough to overcome it and that I still had a life to live… My life wasn't ready to be over. My husband is the person who helped me overcome self-harming myself though and I'm truly thankful for him." —  Kimberly
3.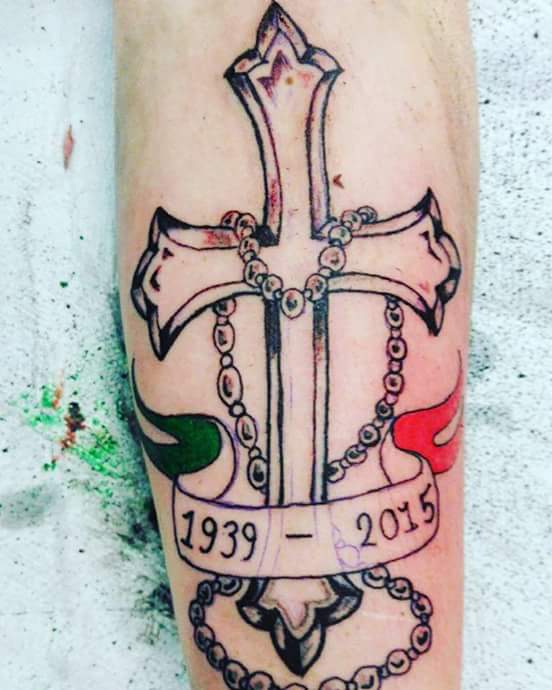 "When my granddad passed away everything got worse and I couldn't handle him not being around. Having depression is hard enough for me, then losing someone so close to me made everything worse. So I decided to get this amazing tattoo over my scars to remind me that he will always be there." — Gina S.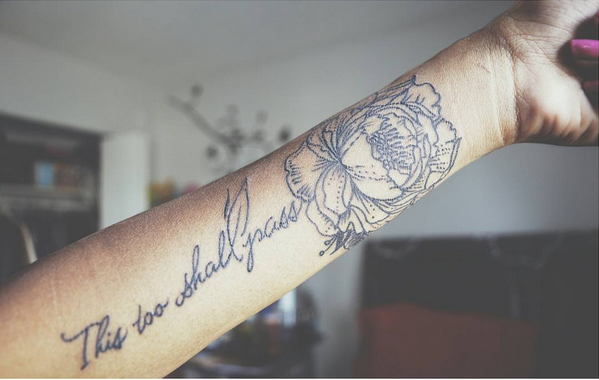 "Self-harm was a way I coped with my depressive and suicidal episodes. I would feel all this anger built up inside of me and I wanted to find some kind of release. But with depression, I wanted to hurt myself because I felt like I deserved it. So, my arms would almost be covered daily. It all started small as a cry for help, but very quickly turned into an addiction. When I had motivation to get better, I wanted something beautiful on my arm to cover these scars up. Now, I have a tattoo that says 'This too shall pass' with a peony that symbolizes healing. Whenever I have urges to self-harm, I instantly look to my arm to where I usually self-harm and I see this beautiful tattoo with a meaningful message and I just cry it out until the feeling has passed. It has helped me, and has also sparked up the conversation of mental health with others! It's more than just a tattoo, it's my journey to recovery." — Reshmi C.
5.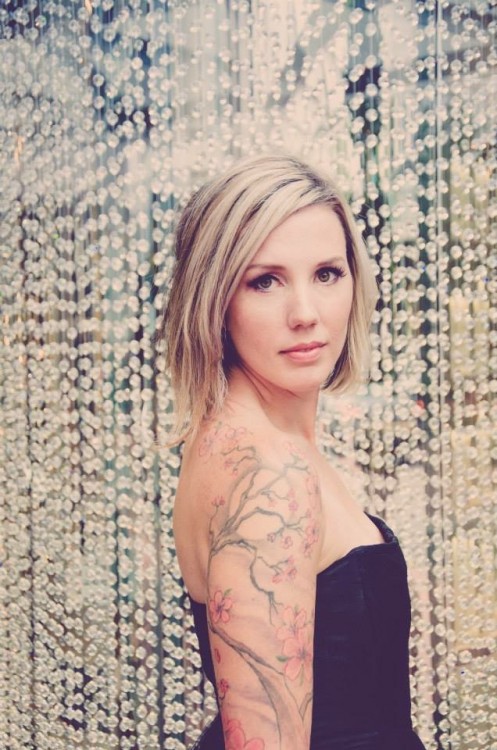 "When I began working as a professional in the mental health field, I felt as if people didn't have a right to know so much about me at first glance. I tattooed cherry blossoms over my self-harm scars after working closely with an artist to provide the coverage I needed with a more natural look I wanted." — Ashley C.
6.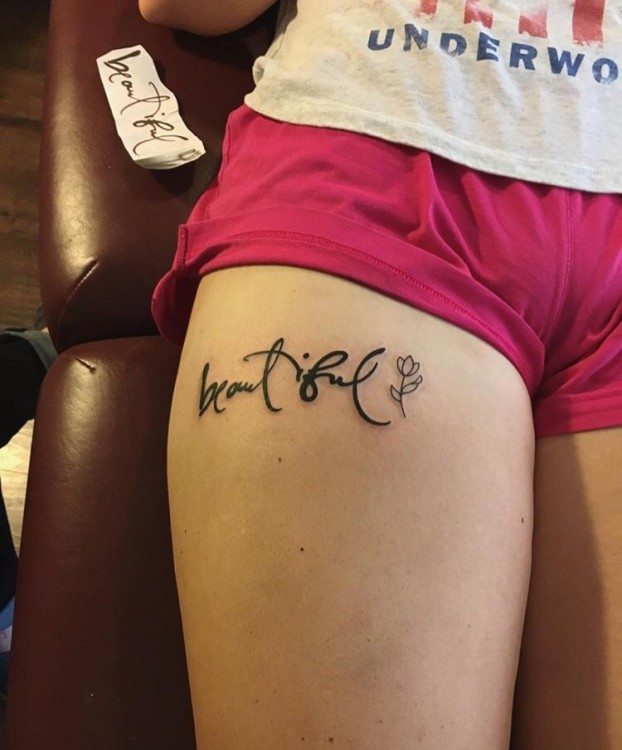 "I once put the word 'ugly' on my leg, but recently got a tattoo that says beautiful to remind myself how beautiful I am." — Brianna N.
7.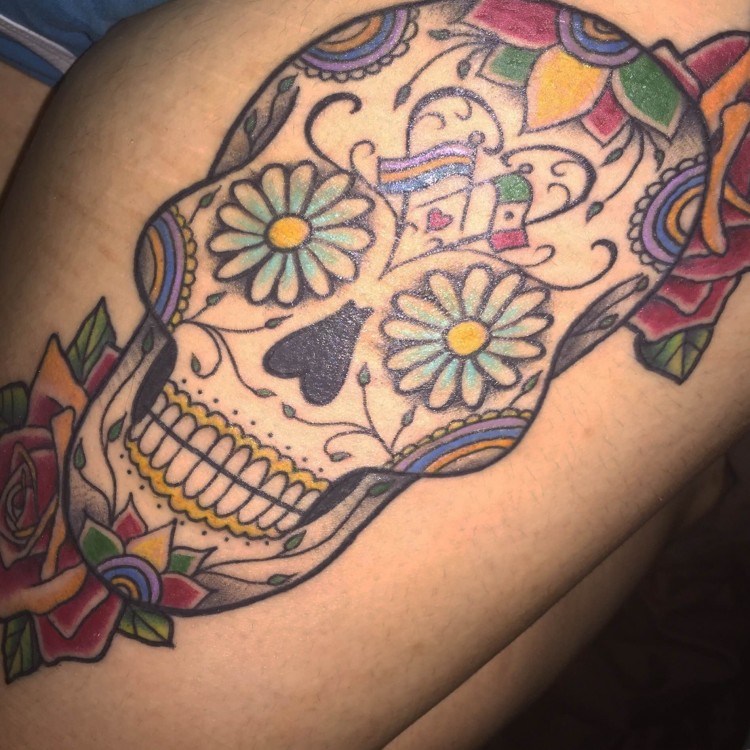 "My tattoo covers my self-harm scars dating back 12 years. Some older, some newer. I was tired of seeing my legs covered in scars, never wearing shorts or swimming in long basketball shorts. Not only did I cover a spot I hurt myself on for years, I prevented anymore harm to that area. I have not self-harmed since. The Dia De Los Muertos skull as with the celebration is not only to celebrate death, but life. I felt it appropriate to celebrate life, death and my Mexican heritage." — Alex B.
8.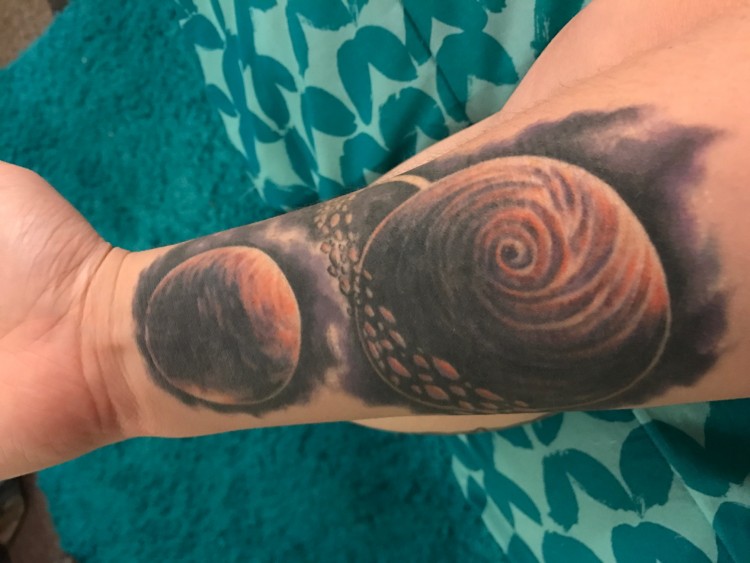 "I've always wanted to go into something related to astronomy. Now I'm a double major in mathematics and physics on track to go to graduate school for astrophysics." — Samantha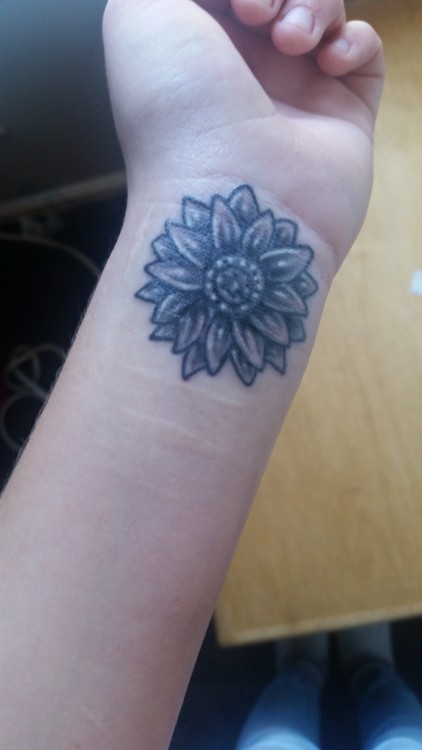 "I'm so glad I covered my scars with something pretty. It was like making a commitment to myself to heal and grow.  Ever since I got the tattoo, I haven't turned back. It's a reminder of how far I've come." — Haley W.
10.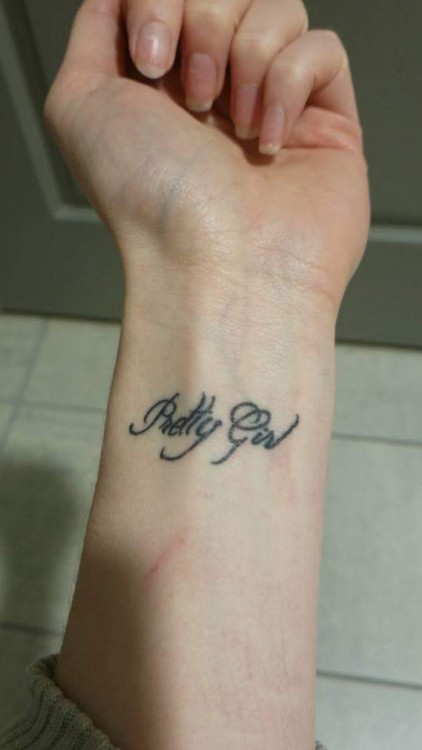 "My grandfather used to always call me 'Pretty Girl' so I knew I always wanted a tattoo of that somewhere. It wasn't until I was in the midst of a depressive episode that I needed it on my wrist — not only would I always see it and remind me that my grandfather is watching over me, but every time I wanted to self-harm, I would see this and remember that I'm worth it." — Meredith H.
11.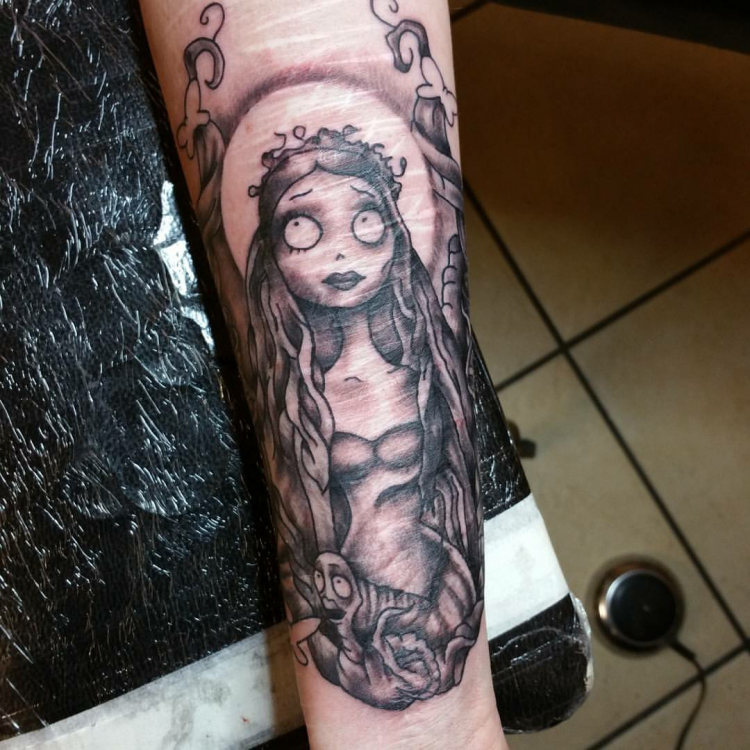 "What inspired me to get tattoos to cover my scars was so whenever I was down or having a bad day, I could look down at my newly painted arm and remember that overcoming something can lead to beautiful things. My next step is to cover the scars of my other arm and my leg. It's never easy, but by getting them covered up, it's a little bit like closure." — Lauren S.
12.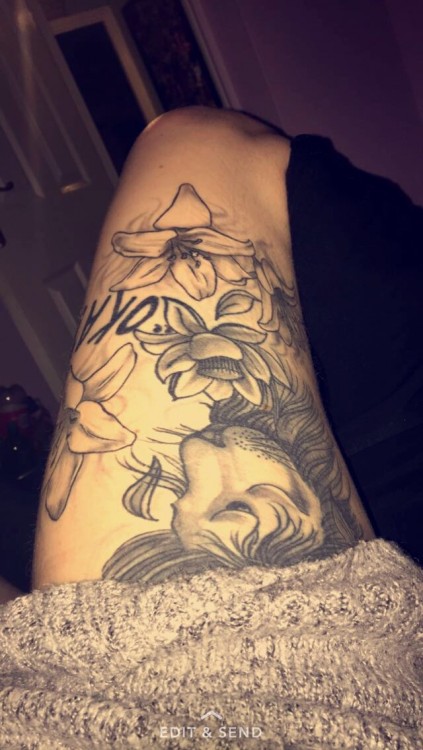 "I don't generally tell people my story. I stopped self-harming around four years ago, I've never known why I self-harmed, it's just something I felt I had to do. I had a therapy sessions which were great and eventually realized I had depression and I needed to take a step towards being the happy me again, so while my legs where recovering from the self-harm I got a tattoo under neath my scars saying "OKAY." When I got that tattoo, it made me feel powerful and that I had control of my body. When most of my scars had healed and I was only left with a few big scars, I got them covered with a lion, not to hide what I did — but because lions are strong and powerful and so am I."  — Abi W:
13.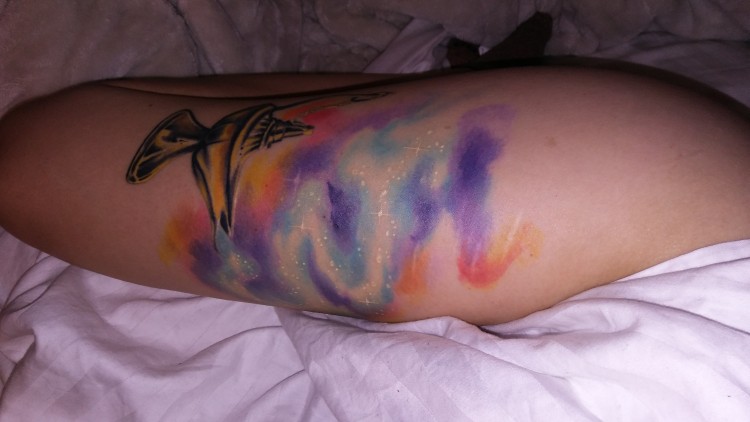 "I got this tattoo on my 18th birthday, in part, as a memorial tattoo for Robin Williams. When I was very young, I loved to perform and make people laugh. I loved doing voices and improvising dialogue, as Robin Williams did. He has been my biggest inspiration in life and someone I relate to very much. As I grew older, I sunk further into my depression and became too self-conscious to pursue my childhood dream of performing. I now have extreme social anxiety and struggle with chronic depression. For a long time, I was angry with myself for no longer being the friendly, funny person I used to be. The version people seemed to like better… I realized all I can do now is put effort into improving myself moving forward. This leg piece symbolizes me 'setting myself free' of the judgment and ridicule I had placed on myself for so many years, the same way the genie gets set free by the master he was slaved to." — Ysabel V:
14.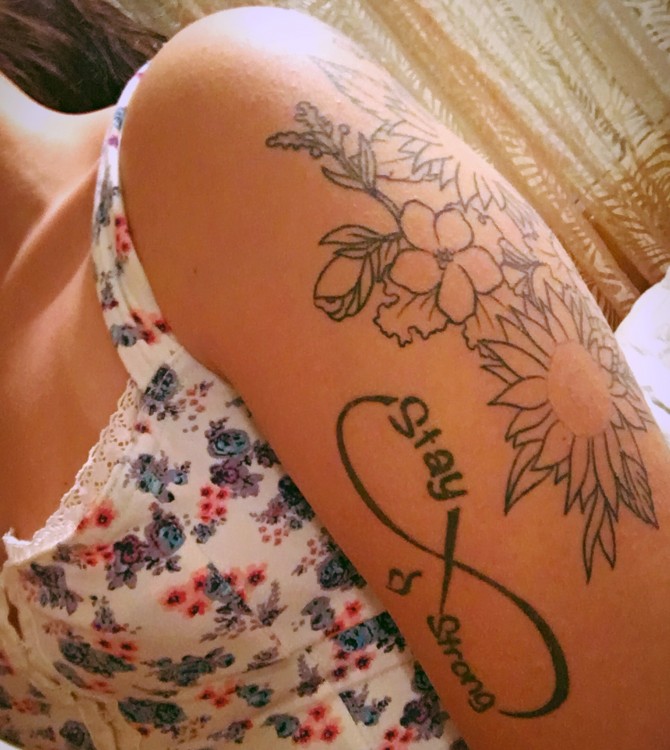 "After years of struggling with bulimia and self-harm, I decided to get the infinity sign with the NEDA symbol beneath. Just as a daily reminded to stay strong. I added the sunflowers just recently. I have dealt with depression and anxiety for about five years now. Anytime an anxiety attack occurs, I try to focus on one thing, and that is a field of sunflowers I had visited before. I had never felt so calm and at peace when I was standing in that field. Now that I have this tattoo it is a reminder that even though I may struggle with the things I do, that inner peace is not impossible. The tattoos themselves cover up old self-harm scars." — Kyra B.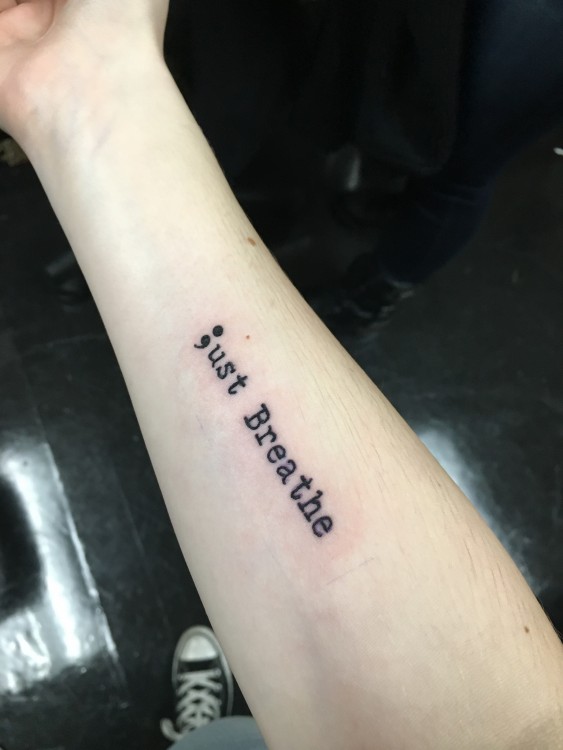 "The semicolon is symbolic for my story not being over. 'Just breathe' is a reminder to do so when I'm in panic mode, and the words go over some faded self-harm scars." — Amanda C.
16.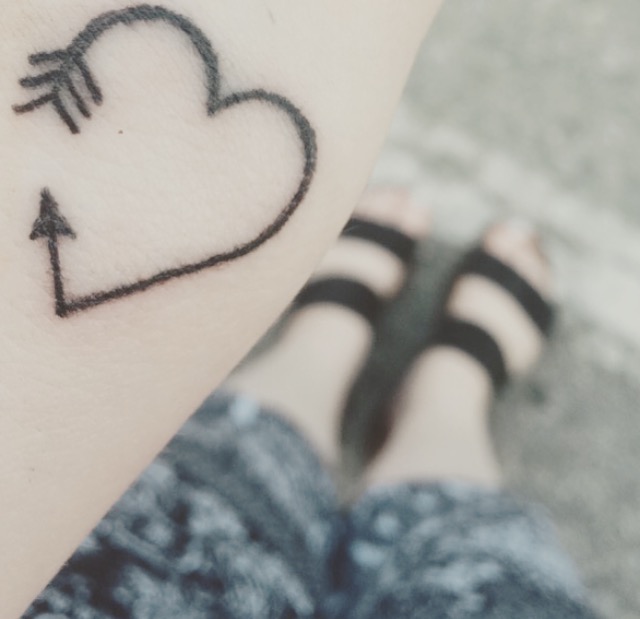 "The tattoo is placed on my wrist — in line with where I self-harmed — because I tend to wear my heart, and my feelings, on my sleeve. The heart is a reminder to me that I need to love myself, even when it seems impossible. The heart is made with an arrow because an arrow can only be shot by pulling it backwards which is a metaphor for when life pulls you back, it's going to shoot you forward again. — Jessica C
17.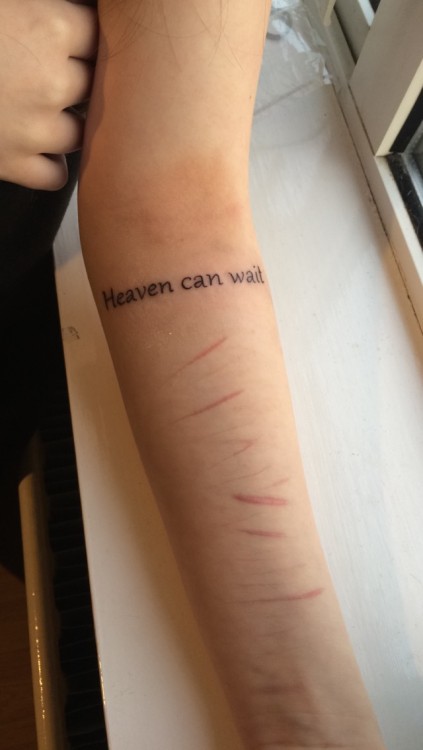 "This isn't a cover-up tattoo, but I also thought that it was very important. I struggled with self-harm for a really long time, an addiction I felt that I would never be able to overcome. But I decided to get this tattoo. It's my recovery tattoo. The mindset I had when getting it was, if I ever get to such a low point in my life where I feel that I ever need to self-harm again, I'll look at this tattoo and I will say to myself "heaven can wait" – I am not ready to die yet. There is so much of my life that I still have to live. And I need to be strong for everyone else around me. That's what I do. I'm so proud of how far I've come in the last year. I still struggle with my mental illness but I would never put myself through the pain I did in the past. And I hope everyone can get to that point one day." — Robyn W.
18.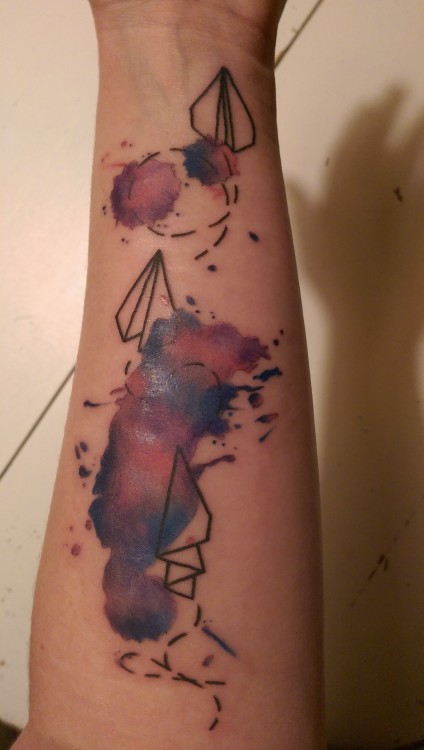 "I've had a strange life, harsher than fiction. My first counselor at 8 told me I was 'below average,' then I was first diagnosed at 13 when I was suicidal. Bipolar and OCD have shaped and broken me. I got my son to design and make me a tattoo. He's an amazing artist, but I wanted it for so many reasons. One, to show him he's that good. Two, to cover years of self-harm. Three, I wanted a more rational reminder to fight for a better quality of life for my self. My life is not my own." — Sherri A.
19.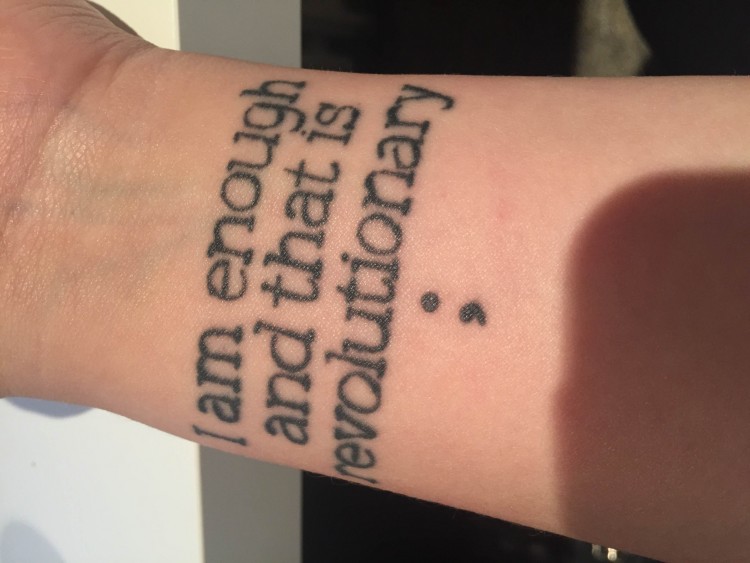 "The text is from a bracelet that my best friend and I gifted to each other as we were graduating university. We both struggle (as many do) in feeling like we are enough or like we deserve our accomplishments — we bought each other the bracelets so that we would always remember that we deserve to be happy and live awesome lives. It also has a semicolon to show people that every day I keep living is a day I beat thoughts of suicide." — Alicia R.
20.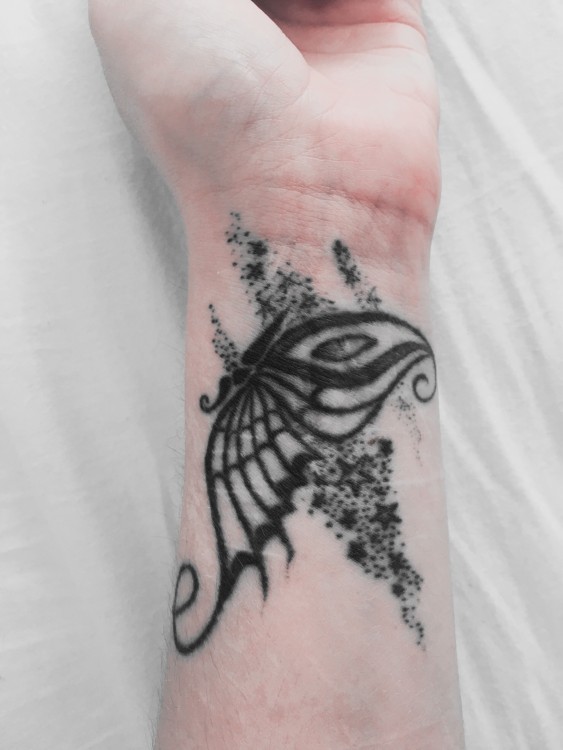 "I got my tattoo to cover the scars from my suicide attempt. I decided on a butterfly because it is a symbol of rebirth, a new chapter. It reminds me that something beautiful can come from a very dark place." — Truda W. 
21.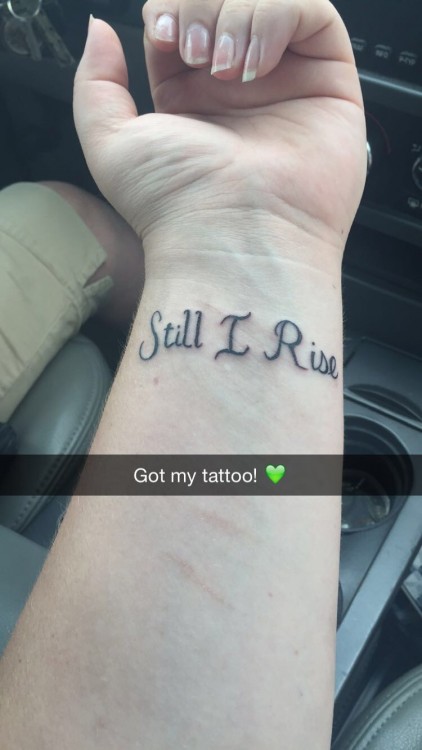 "When I was 16 (three years ago) I tried to take my life and I was going through a miserable time. With support from friends, family, God and therapy, I realized that no matter how much pain I go through, I will still rise from the ashes, so I got this tattoo as a reminder." — Maggie K.
22.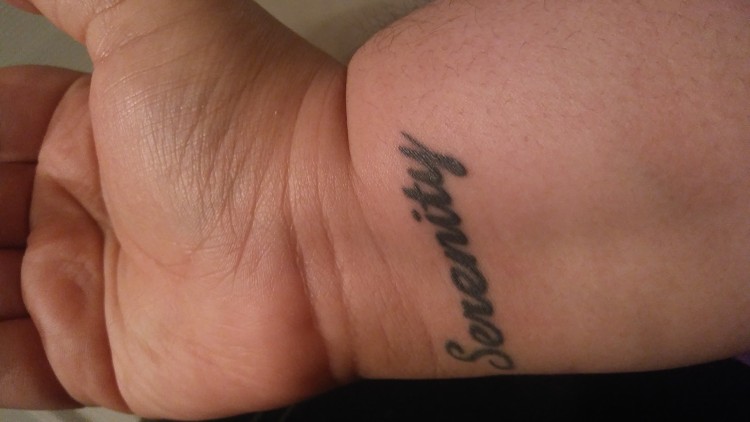 "I started self-harming at age 13 and did not stop until age 18. I was hospitalized twice for it. In the hospital, I learned about the serenity prayer. I swear my life by the serenity prayer because I needed the serenity, courage and wisdom to tell myself that I can change myself, but no one else around me. I was able to realize that harming myself over things I cannot control is just like beating myself up for no reason. So I got this tattoo as a reminder to remember that and incentive to never hurt my wrists again." — Shevona H.
23.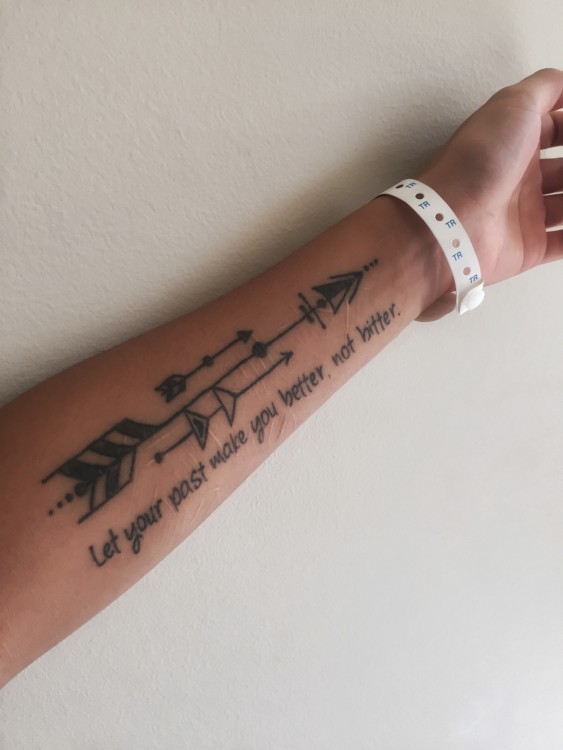 "I saw this quote back when I was in seventh grade. I knew one day that I will have this tatted on me. I didn't start self-harming until sophomore year in high school. As a freshmen in college last year, I finally got this quote on my body." — Zari S.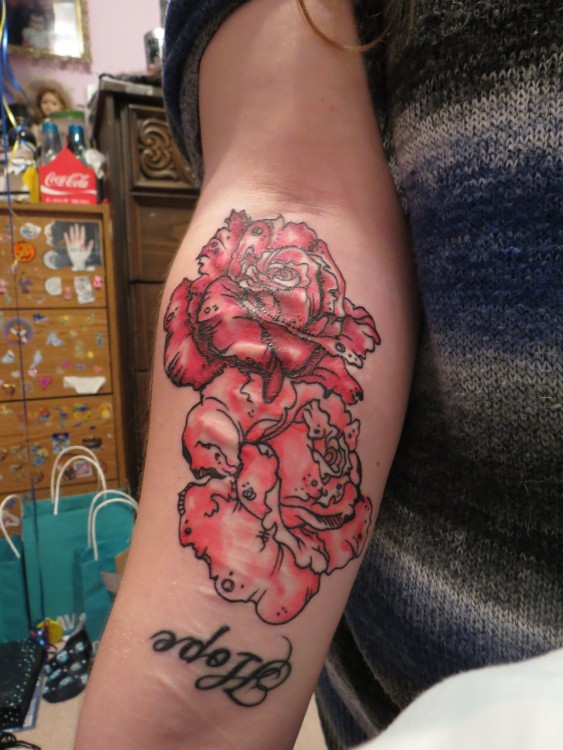 "I got these watercolor roses to symbolize my two years clean anniversary last year. Now I am three years clean. Roses are one of my favorite flowers, and they are beautiful, just like recovery." — Michelle M:
25.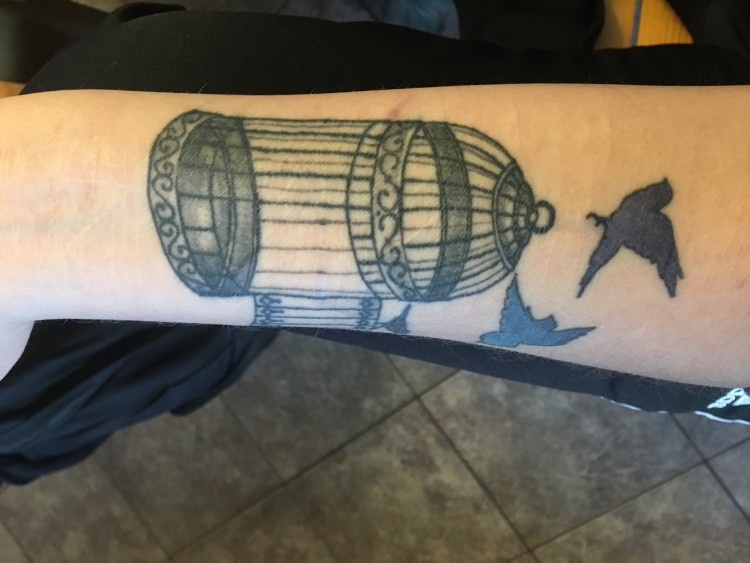 "I went through four years of depression, then an abusive relationship. I got a tattoo to cover the pain and scars of this bird cage saying I've been set free from life and the abuse." —  Cassie S.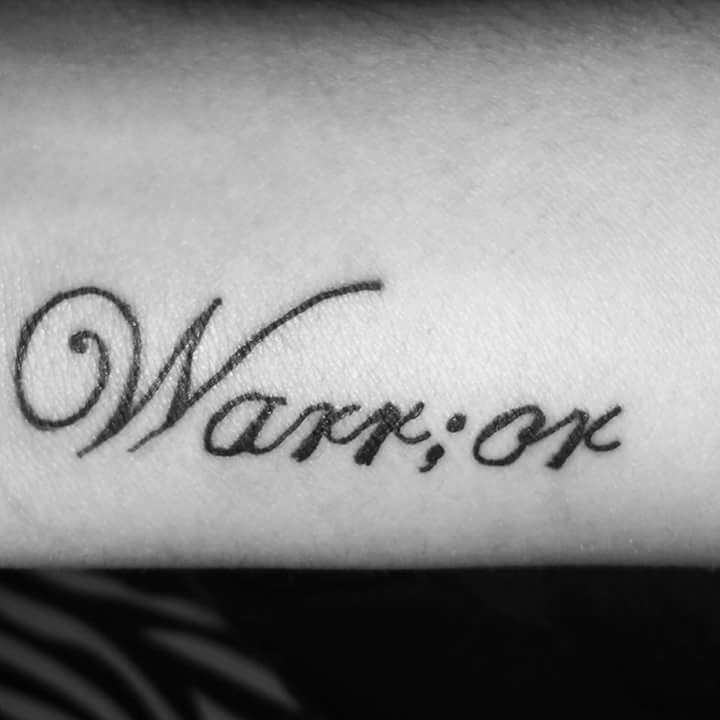 "This reminds me every day to continue to fight for myself and that giving up is no longer an option." – Aiyana R.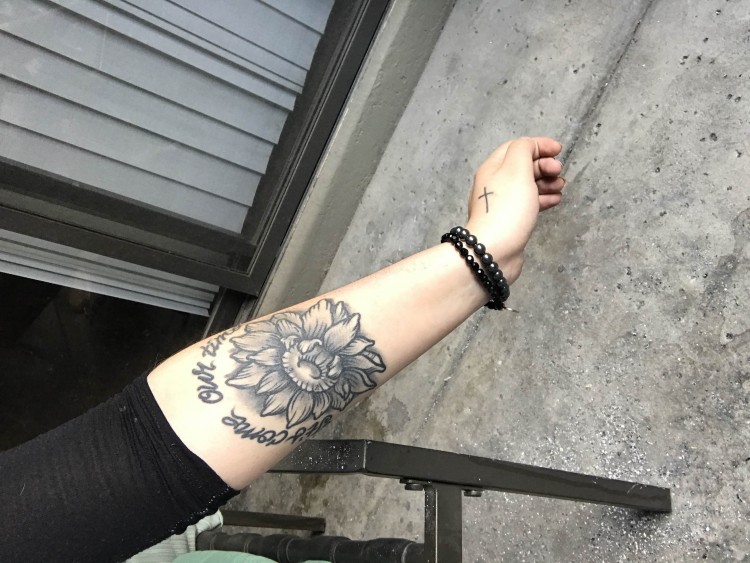 "This is the tattoo I got to remind myself not to self-harm. It covers the worst scar I had gotten from self-harm during a panic attack. The words say, "it's come our time." They're from a Johnny Cash song, but I like it as a statement saying that it's come our time to no longer be victims of ourselves, but rather be our own heroes." — Elizabeth C.
28.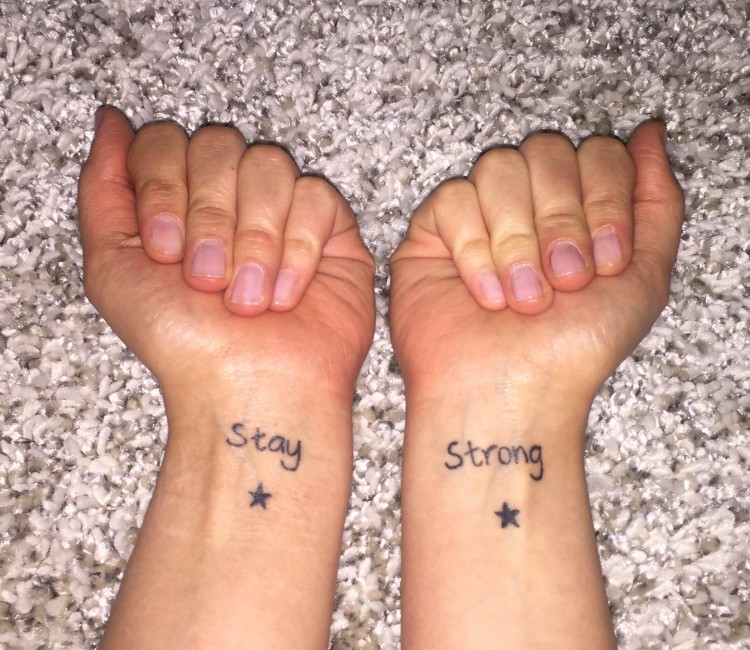 "Although its purpose is not to cover up the scars I have, this is a message to myself to remind me to 'stay strong.'  It's in a place I see often on purpose. I also waited to get it until I hadn't self-harmed for a long while. It was like something to aim for, a reward for myself. Now it's there to stay and hopefully I'll not be in a place where I need to self-harm again, certainly not over my tattoo." — Amy S.
Originally published: December 14, 2016