To the Young Woman With Red Hair and Self-Harm Scars
---
Editor's note: This piece was written in response to the piece, "To the Man Who Approached Me About My Self-Harm Scars."
I was diagnosed with bipolar disorder along with anxiety and a few other issues a number of years ago. I struggled with self-harm when I was teenager and early adulthood. It's something that never goes away after all these years.
But this story isn't about me, it's about a story I read on The Mighty earlier this week. Reading the story, I quickly realized she was talking about an interaction I had while in New York City with my family. I've gone back and forth about sharing this story. I'm not thrilled about the attention that may come my way. I just want everyone who feels alone to know there are people out there who understand what others can't comprehend.
So, we walked down to Times Square and looked around for a while and decided to get a little better view and to sit and rest. The bleachers had some people relaxing taking pictures and enjoying themselves. We sat down about half way up and took in all the sights. Very quickly someone caught my attention and nothing else mattered.
This piece is for the young woman with red hair and noticeable self-harms scars. My first thought was, She's a fighter. But I also thought about how brave and courageous she was. But the more I watched you it became very clear how uncomfortable and anxious you were. You sat with your legs up against your chest and your arms wrapped around them like you wanted to hide. A few people walked down the bleachers past me and nudged each other when they saw you. It was then my heart sank and hurt for you. I understood the demons that gave you those scars, but also how difficult it must be just to be in a pair of shorts and a top.
That's when I knew I had to say something to you. I sat there wondering what to say, and a million things went through my head. I wanted to sit next to you to tell you that you're not alone in your fight and to please keep fighting and never give up. I wanted to tell you how beautiful you are on the outside and on the inside. I didn't see what everyone else saw — I just saw a young woman with red hair.
My family decided it was to time to leave. They headed off in a different direction down the bleachers. As I came up from behind you, I still didn't know what to say. When you turned and looked at me I saw dread sweep across your face. The only thing I could muster was, "You're a warrior."
You saw my semicolon tattoo, but not what's tattooed next to it — the phrase: "You're not alone." Don't ever forget that.
My only regret while visiting New York City was not saying the things I wanted to say to you but didn't. After reading your story I now know, I achieved my goal. I just wanted to make you smile.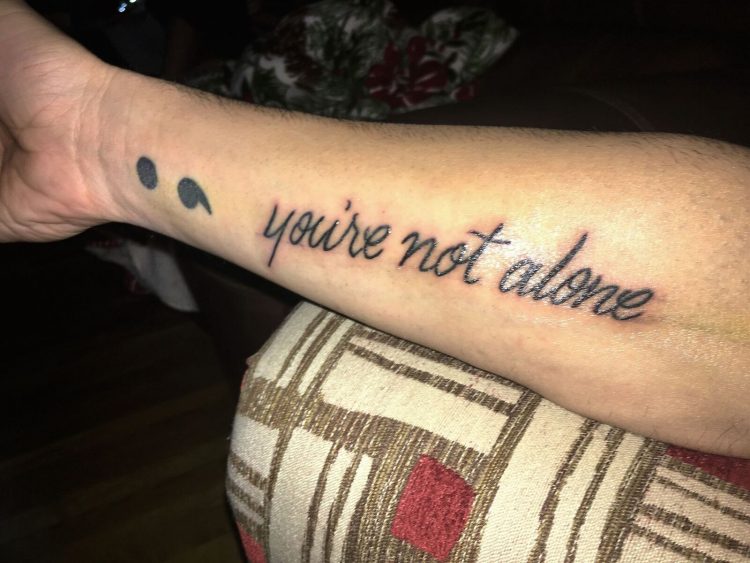 If you or someone you know needs help, visit our suicide prevention resources page.

If you struggle with self-harm and you need support right now, call the crisis hotline at 1-800-273-8255 or text "START" to 741-741. For a list of ways to cope with self-harm urges, click here.
We want to hear your story. Become a Mighty contributor here.
Lead Thinkstock photo via lolostock.