Sensory-Friendly Halloween Costume Ideas for Kids
---
My youngest daughter has sensory processing disorder. She is particular about the clothes she wears. She doesn't like the feel of tags, prefers cotton and soft fabrics, and has never worn a pair of jeans. Some mornings, we go through a few different outfits until she finds the one that feels "just right."
She is also a kid who loves to dress up, but unfortunately, most costumes feel scratchy and uncomfortable to her. I have lost count of how many times she has insisted on wearing one, only to be asking us to take it off a few minutes later because she cannot handle the feel of them. Even if a costume is soft on the inside, if the material doesn't feel quite right on the outside, she cannot tolerate them either (which is why layering has not worked for her).
Last year, two of my friends bought her a Rapunzel dress. Unlike any other costumes we had tried before, this one was soft. It is made by a company called Little Adventures, and they specialize in creating comfortable costumes. My daughter loves it, and she has worn it for several hours.
While we love the Rapunzel dress, now, our "costume shopping" consists of accessories, make-up and real clothes.
But I know my daughter is not the only child with sensory issues coming into Halloween — the time of year when kids (and adults) — are dressing up for fun. So we reached out to our Mighty community and asked, "Does your child have sensory issues? With Halloween just around the corner, what are sensory-friendly costume ideas?"
These were their suggestions:
"My son likes the costumes with fake muscles but only the ones that feel super soft inside and out. For example, he was Master Chief from the video game 'Halo' and the costume was incredibly comfortable. The year before, he wanted to be Pikachu from Pokémon, but the costumes were scratchy, so we went to a thrift store and let him pick out yellow pants and a yellow shirt that he inspected to find out if they were soft. He wore a Pikachu hat and yellow soft gloves, too. He has to have all tags removed so we made sure of that, too. One year he was a purple minion and wore a soft purple fleece sweatshirt under black snow pants. Another year he was just a 'Halloween man,' I sewed a felt pumpkin and spider onto a purple shirt, then we found a really soft wizard hat for $6 at a grocery store! He begged for that hat because it was so soft." — Jamie J.
"I used character and skeleton 'glow in the dark' pajamas as costumes. Material did not bother them, no mask over the face to worry about and they used them more than once." — Sandra V.
"My daughter can't tolerate anything scratchy against her skin. If a seam is stitched poorly it makes her anxious, you know? So I've learned to have her wear layers (like a long sleeve t-shirt and a pair of leggings that we know is comfy and soft) under the costume (whatever it might be). Also, living in Michigan it helps to keep her warm. So, we often have to opt for a bigger sized costume for her to accommodate the layers." — Susie F.
"Many years my go-to has been a t-shirt of the character. He's been Scooby Doo, SpongeBob, and others." — Redefine Special
"We've always made sweatshirt-and-pants costumes, add ears and tales, or mask and a cape. Martha Stewart has some great ones this year on her website. So easy, fun and cute." — Amy F.
"My son won't put a costume on at all but he will wear footed PJs. I ended up finding him 'The Flash' footed PJs." — Jodi A.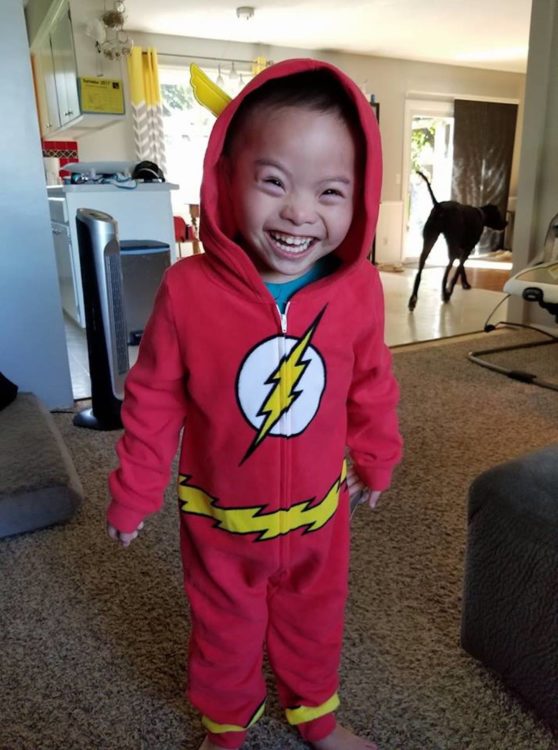 "My son dresses in regular clothes. Flannel shirt and overalls, and he is a farmer. Overalls and yellow shirt, and he is a Minion. This year he is going to be a skeleton. I got skeleton PJs for him to wear." — Cindy D.
"We also use regular clothing! This year, I am putting him in white cotton sweatpants and hoodie with a NASA backpack so he can be an astronaut. Adding some NASA/space patches for effect. He won't wear hats, but he does wear hoods so he should look all suited up!" — Stephanie M.
"Girlie hates anything on her head and avoids scratchy fabrics and shoes. She overheats easily as well, having seizures. We usually go with a t-shirt type costume. Last year she was 'Wonder Woman' with the matching socks. Fun." — Melanie D.
"My son is 3 and I got him Maui pajamas from 'Moana' that look like the character, tattoos and grass skirt but they are printed on the PJs. I'm going as Moana." — Erin S.
"Party City has character t-shirts my son loves. Last year, it was a Hulk one that looks like muscles, and this year it is SpongeBob. To him, he is that character even without a mask or makeup." — Rachel B.
What are sensory-friendly costume alternatives that have worked for your child? Let us know in the comments.
Photo image provided by Jodi Aschoff.
Originally published: October 3, 2017