When You Get a Trick-or-Treater Who Doesn't Say Thank You
---
Dear Neighbors on Halloween,
Our family loves Halloween, and we love that the old-school tradition of trick-or-treating is still thriving in our neighborhood thanks to each of you. You'll see us walking in the crowds with our daughter and stopping by your house this Halloween. Her costume won't be extravagant, and her face won't be painted or masked because she has sensory processing disorder. It isn't a visible disorder, but it's real.
She probably won't say "trick-or-treat" like most of the other ghouls, goblins, superheroes and princesses. My daughter has speech delays and is currently gaining a lot of ground, but she has trouble saying multiple words together. I promise she isn't being rude; she just can't say what you want to hear. But we hope you will offer her a treat anyway.
She might struggle to take just one piece of candy out of your bowl because her fine motor skills are a work in progress. We're working on it, but I'll probably help her take just one piece. We don't mean to hold up the line, and we'll try our best to be out of your way as soon as we grasp that one little treat. We might not take any candy at all, but please don't take offense. We aren't "too good" to take any of the candy you bought to give out. Trust me, I have no filter when it comes to sweets, but my daughter doesn't eat candy, so she has no idea what those colorful wrapped treats are. We actually give all of our loot to my daughter's wonderful aunt who teaches high school and finds candy to be a great motivator.
We might not even come up to your door if the scares are too loud, but rest assured we're enjoying your décor from a distance. Loud noises might be a little overwhelming for my daughter. We aren't being rude and aren't treating our daughter like a "baby." She would gladly walk up to the moving cat and dancing ghosts, but certain tones and sounds can give her anxiety.
We probably won't be the only ones with a child who doesn't meet your expectations of a proper trick-or-treater. Our daughter isn't the only one who will appear at your door with a costume that isn't much of a disguise or the inability to say thank you. Please keep in mind that many children have delays and non-visible disorders that might make it harder for them to immerse themselves in all the wonders of Halloween.
The kid who took too many pieces of candy wasn't being selfish — he probably struggles to grab just one piece and might be overwhelmed by the throng of people at your doorstep. He heard you say to take just one, but he just couldn't do it. The little girl who didn't say thank you has manners — she just can't verbalize them. The kids whose costumes don't include masks and makeup might have sensory issues, but they're still really proud of their costumes, so please tell them how amazing they look, too.
Happy Halloween!
Sincerely,
Your Appreciative Neighbor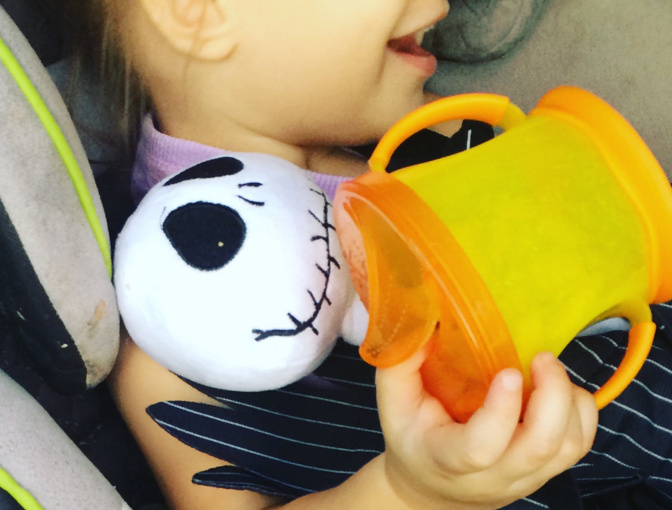 Follow this journey on Bumbi's Mom.
Lead photo source: Thinkstock Images