How Living With a Disability Made Me an Advocate For Inclusivity
---
This content is sponsored by Biogen and is intended for U.S. audiences only. Any other present or future content posted by the contributor, not expressly designated as "Biogen sponsored content" is not associated with Biogen.
Sponsored By

I love going to concerts, but it's been extremely difficult to experience them from the front row. 
I have a rare genetic disorder called spinal muscular atrophy (SMA) that causes severe and progressive muscle weakness. I need to use a power wheelchair to get around, and most concert venues don't even offer accessible seating on the floor near the stage. While this may not affect me every day, it has always been an example of the many small luxuries people living with disabilities don't have the opportunity to experience. My love for music has inspired me to start a nonprofit that will help make concerts more accessible for fans like me – and it is just one of the many things I hope to accomplish despite the challenges of my SMA.
My journey with SMA began around the time my family immigrated to the United States from Cuba, when I was just over 1 year old. When I came down with a bad case of the flu, doctors ran a series of diagnostic tests that revealed I had SMA Type 2. SMA is a progressive, degenerative disease that affects one in 11,000 births1 and can cause an irreversible loss of motor neurons. Those living with SMA don't have a healthy amount of survival motor neuron (SMN) protein in their bodies. SMN protein is critical in maintaining motor neurons that allow people to sit or walk and is also responsible for supporting basic functions like breathing and swallowing.
Despite the shock of my diagnosis, my mom went to the library to learn everything she could about SMA and the resources available to our family. She became a strong advocate for me, overcoming language barriers while fighting to ensure I was included in general education at school – even physical education – rather than segregated in special programming. She even worked with my elementary school to build ramps and fix sidewalks so I could get into the building. While I couldn't always do things like other children my age, my mom still found ways for me to be involved. She taught me to advocate for inclusivity from a young age, and I've carried this mindset with me into adulthood.
Up until 2016, there was no treatment for SMA. That changed with            SPINRAZA® (nusinersen), the first approved treatment for children and adults who live with SMA. Please see full Prescribing Information and Important Safety Information for more information about SPINRAZA. I was naturally excited when I heard about SPINRAZA but wanted to learn more from my doctor about how it is administered, the side effects I could experience, and how I'd be able to access it through insurance. My doctor explained that SPINRAZA is administered via intrathecal injection, which means that the treatment is given in the lower back and goes directly in the central nervous system. Then my doctor also outlined the potential serious risks and common side effects, including lower respiratory infection, fever, constipation, headache, vomiting, back pain and post-lumbar puncture syndrome. 
Taking all of this into consideration and knowing that if I didn't slow down the progression of my disease, I would continue to lose motor function, I decided the potential benefits outweighed the risks. I attended my first SMA conference in Orlando, where I met a variety of amazing adults with SMA who already had experience with SPINRAZA, and this was encouraging to me. 
While I started treatment in 2019 to preserve my motor function and slow disease progression, I've also noticed that I've gained muscle strength to do things like opening food containers and drawing a straight line without lifting the pencil off the paper. Of course, as individual results on SPINRAZA may vary, keep in mind that your experiences may be different than mine.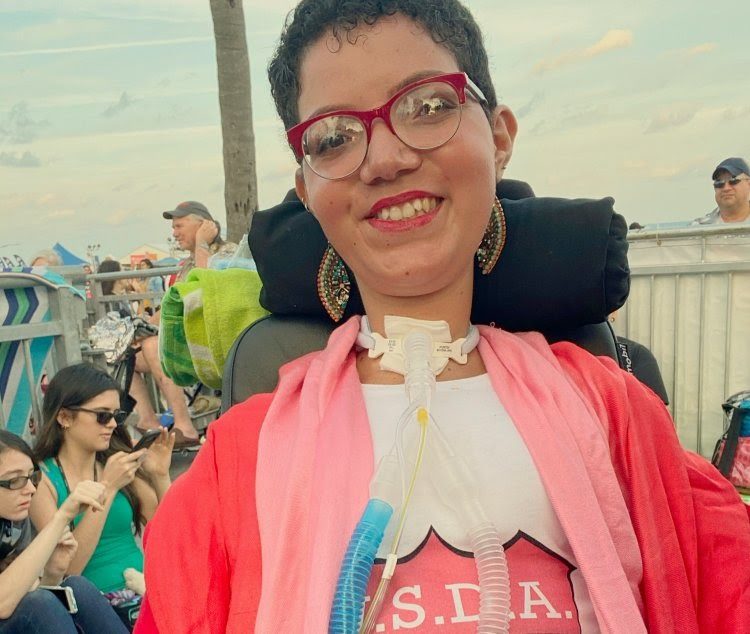 Some may see my SMA as a setback, but I disagree. I have big dreams about what I want to accomplish in life and continue to make them a reality. I graduated from college with a degree in psychology, and through my studies and work in disability and inclusion, I've come to understand that all us humans share a mutual experience. I believe that every person desires to live and be loved, be happy and pursue their dreams. Unfortunately, the disabled community is still very limited when it comes to these simple truths. I am determined to play a role in creating more equality for the disabled community in terms of job options, salaries, the type of personal care assistance one receives, among many other things. 
Although there is no cure for SMA, I am inspired by those I have met with SMA and hope to focus on accessibility issues as my way to help others. Just as my mother did years ago at my school, one of my goals is to work with concert venues to help fans like me access front-row experiences when seeing their favorite bands. I know this is one area where I can help make a difference.
INDICATION
SPINRAZA® (nusinersen) is a prescription medicine used to treat spinal muscular atrophy (SMA) in pediatric and adult patients.
IMPORTANT SAFETY INFORMATION
Increased risk of bleeding complications has been observed after administration of some similar medicines. Your healthcare provider should perform blood tests before you start treatment with SPINRAZA and before each dose to monitor for signs of these risks. Seek medical attention if unexpected bleeding occurs.
Increased risk of kidney damage, including potentially fatal acute inflammation of the kidney, has been observed after administration of similar medicines. Your healthcare provider should perform urine testing before you start treatment with SPINRAZA and before each dose to monitor for signs of this risk.
The most common possible side effects of SPINRAZA include lower respiratory infection, fever, constipation, headache, vomiting, back pain, and post-lumbar puncture syndrome.
These are not all the possible side effects of SPINRAZA. Call your healthcare provider for medical advice about side effects. You may report side effects to FDA at 1-800-FDA-1088.
Before taking SPINRAZA, tell your healthcare provider if you are pregnant or plan to become pregnant.
Please see full Prescribing Information.
This information is not intended to replace discussions with your healthcare provider.
SPZ-US-4068 
04/2021
Reference
Cure SMA. About SMA. Available at

https://www.curesma.org/about-sma/

. Accessed: February 2021.
Images provided by contributor.