Advocates Boycott Amazon Over 'Dangerous' Suicide-Themed Shirts
---
Mental health advocates are speaking out against shirts sold on Amazon they say make light of suicide.
Editor's note: The images and descriptions below may be triggering for some. Suicide prevention resources are at the bottom of this article.
The designs in question are being sold by multiple vendors on the site. One example is a shirt that reads, "Got Suicide?" The other shows someone with a noose around his neck while another figure watches eating popcorn. The text reads, "Suicide Watch."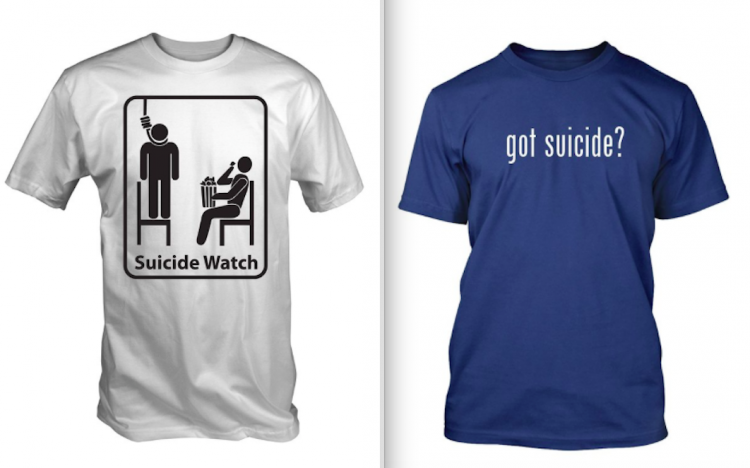 "The images on the shirts that Amazon is selling are so harmful because they make light of the very thing we have to change to save lives: complacency. Suicide is preventable, and yet we fail to prevent it more than 40,000 times every year in America," Mark Henick, a suicide attempt survivor and mental health advocate, told The Mighty in an email. "This scandal haunts the lives of the millions of people who have either had a family member or friend who completed suicide or who themselves have attempted suicide."
In 2014, suicide was the 10th leading cause of death in America.
Henick started a petition and is boycotting the online retailer until the company agrees to take the shirts down.
"This has nothing to do with free speech," Henick said. "This is dangerous. It can trigger people who have previous exposure to suicide and help pave a pathway toward something that should never be an option."
Dr. Victor Schwartz, Medical Director of The JED Foundation, agrees messages like these can be dangerous for people who are vulnerable to suicide, and hurtful to those who have experienced losing someone to suicide. "Comedy and humor are valuable and great, but certain topics ought to be off limits. This is the case with suicide," he said.
Henick also pointed out the shirts are a violation of Amazon's own policy on restricted products, which includes "products that promote or glorify hatred, violence, racial, sexual or religious intolerance or promote organizations with such views." It had recently pulled products with the Confederate flag based on these standards.
"There is no defensible position for continuing to promote, sell or even manufacture any product that promotes or makes light of suicide," Henick said.
Maggie Harder, a 14-year-old who started Liberate Minds, a campaign to stop the stigma associated with mental illness, initially found the shirts while browsing Amazon's site. She said products like this perpetuate stigma and prevent people from getting help.
"Having these slogans on shirts show that mental illness isn't something to be taken seriously," she told The Mighty.
Harder wrote a letter Amazon but hasn't heard back yet. Amazon also hasn't responded to The Mighty's request for comment.
To sign the petition, click here.
If you or someone you know needs help, see our suicide prevention resources.
If you need support right now, call the Suicide Prevention Lifeline at 1-800-273-8255.