10 Years After My Father's Suicide
---
June 28, 2016 marked 10 years since my father's suicide.
Growing up, my dad was in and out of my life, due to his own struggles with mental health and addiction. There are many things that can be said about who my dad was and how he lived his life, but if there is one thing I am certain of it is that he always tried.
Rehab after rehab, program after program, he fought his addiction, and fought to be in my and my siblings' life. There is no doubt in my mind of the love he had for his kids and wife. The last 18 months or so before he died, he got sober and stayed sober. He took his medications, saw his counselors, and for those 18 months he was more present in my life than he had been in the seven years prior. During that time, I got to know him, not as the alcoholic who was in and out of my life, but as the man my mom fell in love with, the dad he wanted to be.
I learned his sense of humor, we laughed, and we had those heartfelt talks 12-year-old girls need to have with their dads. I got to know my dad for the person he truly was, and I will always be so thankful for that time. It feels so bittersweet, knowing that time came only to be taken back as quick as it arrived, and this time, it vanished for good. My father fell off the wagon, and it was for the last time.
I was 13 years old when I lost my dad. I remember every detail of what I did that day — where I was standing and what I was doing when my mom told me. They say when someone dies by suicide, the pain that person feels inside doesn't disappear; it instead gets given to the loved ones left behind, the survivors. I have carried that pain with me for 10 years.
After my father died, I could never imagine being in a place so dark that dying seemed the only way out. I couldn't fathom being in a place where you truly felt things would never get better. I was angry he would choose to leave our family, to leave me. I thought I would never understand. Didn't we matter enough? Wasn't I enough to stay?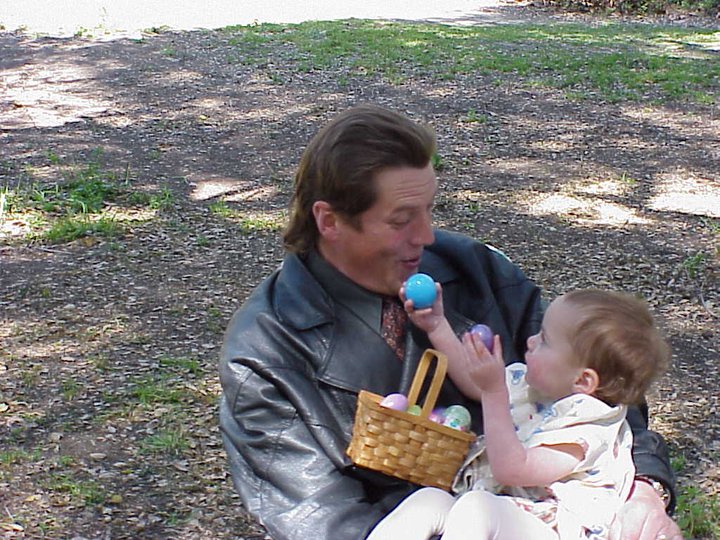 I went through the "7 Stages of Grief," peer groups, counselors, everything imaginable to help deal with the loss of my dad, and I had reached this place of acceptance. I knew it wasn't about me; there was nothing I could've done, he just couldn't cope with his addiction any longer. I felt peace for a long time.
Then I fell ill. I watched the life I had built, the future I had imagined, and my health deteriorate in front of me as easy as sand slipping through my fingers. My friends, my job, my schooling, all of it just disappearing. I became disabled, and fell into a pit of depression. I have a degenerative chronic illness, and every doctor brought worse news.
I could only describe it as the kind of tired sleep couldn't fix, the feeling of truly "nothing," just emptiness of what had once been so full. This dark place I couldn't imagine before became a place I was so intimately familiar with. It became the place I lived, my unwanted home.
My family saw the warning signs of suicide, and checked me into an inpatient facility to help with my suicidal thoughts. So I spent my 23rd birthday (April, 2016) in the hospital, trying to get to a place where I would feel better. I could write an entire other article about the things I learned during the 10 days I spent there, and I am grateful my family got me the help I so desperately needed.
During a group session, a man sat across from me. He was in his late 40s and had been checked in for a suicide attempt. He opened up in group, and started speaking about his addiction and depression. He talked about his wife, his children, his job, and his struggles. For almost 30 years he had been struggling with his addiction, the addiction that had cost him everything, and he said he just couldn't do it anymore. He couldn't continue this roller coaster, the up and down of addiction, the struggles with his wife and kids. He just wanted to stop the pain.
All he wanted was to stop the pain.
I felt something click inside me. Hearing what this man experienced, watching him weep, seeing the similarities between my father and this stranger, I could for the first time truly empathize what my dad had been through. He fought his battle with his addiction, and he lost. I broke down sobbing, and felt this new piece of grief enter my heart. I spoke with my counselor that afternoon, who said we will experience grief again and again in different ways through different parts of our lives. This was just the newest stage for me.
I missed my dad when I started high school at 14, starred in my first play at 15, learned to drive at 16, graduated and moved abroad at 18, started university at 20, and got married at 22. All of those times I wished he was there, just as I will wish he was there for the birth of my first child, and many other milestones in my life. I will always miss my dad, and I will always love him.
It's been 10 years, and I am still here. I am still here, and I am learning every day how to handle the loss my dad left behind. I am learning how to love the life I have and be grateful for each morning I wake up.
I will never stop learning.
In memory of Richard James Sheldon Rogers
(February 2, 1963 – June 28, 2006)
If you or someone you know needs help, visit our suicide prevention resources page. 
If you need support right now, call the Suicide Prevention Lifeline at 1-800-273-8255.