If Amy Bleuel's Death Leaves You Feeling More Helpless, Please Remember This
---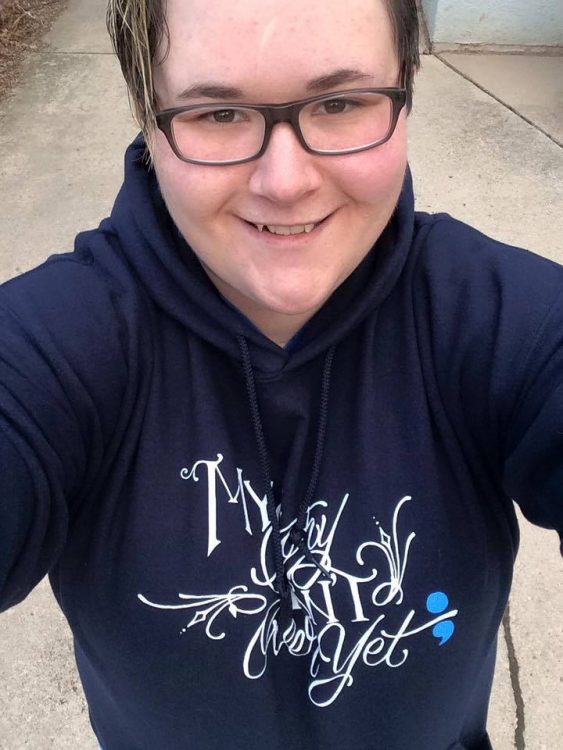 When someone dies by suicide, it's often accurate to blame stigma. If this person had only been comfortable talking about their suicidal thoughts, we think, perhaps they could have been helped. It's the basis of every "anti-stigma" campaign, really. To end suffering. To pull people out of shadows. To save lives.
That's why it's a complex kind of painful to lose someone in the suicide prevention community to suicide. Someone who wasn't fully in the shadows. Someone who didn't let stigma stop them from speaking out about suicidal ideation and previous suicide attempts. Someone who actively spread messages of hope for others who face similar struggles.
If you don't know Amy Bleuel, you probably know her work. She's the reason the semicolon is more than punctuation for many who deal with both self-harm and suicidal ideation. Her nonprofit, Project Semicolon, brought together people who found hope in her message — that just like a semicolon, you can continue even when "your sentence" seems finished. The organization's tag is: "Your story isn't over."
When sharing this news to the mental health community, my heart broke not only for Amy's friends and family, but for everyone in the mental health community who saw the semicolon as a symbol of hope. My biggest fear was that those struggling upon hearing this news would feel like those who speak about suicide prevention were bullshitting them. I didn't want our words of hope to lose meaning. I didn't want people to lose hope for their own stories.
But all this proves is that suicide prevention is complicated, and we have a lot of research and work to do so more lives can be saved.
Suicide prevention work is done almost exclusively by people who have lost someone to suicide or who have experienced their own suicidality. Often, the calling to suicide prevention comes close on the heels of a near miss with an attempt, or the suicide death of someone we love, and it comes with urgency. In that way, it puts many of us in a precarious position: we so desperately want to save others from suicide that we forget to save ourselves. We dive in with our life raft before we learn to swim. — Dese'Rae L. Stage, suicide prevention activist and founder of Live Though This
I wanted to acknowledge the complexity of Amy's death. I wanted people who feel hopeless right now to know we understand how much this sucks. We're not going to pretend it didn't happen. But we will tell you in no way does this taint the amazing work Amy did. It doesn't make your semicolon tattoo have less meaning.
Amy fought against her own thoughts of suicide, and in doing so she gave so many people the opportunity to share their pain, their endurance, and their triumphs in a way that simultaneously spurred discussion and battled prejudice. For those of us in the field of suicide prevention, we're reminded of the need to redouble our efforts, work harder, work more effectively, and to ensure people that hope, help, and healing is happening. —  Chris Maxwell, Advisory Board Member for OurDataHelps.org
I wanted to talk to other suicide prevention activists to get their thoughts on where we go from there. All echoed the same theme: We keep going. We keep spreading hope. We work harder.
Yes, Amy may have died by suicide. That is a risk for anyone who has survived a suicide death or attempt, like she had. It only makes her message more poignant and powerful. People in my field react with even more urgency to better understand suicide, and to innovate ways to save lives. I can understand why so many people in suicide prevention have a heavy heart today. I do, too. I'm going to be mindful, take good care of myself and others… and I'm going to keep my focus. On the day Amy died, another 120 people died from suicide, too. And each day it's the same. My mission is to change that. A loss makes me fight harder to eliminate the blight of suicide in our communities. Amy's mission lives on, even after her death, and it lives on in me, and thousands more." — Dr. April Foreman, Licensed Psychologist and suicide prevention activist
If anyone is struggling right now, please take care of yourself. Please talk to someone about it. Please make use of the resources we do have. You can text the Crisis Text Line at 741-741. You can call the National Suicide Prevention Lifeline at 1-800-273-8255. You can call The Trevor Project at 866-488-7386. Or, consider donating your social media data for suicide prevention research at OurDataHelps.
I'll leave you with one last quote from Dese'Rae L. Stage, suicide prevention activist and founder of Live Though This.
I'm guessing Amy didn't know how deeply she affected so many people. I'm guessing she didn't think there was a rescue boat for her, but I think it was just a foggy night and she couldn't see her lighthouse. 
If you or someone you know needs help, visit our suicide prevention resources page.
If you need support right now, call the National Suicide Prevention Lifeline at 1-800-273-8255, the Trevor Project at 1-866-488-7386 or text "START" to 741-741.
Lead image via Project Semicolon's Facebook page