To the Man Whose Daughters Mocked My Tourette's Syndrome Tics
---
You may remember about a month ago that you were on a train with two children who I presume were your daughters. You took the seats behind me and my support worker, who clearly had her carer card displayed. Apparently, you didn't notice this.
I was making weird noises, since I have Tourette's syndrome (TS). In fact, I was traveling home from a meet-up with other people with Tourette's. I was feeling good, happy even. I'm always a bit more "ticcy" after a meet-up, so I expected to have a bit more tics than usual. What I didn't expect was for someone — your daughters, to be frank — to start copying every noise I made.
I don't blame your daughters; they're young, after all. But I blame you for what happened next. You made no attempt to tell your daughters to stop imitating my every noise and move. You didn't tell them to stop staring at me through the gap in the chair (yes, I can see). You just sat there and let them mock me for approximately half of the journey.
Let me tell you something about Tourette's. When I feel like people are watching me or imitating me, my tics will worsen. That's why a curse word came out. I didn't want it to come out. Apparently, you didn't hear it the first time or chose to ignore it. But when your girls copied my foul outburst (see, I agree it's foul), that's when you became aggressive. "All right, who is that?" you said as you got up, standing parallel to my seat, probably looking for a large man. I expect you were quite surprised when you were "confronted" with was a 4-feet-8-inches-tall girl, convulsing in pain.
Thankfully, my support worker was with me that day. "Excuse me, she can't control it," she explained to you. "She has Tourette's." Your face was red as you turned to me, and I held my TS alert card up to you. Another man on the train started to talk to us about TS. Why couldn't you have asked nicely, too?
What you didn't see after you got off the train, two stops from my home, were the tears in my eyes. I was upset with you, not your daughters. You had a perfect opportunity to teach them about my disorder, but instead you chose to allow them to mock me. Would you have allowed them to make fun of people with other disabilities or disorders? I can't answer that for you, however, I would guess you wouldn't. Your ignorance made my worst tic come out in public.
So I hope we never meet again, but I would implore you that if you read this, please teach your children about tolerance for people who are different. Maybe you'll learn something, too.
From a girl who is frightened to travel on public transport.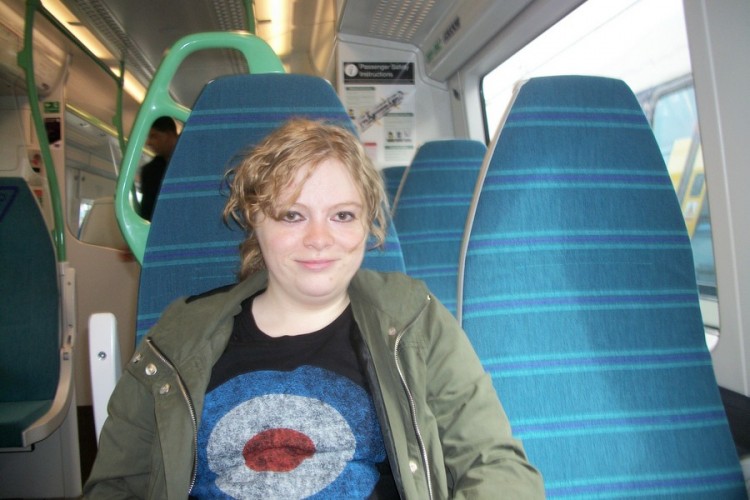 Follow this journey on Living With Autism.
The Mighty is asking the following: Share with us the moment you stood up for yourself or your child in regards to disability or disease, or a moment you wish you had? If you'd like to participate, please send a blog post to community@themighty.com. Please include a photo for the piece, a photo of yourself and 1-2 sentence bio. Check out our "Share Your Story" page for more about our submission guidelines.
Originally published: July 21, 2015