The Unexpected Lesson I Learned From Kids About Living With Trichotillomania
---
Editor's note: If you struggle with a body-focused repetitive behavior, the following post could be potentially triggering. You can find resources at The TLC Foundation for Body-Focused Repetitive Behaviors.
I volunteer once a week teaching religious education class to children at my church. I absolutely love it; it gives me great joy and I feel like I'm doing something worthwhile by giving back to my community. Now normally we follow a workbook, so not much planning has to go into my lessons. But today we did something a little different.
My hair has not been this bad in two years. And it's only gotten like this in less than a month. Kids tend to have no filter, and will just say whatever is on their mind, without really thinking first. I'd like to note here that I teach first graders. I didn't want one of them to possibly notice my lack of hair and then for me to be put on the spot.
So I decided to make a whole lesson out of it. About accepting each other's differences, how we should love one another, the meaning of empathy and compassion and how they relate to our faith.
I started out by asking if anyone would like to share something about themselves that makes them "different." Quite a few of them actually came forward, and I was surprised at how deep and personal some of them got. I really felt for them and was in awe of their openness and articulation, especially at their age. I thanked them for sharing and told them how brave it was of them. I said, "Sometimes we may feel weird or embarrassed for our differences, but there's no reason to, because being different isn't necessarily a bad thing. God created each of us in His likeness."
Isaiah 64:8 — "But now, O Lord, You are our father; we are the clay, You the potter; and we are all the work of Your hand."
One girl said, "Yeah, I really didn't want to share that and was embarrassed but I stood up for myself and did it anyway." I told her I'm really happy that she did. Then I shared with them I have something that makes me "different," too. Of course though I wasn't going to tell six and seven year olds that I pull my hair out. I have no problem now telling people I have trichotillomania, but I didn't think my children would grasp it, with them being so young. So I had to put it in terms they would understand, and basically gave them the condensed version.
I said that I have a hair loss condition (which isn't exactly a lie). They asked, "Is that why your hair is short?" I said yes and that I also have a bald spot, then I unclipped it. They all came up and wanted to see it. They asked many questions, though not out of cruelty but just pure curiosity. I answered in a way they would comprehend, without going into too much detail. I said that I am perfectly healthy and not sick or anything, I just lose my hair. That answer seemed to suffice for their inquisitiveness.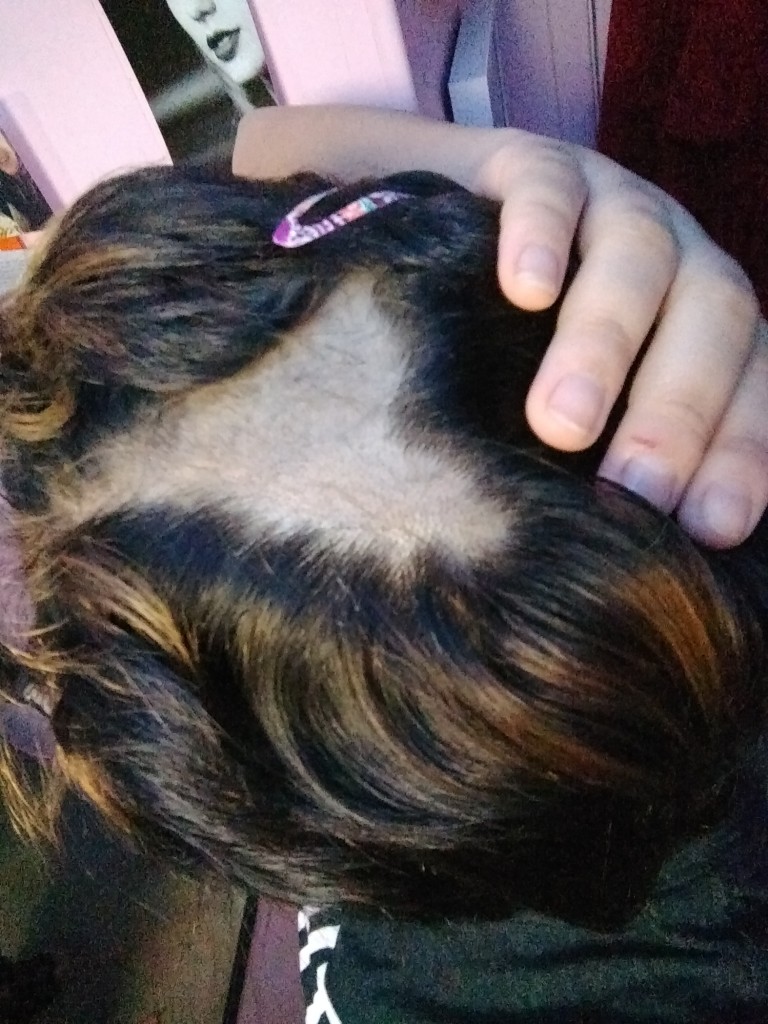 We discussed the meaning of empathy and compassion; how it's when we try to understand what other people are going through, and to reflect on how we would feel if we were in their situation. I was very pleased that they grasped the concept well, and they even gave some examples of instances of when they've acted compassionate and empathetic.
I am humbled knowing that my kids learned and got something out of this lesson today… But I also learned an important lesson from them. It occurred to me afterwards how not one of them pointed out my bald spot or seemed to notice it until I said something. And I doubt they would have even noticed it had I not said something. I'm glad I did show them though, as I think it really drove the message home.
I've come a long way in terms of accepting myself, especially in comparison to where I was in the very beginning of this whirlwind of a journey. That said, I've been having a particularly harder time lately with that; it's been two years since I've had a bald spot. The fact that I was very self-conscious of my hair, while they in fact were completely unfazed by it, made me realize I need to show some more compassion to myself. I've heard it described before as, "Treat yourself with the same kindness you would give a friend." We are often our own worst critics, but what if we started treating ourselves as tenderly as we would a friend? I try my darnedest to love myself unconditionally, though sometimes I just need the extra boost and reminder, and to put things in check. Well, my kids today did just that.
Oh, and one last thing! It also occurred to me that today was the first time I've gone out in public with a bald spot showing. That is huge. Well, OK, there was one other time; two years ago at my first TLC BFRB conference, but I was amongst fellow trichsters, and I was in another state. Therefore, this was really the first time I've ever done it in my hometown, around people in my own community. I didn't even realize until after the fact how large of a milestone this is for me… Just a few years ago, I wouldn't even go "uncovered" in my own home around my family. We deserve to give ourselves some credit for our victories, big and small. Despite me still having a somewhat hard time with feeling comfortable with myself, this victory just gave me a really big reason now to celebrate who I am.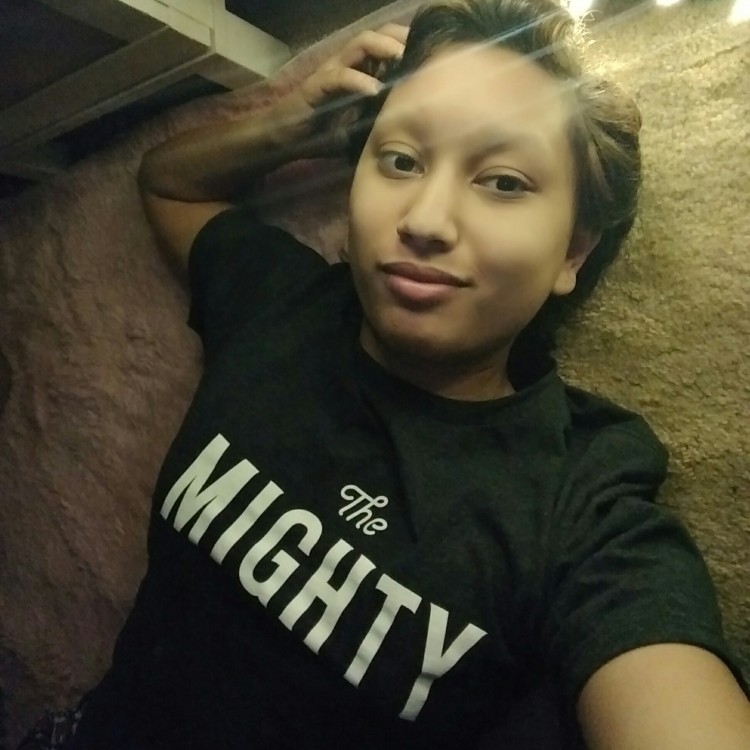 If you or a loved one is affected by body-focused repetitive behaviors, you can find resources at The TLC Foundation for Body-Focused Repetitive Behaviors.
We want to hear your story. Become a Mighty contributor here.
Image via contributor.
Originally published: March 23, 2017