3 Essential Self-Care 'Themes' for Life With Ulcerative Colitis
---
When I hear self-care, I feel a pang of guilt because I'm not doing it as often as I "should." It's ironic, being hard on myself is the opposite of self-care! So instead of a list of "shoulds" to self-care, I'll share what's worked for me, but first, let's start with a quick exercise in self-compassion.
True self-care starts with kindness towards yourself. Self-compassion expert Kristin Neff, Ph.D. suggests treating yourself like a good friend. For example, if a friend is feeling down, you might share a quality about them you love. 
Think of one thing you love about yourself and fill in this blank "I am____."
Even if you can't think of something right now, please know: You are strong.
Living with Inflammatory Bowel Disease (IBD) or any chronic illness takes immense resilience. Even taking the time to read this is a service to yourself. You are prioritizing your health and well-being. 
I broke down self-care by life phases to show how my self-care has evolved with my Ulcerative Colitis (UC). These themes may be helpful wherever you or your loved one are in your IBD journey, including childhood if you are a parent caregiver.
   

Get creative — writing, photography, drawing, painting,
Childhood
When I was hospitalized I began journaling. After being released, I chose a large black book with blank pages I could fill with a mix of fiction and reality. I'd bring it on car trips to the Cleveland Clinic, drawing silly doodles to make my cousin laugh or jotting down ideas for stories. That book would also be with me in bed — the perfect low-energy activity for flare ups.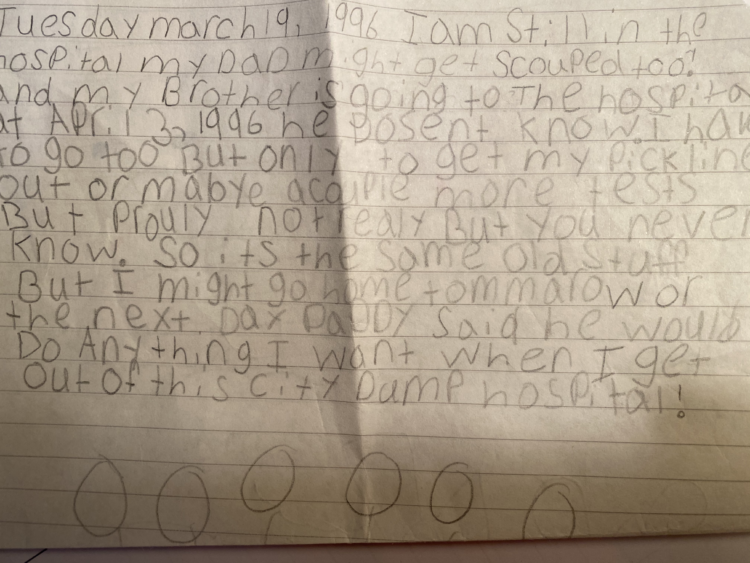 Teens/emerging adulthood
I began developing my own photographs, which was incredibly relaxing. The darkroom was such a still, sacred space. 
I continued creative writing and started to write poetry late at night when my sleepiness mixed with my subconscious. And there plain as day, the pain of my UC flare ups bled in between the lines. It wasn't just cathartic, but writing also helped me reframe how I thought about my illness. 
Adulthood
I'm sadly the least creative I've been in awhile, and I plan to prioritize this now realizing how it's been such a big part of my self-care in the past.
Get physical
Childhood
I started ballet shortly after tennis but loved tennis much more. It was a release.
One day while my mom was rushing me from ballet to tennis, I burst into tears. She parked the car and asked me if I wanted to stop ballet. I withdrew before my recital, and the head of the dance company shouted to my mother how I'd never stick to anything if she let me quit. 
It's ok to stop doing activities that aren't serving your physical or emotional health. Listen to your body.  
Teens/emerging adulthood
I stopped tennis senior year. My schedule was too full, so I felt no guilt about clearing my plate on that front. In college I took women's self-defense and meditation — not the most physically-demanding activities. The latter ended up being the emotional restoration I needed. (Fun fact, my mantra was "So Ham," which apparently translates to something like, "I am that.")
Adulthood
I still play tennis for fun, but admittedly have slacked on my exercise regimen. My daily goal is to at least stretch. When I'm on my yoga mat, I feel my stomach rise and fall. It's a mini-meditative moment.
Find faith and/or meaningful practices
Childhood
Going to weekly mass made me feel safe — the intensity UC was all okay because it was in G-d's hands, and it would all work out. I was surrounded by a warm blanket of His love wherever I went. 
Teens/emerging adulthood
When I was old enough to parse aspects of organized religion I disagreed with, throwing myself into my new love for biology kept me going. Maybe I would become a doctor and help children like myself who have to deal with chronic illness. Volunteering at the children's hospital was rewarding, though I realized I didn't have enough energy to be in an emotionally and physically demanding setting for work.
Instead I started charity concerts and delved into social science. It was fascinating to learn the nature/nurture elements that make each of us who we are. Studying social inequalities in health, alongside science communications courses, set me on a path to use the media to inform and support people living with UC and other chronic illnesses. Finding ways to align your passion with your work is self-care to me. 
 Adulthood
In my work I get to collaborate with health nonprofits and the amazing medical experts and patient advocates who push healthcare forward. Boundaries are important when you are so passionate about your work. Ordering your values (my top 3 are Health, Love, Family) helps me prioritize weekly activities when there feels like there isn't enough time. I started a private group for Women+ With IBD. I'd love to continue the conversation there!